Valley of Peace, 1956. Overtly influenced by René Clément's anti-war film Forbidden Games, France Stiglic's equally poignant and impassioned Valley of Peace captures the horrors of war as seen through the eyes of its most vulnerable victims – a young girl named Lotti (Evelyne Wohlfeiler) and a protective older boy, Marko (Tugo Stiglic). Taken into custody by German soldiers who are rounding up children orphaned by recent air raids for placement in foster homes, Lotti longs to go to the Valley of Peace that her late grandmother had often sung about, an idyllic place just beyond the trees and across a flowing river that remains untouched by war. Convinced that Lotti's description matched his uncle's farmhouse perfectly, Marko decides to run away with Lotti and, with little more than Lotti's doll in tow, make their way through the hinterlands where a buffer zone exists between the Germans who are still in the process of scouting the uncharted territory, and partisans who have fortified their positions along the foothills. Cornered by pursuing German soldiers, and frightened by the sight of low flying Allied planes on a reconnaissance mission, the children attempt to cross the river only to find themselves stranded in midstream by the deep waters, rescued by an American pilot, Jim who parachuted into safety after his plane was shot down (in a groundbreaking performance by African-American expatriate, John Kitzmiller who received the Award for Best Actor at the 1957 Cannes Film Festival). Determined to bring the children to the safety of the uncle's farm and seek assistance from the partisans hiding beyond the valley, Jim becomes a surrogate parent to the deeply traumatized children and, consequently, comes to embody all their pinned hopes for finding peace. As in Forbidden Games, Valley of Peace similarly wears its heart on its sleeve to create an unabashedly humanist moral tale on the folly of war and its toll on the innocent. Using the turning of the waterwheel as a metaphor for the children's return to normalcy, the image becomes one of inherent contradiction, signaling both a long-awaited homecoming and the impossibility of coming home.
Idle Running, 1999. With its rough hewn sequences of temps morts, odd length cuts, idiosyncratic characters, and sedate humor, Janez Burger's debut feature, Idle Running unfolds like a Jim Jarmusch film, an upended road movie of sorts chronicling a young man's proverbial journey (albeit in baby steps) towards self-discovery. As the film begins, perpetual university student and resident slacker, Dizzy (Jan Cvitkovic), offers up his own homegrown philosophy on the merits of remaining within life's sidelines, resisting artificial motion that could only result in zero displacement. Having comfortably settled in his dorm room over the last ten years, Dizzy wakes up to the sight of his newly assigned roommate, Marko (Janez Rus), a bookish freshman from the country, and immediately bristles at having to adjust his appropriated space by clearing a shelf to accommodate Marko's belongings. But even as Dizzy continues to live in complete denial of his roommate's existence by hosting late night card games and drinking parties, Marko would begin to assert his presence, first subtly, by assembling a remote control for Dizzy's handed down television set, then overtly, by bringing his pregnant girlfriend, Ana (Mojca Fatur) to stay with them. With his relationship with his girlfriend Marina (Natasa Burger) already strained by his inability to make a commitment and take on responsibility – often borrowing money to take her out on a date – Marko and Ana's relationship provides him with an unexpected glimpse into the road not taken, and with it, the possibility of life beyond the campus. Like Jarmusch's Stranger than Paradise, the film captures the intrinsic humor and pathos in the essential quest for a mundane ideal. Paralleling Dizzy's opening comments with a friend's closing anecdote of a recent saga involving the convoluted process of inflating what would turn out to be a miniature basketball, Burger creates a wry analogy for life as an interminable cycle of Sisyphean struggles that can only lead to wasted energy and deflated expectation.
Beneath Her Window, 2003. Another pleasant surprise from the Slovenian cinema series was Metod Pevec's lovely, slow brewing Beneath Her Window, a film vaguely reminiscent of Krzysztof Kieslowski's cinema (especially A Short Film About Love) in its interconnecting themes of obsession, missed connection, voyeurism, and chance, but played with the muted, idiosyncratic humor of a French romantic comedy. As in Kieslowski's films, the notion that subtle shifts in the alignment of fate lead to radically altered destinies also sets the tone for Beneath Her Window, an idea that is reinforced in the recurring episodes of Dusa (Polona Juh) ritualistically updating her astrological chart each morning and phoning her adviser to divine its meaning. Trained as a dancer, but making ends meet as a ballroom dance instructor, and stuck in a dead-end relationship with her married veterinarian, Boris (Robert Prebil), Dusa's life seems predictable even in its marginally controlled chaos. But Mars has now come into alignment, and change is bound to happen. Soon, her mother Vanda (Marijana Brecelj) breaks the news that her estranged father is returning home after abandoning the family on a spiritual quest to India, only to find out that officials have detained him, and now, only his pet king cobra will be released into their custody. Items have been disturbed inside the apartment – a clogged sink that now drains freely, a torn off ornament that has been reattached near the front door – reinforcing Dusa's suspicions that she is being stalked. Meanwhile, an amateur filmmaker named Jasha (Sasa Tabakovic) and his grandfather (Zlatko Sugman) have been working on an ornithological documentary on native birds, hoping to catch a sighting of a rare black moorhen believed to have made a nest with a white sparrow, unable to reproduce because of their speciological incompatibility, but immortalized in the romantic mythology of its enduring fidelity to its lost mate. In a sense, Dusa, too, is a lost sparrow, circling the wilderness, waiting to come home – a metaphor that is reflected in the juxtaposition of Jasha's blurred video footage of an apparent sighting of a moorhen in flight with the subsequent image of Dusa and Jasha walking back with his grandfather after the missed shot, the anxious, searching camera finally reaching its static equilibrium in the intimacy of their silent, passing glance.
Paper Planes, 1967. During his introduction to the screening of Bostjan Hladnik's seminal film Dance in the Rain, Slovenian film scholar Joseph Valencic remarked that its modernist structure would serve as a blueprint for Slovenian filmmaking over the course of the next two decades, and this paradigm is clearly reflected in Matjaz Klopcic's inspired, yet maddeningly (and deliberately) opaque Paper Planes, a fractured tale of longing and modern love set against the vacuous, glossy, picture perfect world of commercial advertising. The disjunction between appearance and reality is foretold in the film's opening sequence, capturing the tense moments before an apparent assassination: a mysterious stranger intently pursuing a man and woman out for a leisurely stroll around town. The episode turns out to be a false construction, a commercial for a high-end tailoring company – the fateful encounter ending, not with a gunshot, but solicited advice on how to dress well. This sense of subverted expectation would also set the tone for the film, as the photographer, Marko (Polde Bibic), sorting through the outtakes of their location footage, spots a beautiful young woman, Vera (Snezana Niksic) looking into the store window, and immediately falls in love with her. Seeing her again by chance, first, at a restaurant, then subsequently, at an art museum, Marko is quick to seize the opportunity to come face to face with the object of his desire, an attraction that proves less than mutual when Vera politely rebuffs his advances. However, their story doesn't end with the rejection. The reality shifts, and in a subsequent episode, Marko and Vera have become inseparable, isolated from the rest of the world in a blanket of snow, seemingly absorbed in each other's identity. But is she only a figuration of his unrequited longing… a projection of his idealized image? Part Last Year at Marienbad styled permutations of reality, and part polemic on the vanity and exploitation of consumerism, Paper Planes is also a thoughtful exposition on the enigma of human desire. Using the artifice of the advertising industry as a metaphor for the creation (and realization) of desire, the film confronts the illusive nature of images, where intimacy is distilled to semblances of connection, and bliss is found in the delusion of flimsy, manufactured fairytales.
Vesna, 1953. Composed as a lyrical comedy of errors, Frantisek Cáp's charming and whimsical Vesna chronicles the misadventures of handsome university student and glider pilot Samo (Franek Trefalt) and his mischievous friends Kristof (Jure Furlan) and Sandi (Janez Cuk) as they try to hatch a plan for passing their mathematics professor's (Stane Sever) final exam – that is, short of actually studying – by wooing his seemingly frumpy daughter. With their romantic and academic fates hinging on a coin toss, Samo's bad luck soon relegates him to the reluctant task of meeting "Vesna" (Metka Gabrijelcic) who, as it turns out, is an attractive young woman bearing little resemblance to the one his friends had spotted earlier with the professor. With his fortune now turned by a much welcomed case of mistaken identity, Samo and his friends quickly lose sight of their ulterior motive and are smitten by the lovely young woman, leaving Samo completely distracted from his studies with only days before the finals, and his friends scrambling to concoct their own schemes to win her heart. Representing only the sixth film to be made in Slovenia, Vesna would go on to become one of the country's most popular and beloved films of all time, widely regarded as capturing the essence of the Slovenian people in their gentility and easygoing manner, even during acts of mischief and adolescent rebellion. However, as Slovenian film scholar Joseph Valencic points out during the introduction for the film, the idea that the country's most quintessentially Slovenian film was actually directed by a Czech expatriate would also lead to its share of criticism, often painting the film as a nostalgic vision of Cáp's youth in Prague rather than an earnest attempt (albeit by an "outsider") to capture the spirit of the Slovenian people. In a way, Cáp's depiction is an idealization of youth itself, where romanticism and a sense of adventure converge to create a spirit of optimism and infinite possibility that, like the youthful idealism of Vesna, transcends all human borders.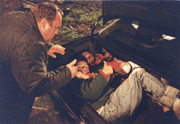 Spare Parts, 2003. Like Fyodor Dostoevsky's Crime and Punishment, Damjan Kozole's Spare Parts is imbued with a metaphoric yellow haze, a contamination that has tainted the souls of those who move in the periphery of everyday inhumanity and despair. Opening with a seemingly mundane, bookending episode of a mentor meeting his assistant for the first time at a motocross racetrack, the dangerous, adrenaline-fueled setting serves as an appropriate backdrop for Rudi's (Aljosa Kovacic) initiation into the booming, risky enterprise of human trafficking, shuttling illegal immigrants from the Middle East, African subcontinent, and the "other" Europe across Slovenia and its border gateways into Italy and Austria at 1,000 euros per person. Riding alongside veteran trafficker, Ludvik (Peter Musevski), a somber widower who seems as equally resigned to the past as he is to imparting his knowledge on surviving the trade (and perhaps implicitly, its moral consequences), recounting fond memories of his glory days as a former motocross champion, as well as the logistics of transferring, camouflaging, and dropping off people at the border in a way that mitigates risk of detection for both parties. At times, the immigrants are detained soon after reaching the other side and are promptly returned to their native countries, only to try again when they have saved enough money for another trip. At other times, the travails of crossing into Europe is only a prelude to a more horrific journey, as these undocumented immigrants fall prey to other criminal enterprises and turned into prostitutes or reduced to organ harvested "spare parts". And still other times, they never reach the other side, succumbing to illness, accidental death, or simply unable to live with the guilt of the untold cost of their passage. Bracing in its unsentimentality and haunting in its implication, Spare Parts is a laudable addition to Slovenia's rich cultural history of social realist films. As in Crime and Punishment, Kozole reflects moral decay through the decay of the city – a man-made contamination of nature that is suggested in the opening image of a polluted, industrial landscape of nuclear power plants and billowing factories, and is also subsequently implied in the experimental, homemade elixir that Ludvik drinks to treat his cancer – a reflection of humanity's self-inflicted wound in the wake of rapidly transforming geopolitics and economic exploitation.
Raft of the Medusa, 1980. One of the highlights from the Slovenian Cinema program is Karpo Godina's insightful dark comedy, Raft of the Medusa, a film that captures the infectious energy, irreverence, and idealism of the assorted avant-garde isms that defined the art movements of the 1920s. Told from the perspective of a pair of rural teachers, Kristina (Olga Kacijan) and Ljiljana (Vladislava Milosavljevic) struggling to single-handedly run the school after the headmaster's extended absence, their thirst for adventure is foretold in the film's surreal opening sequence, as Ljiljana meets a nebulous character, later revealed to be her brother (Predrag Panic) at a hotel to take a series of erotic art photographs that will be used for the dual purpose of marketing business equipment and setting up discreet rendezvous with interested suitors. Visited by her brother's newfound friends from Belgrade, a band of traveling artists led by Micić (Boris Komnenic) who has set out to promote zenithism – his own homegrown movement that combines dadaist performance with Marxist agitation – Ljiljana is soon seduced by the call of Art and, together with her friend and colleague Kristina, decide to abandon the school and join Micić's call to cultural revolution. Delivering equal doses of vaudeville, performance art, burlesque, and propaganda to a bemused, but often captivated audience, the itinerant performers make their way through the newly formed, united "Kingdom of Serbs, Croats and Slovenes", until rivalries, romantic entanglements, and political instability gradually take their toll. Evocatively titled after the grisly account of the shipwrecked French frigate Medusa whose survivors, floating on a raft, resorted to cannibalism and throwing the weak and the injured overboard as a means of conserving provisions, the film is also a potent deconstruction on the failure of the movement, where the ideal of art as a medium for provocation and social change is lost in the infighting, myopia, and self-absorption of its anointed messiahs. Concluding with the newsreel-like coda featuring blind schoolchildren – an aesthetic divergence from the formalism of the rest of the film – Godina not only reinforces his roots in documentary filmmaking, but also alludes to the discarded souls of the Medusa, recovered in the aftermath of tragedy and disillusionment, the dislocation of an inextinguishable fire.
Dance in the Rain, 1961. Considered to be among the best Slovenian films ever made (that, according to author and Slovenian film and culture scholar Joseph Valencic, often ranks first in national film polls), maverick filmmaker Bostjan Hladnik's dense and atmospheric Dance in the Rain finds greater kinship with the experimental narrative, fragmentation, and interiorization of Erik Lochen's The Hunt than with the advent of the French new wave (an association often cited for having worked as an assistant to Claude Chabrol), where anxieties and desires are revealed in the strangeness of projected mental landscapes. A portrait of a disintegrating relationship between the mercurial Peter (Miha Baloh) a struggling, indecisive painter, and his insecure older lover, a stage actress named Marusa (Dusa Pockaj), their increasing sense of desolation is reflected through a repeating series of familiar, yet increasingly alienating places of encounter: Peter's unkempt room at a derelict boarding house where neighbors often spy through unpatched holes in the door; the silhouette of an elusive woman from a window, a bar where Peter and Marusa meet for a drink, and where Marusa's devoted co-worker (Ali Raner) has starting visiting in an attempt to win over her affection, a restaurant where Peter shows his cruelty towards Marusa in order to drive her away. Hladnik's use of interweaving dream sequences and exaggerated sounds to convey heightened emotional states serve to increasingly blur the bounds between reality and fantasy, where patterns of recurrence reflect not only the inescapable truth that exists beneath the characters' strained conversations and consuming introspection, but also prescribes the corrosive cycle of their doomed love.
Rooster's Breakfast, 2007. During the introduction for the film, Marko Nabersnik mentioned that he had graduated from the New York Film Academy fourteen years earlier and, to some extent, the screening of his film in Lincoln Center was a culmination of that journey. In a way, that experience would also shape his well constructed, entertaining, and pleasant, if light and formulaic Rooster's Breakfast, a film that plays more within the realm of independent rather than indigenous cinema with its chronicle of life in a small town rife with eccentric characters, perennially drunken friends, a local mob boss, and a neighborhood sex bomb (who, not surprisingly, is the wife of aforementioned mob boss), and even includes a requisite love scene of the photogenic couple making… hay. The film is an amalgam of several interweaving stories surrounding a rural garage: the owner, a gregarious, aging mechanic, Gajas (Vlado Novak) who continues to indulge in his heyday (or is it, hay day?) stories as a lauded model worker who often saved the production day and got the girl, his young apprentice, Djuro (Primoz Bezjak), an orphan and recently laid-off junior mechanic who has traveled to the bucolic town to start a new life, low rent party entertainer, Roki (Davor Janjic) who introduces Gajas to the soulful music of Severina (in a cameo by Croatian pop star Severina Vuckovic), perennial customer and strip club owner, Lepec (Dario Varga) and his wife Bronja (Pia Zemljic) whose cars always seem to be in need of body repair, and a trio of layabouts including university professor and henpecked husband, Zobar (Matija Rozman) who converge in Gajas's repair shop after hours to play cards and drink their sorrows (and the night) away. Ever hovering between romantic comedy and thriller, the persistent tonal ambiguity impedes the film from reaching its figurative climax, even in the wake of a profoundly life-changing (if expected) denouement, making the sun-drenched, picture perfect ending seem all the more cynical and naïve.
Acquarello, 2008 [reprinted]