The Third Generation, 1979. An early cursory comment that capitalists invented terrorism as a means of selling security (that, in turn, will safeguard their own survival) provides the trenchant context for Rainer Werner Fassbinder's delirious and provocative satire, The Third Generation. Alluding to the emergence of a new generation of terrorists who, unlike their predecessors, lack a coherent agenda for their radicalism, the film may also be seen from the perspective of the generation of Germans born after the war whose lives were lived in relative privilege from their forefathers, having been raised during the reconstruction and the expansion (and globalization) of the German economy and dissociated from the stigma and austerity resulting from the war. This analogy is further reinforced in the early shots of a television broadcast featuring excerpts from Robert Bresson's The Devil Probably – a film that captures the sentiment of disaffected youth (representing a generation after May 68) – being recorded by Susanne Gast (Hanna Schygulla) for her supervisor, industrialist Peter Lurz (Eddie Constantine). Using the referential, secret passphrase "Die welt als wille und vorstellung" (after Arthur Schopenhauer's four volume treatise) after Lurz's arrival, Susanne sets an ambiguous covert plot into motion, alerting ringleader, August (Volker Spengler), Susanne's composer husband Edgar (Udo Kier), schoolteacher Hilda (Bulle Ogier), friend Petra (Margit Carstensen) and her husband Hans (Jürgen Draeger), and subsequently, even recruiting recently discharged soldier and explosives expert, Franz (Günther Kaufmann) who has arrived at the apartment to reunite with his drug-addicted lover, Ilsa (Y Sa Lo). Part deconstruction on the aftermath of the Baader-Meinhoff affair, part criticism of bourgeois alienation (and complacency), and part exposition on celebrity and media addiction (note the saturation of ambient sound, presumably from a constantly running television that crystallizes in the shot of Ilsa with arm outstretch against a foreshortened radio antenna that seemingly displaces a heroin needle as the instrument of her overdose), The Third Generation reflects Fassbinder's singular melding of manic ingenuity with contemporarily relevant social commentary, where the incisive observations serve not only as a reflection of a country's troubled past and uncertain present, but also foretells the corrosive, self-serving dynamics that will define the geopolitical climate of the future.
Seventeen, 1983. One of the highlights from Film Comment Selects this year was the screening of Joel DeMott and Jeff Kreines's underseen cinéma vérité film, Seventeen, a reverent and candid cross-cultural portrait of working class high school students from Muncie, Indiana that was once deemed objectionable for broadcast on PBS (the film had been commissioned as part of a documentary series on middle America) for confronting such (still) relevant social issues as race relations, drug use, unplanned pregnancy, underaged drinking, and dying young. Loosely centered on a headstrong girl named Lynn and her circle of friends, the film opens to the shot of Lynn and her classmates half-heartedly following the teacher's baking instructions, instead, using the hour to socialize with friends. In a way, the cooking lesson serves as a metaphor for the students' casual preparation for their transition into adulthood as well, having been filmed over the course of a year (the span of time subtly framed between varsity season and the senior prom). In one episode, news of Lynn's flirtation with an African American student named John sends the campus gossip mill abuzz, inciting the burning of a cross in her parents' yard and repeated telephone harassment by a young woman who may be one of John's acquaintances. In another episode, fellow cooking student, Robert confirms to the teacher that he is father of a pregnant student's baby, despite having ended the relationship with the girl earlier, and is unjudgingly counseled by the well-intentioned teacher on parental responsibilities. In still another episode, an alcohol-fueled party at Lynn's house becomes a sobering reminder of mortality when a mutual friend is gravely injured after a car accident. DeMott and Kreines insightfully frame the students within the context of home economics and sociology classes that serve to reflect the teenagers' interpersonal relationships, further reinforcing the integral role of the school experience as both a microcosm of an individual's domestic and social environments, and a real-life civics lesson on the importance of contributing to society.
Demon Lover Diary, 1980. Inasmuch as Joel DeMott and Jeff Kreines collaborative documentary, Seventeen provides an intimate and compassionate portrait of teenaged life in middle America, DeMott's earlier film, Demon Lover Diary – a diary of Kreines's reluctant involvement with the shooting of a schlock horror film called Demon Lover in suburban Michigan – proves to be its antithesis in its grotesque and increasingly surreal first-hand account of a no-budget, DIY film production gone awry. Invited to work as a technical director and cameraman, Kreines' working relationship with the film's producers becomes strained from the onset when he unexpectedly arrives – complete with girlfriend DeMott and a production crew friend in tow – several days later than planned, and is berated by factory workers turned aspiring movie moguls, Don Jackson and his friend, Jerry on the added personal and professional toll that his late arrival has taken on their already tight shooting schedule (with Jerry alluding to having cut off his finger at work in order to collect insurance money to finance the film, and Don having apparently mortgaged his house and taken an indeterminate sick leave from his job in order to work on the film [and now risks being fired if he continues to extend his absence]). The logistics of the production also proves to be more complicated than Kreines had expected. Don's arranged accommodations for the shoot turns out to be a guest room in his parents' house, and because of Mrs. Johnson's religious convictions, DeMott and Kreines must not only pose as a married couple, but also refrain from discussing the actual content of the film in her presence. The working script is virtually non-existent, and consists solely of Don's personal journal outlining the story (with Kreines oddly left without access to the material). And despite dispensing with any trace of realism in their over-the-top gothic sets, piecemeal costumes, and amateurish performances, Don and Jerry insist on using real weapons borrowed from Ted Nugent's private collection in order to film a crucial scene (complete with product demonstrations from an eager Nugent himself) – a bizarre encounter that grows even more absurd when Kreines attempts to pin down his role in the production by approaching the producers with a contract. In its idiosyncratic combination of documentary and real-life human comedy, Demon Lover Diary may be seen as an integral link, not only in the development of the mockumentary genre, but also in the thematic development of films that transect the bounds between real-life and performance (particularly, in the construction of metafilms) – a convergence between truth and staging that is perhaps best illustrated in DeMott's attempts to goad her friend into arranging a romantic encounter with the film's lead actress during a production break.
The Frontier of Dawn, 2008. Philippe Garrel's atmospheric and luminous, if oddly cold and alienated The Frontier of Dawn represents an amalgam of the filmmaker's familiar themes: the haunting of a failed love affair, the helplessness of seeing a loved one self-destruct, the guilt (and isolation) of survival, the fear of fleeting happiness. In this respect, the film's crepuscular title represents a young photographer, François's (Louis Garrel) anxiety in the days before his marriage to pretty, well-to-do Ève (Clémentine Poidatz) and impending fatherhood – a reluctance to lead a life of resigned "bourgeois happiness" that a friend once suggested after having lead a carefree – and largely bohemian – existence. Having once embarked on a passionate, if volatile relationship with a well known, highly strung actress named Carole (Laura Smet) only to devolve into uncertainty, disenchantment, callousness, and ultimately, abandonment when she continues to spend time with her estranged husband (and hides their affair from him) despite swooning, mutual declarations of love, François seems ready to move on from the ghosts of the past, until one day when he is tormented by the sight of Carole's apparition in a mirror and is compelled to face their unreconciled destiny. Departing from the cultural specificity of his previous film, Regular Lovers, Garrel instead returns to the stark, hermetic environments of his earlier films – barren apartments and tightly framed interior spaces (particularly beds and dining tables), where even outdoor scenes are often devoid of other people) that reflect interiority. However, while the chamber framework serves to reinforce the visceral directness of earlier works such as Savage Innocence and I Can No Longer Hear the Guitar, the singularity in The Frontier of Dawn instead creates a detached, fabular atmosphere (a sense of otherworldliness that is also suggested by François's dream involving a house in the forest) that detracts from the implicit emotional intensity given the story's autofictional premise, resulting instead in a film with quintessential Garrelian elements that, like the film's alterego, seems content with sleepwalking through familiar haunts and gestures.
The Chaser, 2008. Alternating between taut horror film and absurd comedy, Na Hong-jin's The Chaser is an audacious, if over-contrived and diluted procedural thriller. Inviting comparison to Bong Joon-ho's Memories of Murder (much to the detriment of Na's film) in its spiraling investigation of a series of murders, the film also suggests kinship with Kiyoshi Kurasawa's Cure in its portrayal of a blank-faced, disarming, everyman killer. Centering on a former police detective turned pimp, Joong-ho's (Kim Yun-seok) lone pursuit of a mysterious client (Ha Jung-woo) who has been linked to several missing call girls after the disappearance of another young woman in the same neighborhood, the film shifts abruptly from intrigue to a morbid rendition of Keystone Kops when the client, Young-min is hauled away to a local precinct and immediately confesses to the murder of several area prostitutes. Convinced that Young-min had kidnapped the women and is confessing to more sensational crimes in an attempt to confuse the case, Joong-ho unwittingly delays the investigation when the suspect suggests that his latest victim, single mother Min-jin (Seo Yeong-hie) may still be alive. With the situation further complicated by heavy media coverage in the case involving the mayor and a man protesting stalled sewage projects, the police are eager to put the public relations fiasco behind them, until officials, fearing even greater backlash from an apparent case of police cover-up, threaten to quash the interrogation even before an official investigation can be launched. Na's odd combination of intricate plot (one that seemingly also implicates the church and relies on repeated incompetence and failure of technology) and facile caricatures (a money hungry pimp, a bumbling police squad, an impotent suspect) creates an underlying imbalance that contributes to the film's manic tone which, given the film's gruesome denouement, comes across as either half-baked or mean-spirited.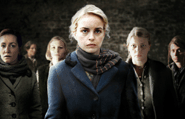 A Woman in Berlin, 2008. Based on the autobiographical novel by a German international correspondent who published her wartime journal under the pseudonym Anonyma, Max Färberböck's A Woman in Berlin presents a raw and sobering account of the waning days of World War II as the Russian army seized control of a town in war torn Berlin and, consequently, lorded over the decimated population of women, children, and elderly men left behind. Shot from the perspective of the unnamed heroine (Nina Hoss), the film chronicles her journey from victim to survivor, as encamped troops, prevented by their superiors from advancing their campaign to Reichstag, channel their weariness and displaced aggression by systematically raping and terrorizing the women of the town. But rather than facile characterizations of good and evil, the idea of victim and perpetrator in the film also proves to be malleable. In an early scene, the residents, having sought refuge in a cellar for protection against the Russians searching for their next victim, implores the Russian-speaking heroine to approach the soldiers in order to plead for the release of a captured young woman who, in turn, then flees to the safety of the locked room, leaving her savior to endure her intended fate. Later in the film, a young Russian soldier details the killing of children in his village by German soldiers, and the heroine reluctantly translates his testimony, repeatedly asking if he had actually witnessed the massacre. In still another episode, a Russian nurse named Masha (Aleksandra Kulikova) tries to dispel the notion of her superior's affection towards the heroine by revealing that the wife of Major Rybkin (Yevgeni Sidikhin), the commanding officer who had once refused to intervene and stop the violence, had been killed by the Germans. However, inasmuch as the film illustrates the grey area between survival and exploitation, transgression and moral conscience, the complexity of human behavior is also reduced to predictable caricatures – the proud, old world resident (Irm Hermann) all too eager to curry favor from their captors, the sullen, lovestruck nurse reduced to icy glares and adolescent tantrums to register displeasure at her rival, the smarmy lothario (Roman Gribkov) who uses his privileged position to his advantage, the craven young German soldier (Sebastian Urzendowsky) who wallows incessantly in self pity over the humiliation his girlfriend endures to shelter him, yet does nothing to protect her – resulting in a well intentioned, if superficial exposition on the untold victims of war.
The Tiger's Tail, 2006. The fable of catching a tiger by the tail only to be bitten back serves as a wry allegory for the modern day booming economy of Ireland, dubbed the Celtic tiger, in John Boorman's The Tiger's Tail. A contemporary retelling of Mark Twain's The Prince and the Pauper, Boorman establishes the profound social disparity created in the wake of the country's rapid economic development in the opening shot of well-respected property developer, Liam O'Leary (Brendan Gleeson) trying to navigate his way through a traffic jam on a bustling Dublin street, where shiny new automobiles become sitting targets for squeegee men and street hawkers (often bearing newspapers that reflect equally grim social statistics), and the reliance on new technology collides with old world realities of grazing sheep inopportunely planting themselves in the middle of the road to rest. (In one episode, Liam's reliance on his cell phone to communicate with his attractive trophy wife, Jane [Kim Cattrall] precludes him from noticing that he has been driving alongside her in the next lane.) Believing that he has crossed paths with his doppelgänger among the panhandlers on the road, Liam's life becomes increasingly complicated when the sighting turns out not to be a harbinger of his own death, but the surfacing of a double out to steal his identity and assume his privileged life. At the core of Boorman's sincere and commendable, if well worn cautionary tale on materialism, spiritual bankruptcy, and urban alienation is the idea of a modern, amnesic, and soulless society built on the hollow foundations and buried transgressions of the past: a forgotten and unreconciled history that is not only reflected in the relational dynamic between Liam and the people around him (most notably, in the degenerative memory loss suffered by Liam's elderly mother, his sister Oona's (Sinéad Cusack) long harbored secret, and a childhood friend's instability stemming from the trauma of abuse), but also in the cutthroat, often underhanded way he conducts business that reflect the exploitation and inhumanity of corporate politics.
Paradise, 2009. Something like an unconstructed take on Peter Mettler's epic essay film, Gambling, Gods and LSD, Michael Almereyda's Paradise similarly assembles a series of fragmentary, cross-cultural, quotidian images taken from the filmmaker's video diaries that reflect on fundamental human questions of life, existential purpose, and transcendence. In an early episode in the film, a man passing through a bleak winter landscape impulsively stops on the side of a road in order to photograph cattle grazing in a pasture, risking injury to capture an ephemeral moment of austere beauty. In another episode, the tables are turned, and nature intrudes on civilization in the shot of pigeons perched on a child who has been feeding the birds at a cobblestone town square. In Los Angeles, a group of revelers wend their way through dark, labyrinthine streets of in search of an optimal spot to view fireworks. In a rural town, rambunctious children strike the embers on a charred tree near a barbecue pit, trying to hasten the roasting of a pig. Converging towards Jacques Rivette and Manoel de Oliveira's recurring theme, Almereyda also examines the nature of the stage and spectacle in a shot of a tented, outdoor concert that becomes the site of a secondary "performance" in the silhouette of dogs playfully responding to the attention of unseen bystanders behind the screen (a shot that loosely evokes the shot of curious onlookers milling around a Roman-era excavation site in José Luis Guerín's En Construcción). Less cohesive and visually arresting than Mettler's film, Paradise repeatedly resorts to familiar tropes of children at play to reflect essential ideas of innocence and paradise lost, paradoxically framing moments of enlightenment as trite, self-conscious observations.
Acquarello, 2009 [reprinted]