Brasilia, Contradictions of a New City, 1967. Commissioned by Italian typewriter manufacturing company Olivetti in 1966 to showcase the construction of Brazil's newly completed modern capital, Brasilia (and who then promptly shelved the completed work, perhaps because of its implicit critical inquiry), Joaquim Pedro de Andrade's exquisitely shot, articulate, and impassioned film, Brasilia, Contradictions of a New City, as its name suggests, is a tale of two cities: one, a paradigm for racial and social integration and progressive urban living; the other, an unattainable (and unaffordable) idealized promise land of unlimited employment that can only be reached by boarding congested rural buses or commuting from neighboring shantytowns that have sprouted along the city limits, housing other pioneering migrant laborers who, years earlier, made the same journey in search of similar opportunity. A tour of the city's cross-grid traffic system, described as the intersection of two major axes (that implicitly form an 'X' mark), provides an astute introduction to the city's novel urban design, relegating the placement of cemeteries to the outskirts of the major axes so that funeral processions (and symbolically, death) never cross the city's major intersection. Juxtaposing Brasilia's all modern architecture and meticulous construction of planned communities with interviews of blue collar workers living in makeshift houses, itinerant workers from the provinces who leave their families behind to work in the city's ongoing construction projects, and low level civil service employees who were forced to relocate their often large families into cramped apartments with the centralization of government offices in the new capital, de Andrade reinforces the dichotomy of urbanization and gentrification as intrinsic processes of institutionalized socioeconomic segregation (a theme that also surfaces in José Luis Guerín's En Construcción.
Garrincha, Joy of the People, 1962. Something like a kindred spirit to Hiroshi Teshigahara's José Torres in its mundane observations of the dedicated craft and everyday rituals of a champion sportsman, Garrincha, Joy of the People is an affectionately rendered and thoughtful, if somewhat idealized portrait of Manoel Francisco dos Santos, affectionately called "Garrincha", the Brazilian football star considered to be one of the country's greatest players ever, second only to soccer legend (and former team mate), Pelé. Nicknamed Garrincha – "little bird" – for his awkward stance resulting from a birth defect that produced a sideways curvature of his legs, Garrincha is a quintessential working class hero – a native son from the impoverished textile mill town of Pau Grande whose mediocre job performance at the factory was overlooked only because of his ability to lead the local team to victory during weekend competitions. Assembled as a collage of still photographs, newsreel archives from the 1958 and 1962 World Cup tournaments, and present-day documentary footage of Garrincha's modest home life with his wife and daughters in his boyhood town (a house that was given as a gift by local businesses after his performance at the 1958 World Cup finals), the film also serves as a whimsical metaphor for the essence of Brazilian culture, where the everyday drudgery, alienation, and competition inherent in urban existence gives way to the fleeting escapism and solidarity of a national sport – where the erasure of indigenous identity and the pressures of modern civilization in the delusive quest for a post-colonial European ideal is briefly trumped by the idiosyncratic sight of a quirky, superstitious, simple living, native footballer with crooked knees and killer dribbles.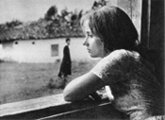 The Priest and the Girl, 1965. Marking Joaquim Pedro de Andrade's first feature film, The Priest and the Girl hews closer to naturalism than modernism in its stark and muted Emile Zola-like tale of a young priest (Paulo José) who has been summoned to a small rural village in Minas Gerais in order to dispense extreme unction for the town's terminally ill priest and assume his parish. A transgression is suggested in the dying priest's utterance of a young woman's name, Mariana (Helena Ignez), the ward of a middle-aged man named Fortunato (Mário Lago), and immediately, the young priest is implicated in guarding the secrets of the insular town. But Mariana's station proves to be even more ambiguous. As intriguingly enigmatic as she is frustratingly willful, her seductive beauty and libertine outlook has proved to be a powerful intoxication for the men in the village, including her own benefactor, who has begun to look towards his ward as if she were his wife, and now implores the young priest to consecrate their already consummated union (a marriage that had once been forbidden by the priest's predecessor), and a suitor named Vitorino (Fauzi Arap) who watches his beloved from an unobstructed view of a nearby cottage. Drawn towards Mariana in the awkward silence of their mutual isolation and a profound sense of despair over his own surfacing emotions, the priest struggles with his desire to turn away from the harsh gaze of the claustrophobic village and consequently, his own flagging spiritual calling. Unfolding as a free verse adaptation of sorts on the themes inspired by the poetry of modernist writer, Carlos Drummond de Andrade, the aesthetically atypical The Priest and the Girl, nevertheless, provides a insightful framework into de Andrade's recurring expositions on cultural ingraining, the affectation of landscape, and the elusive nature of desire.
The Master of Apipucos, 1959. Originally conceived as an installment in a two-panel portrait of prominent Brazilian intellectuals (and family friends), The Master of Apipucos captures a day in the life of author and sociologist, Gilberto Freire whose highly influential book, The Masters and the Slaves examined the unique essence of Brazilian identity through the framework of an instilled racial assimilation and cultural cross-pollination (a theory that would subsequently be known as Brazil's "racial democracy"). Chronicling Freire's idyllic, ordered, and decidedly indulgent life in his secluded, hillside country estate in the town of Apipucos where he tends to his well maintained garden, while away the hours at his well-appointed personal library (one that, not surprisingly, proudly showcases his published works), distractedly eats a light breakfast that has been served upon his wife's command by a house servant, sits in his comfortable leather armchair drinking his favorite liqueur, and savors the cook's aromatic meal preparations in the kitchen, de Andrade insightfully illustrates the insular, privileged, and almost anachronistic environment that surrounds Freire, and in the process, provides a possible glimpse into the creative stimulus that inspired the author's idea of colonial-era plantations as a contemporary social paradigm for racial integration and indigenous identity.
The Poet of the Castle, 1959. A companion piece to The Master of Apipucos, The Poet of the Castle is a reverent portrait of beloved Brazilian modernist poet – and de Andrade's godfather – Manuel Bandeira. Plagued by delicate health throughout his lifetime stemming from a childhood bout of tuberculosis, Bandeira's daily ritual intrinsically reflects a resigned awareness of his physical limitations: eating his breakfast while still in his pajamas, placing his typewriter near the side of the bed in order to continue working on his drafts while reclining, paying a visit to the neighborhood drugstore. But this consciousness of fragility his seems to have only served to fuel Bandeira's irrepressible spirit, as his leisurely walks around town invariably turn into free associative, daydreaming excursions into distant places and exotic destinations, episodes of nostalgia, meetings with old friends, and silent appreciation of the female form. As in de Andrade's portrait of sociologist Gilberto Freire, The Poet of the Castle captures the spirit of Bandeiro's poetry as a integral reflection of the poet's acute awareness of his own human frailty and desire.
Macunaíma, 1969. In an early episode of Joaquim Pedro de Andrade's delirious, bawdy, idiosyncratically fragmented, and bluntly allegorical film, Macunaíma, the eponymous hero, having been abandoned by his impoverished family in the forest, encounters an ogre who then proceeds to placate the hungry child by feeding him a piece of flesh carved from his own leg – a grotesque gesture that the ogre takes as an implicit acceptance that binds them to a mutual destiny. In hindsight, this correlated image of anthropophagy and implication serves as an appropriate introduction to the recurring themes inherent in de Andrade's cinema. Adapted from author Mario de Andrade's seminal modernista novel, the film also bears the characteristic imprint of the tropicalism movement in its melding of indigenous folktale and carnivalesque satire to create an acerbic commentary on the continued, deep polarization of post-colonial Brazilian society, as manifested through its inequitable treatment of race, sexuality, and privilege. At the heart of this wry self-reflection is the picaresque adventure of the precocious innocent, Macunaíma, the youngest child of a family of jungle dwellers who, upon the death of the family matriarch, sheds his dark skin in an enchanted spring and embarks on a journey to the city with his brothers, where he encounters a brave new world of wealth, empowerment, decadence, and insurgency. Using cannibalism as a metaphor for the evolution of Brazilian culture as a consequence of exploitation in the aftermath of colonialism (of national resources and the subjugation of people), capitalism (of workers in the pursuit of profit), and imperialism (of industrialized countries in their economic domination over underdeveloped nations) – in essence, the dynamic consumption and assimilation of other cultures into the forming of an indigenous, often contradictory national character – de Andrade creates a droll and absurdist tale on urban alienation, essential identity, and the irrepressibility of the human spirit.
Acquarello, 2007 [reprinted]