Victor… Before It's Too Late, 1998. In Sandrine Veysset's Victor… Before It's Too Late, social observation and whimsicality oddly – but seamlessly – converge into a bracing exploration of family, connection, and healing. From the opening sequence of an anxious Victor (Jérémy Chaix) staring out at mobile airplanes with both wistfulness and fear that segues into a shot of him running away in the dark of night after a seemingly surreal act of violence, Veyssett creates something of a eccentric realist fable. Rescued by carnival attendant Mick (Mathieu Lané) who promptly deposits him at the door of a prostitute, Triche (Lydia Andrei), Victor soon finds a kindred spirit in the troubled young woman, bound together by a mutual history of parental abuse and sublimated dysfunction. Veysett ingeniously captures the ambiguity between reality and imagination to reflect Victor's confusion and uncertainty over the adult world around him (a sense of dread that is also reinforced by him wearing a red coat that evokes images of Red Riding Hood traversing the forest), striking a delicate balance between gritty realism and fractured fairytale that, like Mick's traveling carnival, offers respite in its fleeting moments of mundane grace.
Sound and Fury, 1988. While the highly stylized, oneiric sequences in Sound and Fury portend Jean-Claude Brisseau's preoccupation with erotic imagery, his visceral, unsentimental portrait of childhood alienation nevertheless aligns closer to the naturalism of Ken Loach's Kes and Jean Eustache's Mes petites amoureuses than the surrealism of his later films. Indeed, Bruno's (Vincent Gasperitsch) initiation into his new life in the suburbs proves to be as mythological as the shrouded women that occupy his waking dreams, greeted by a real-life trial by fire as he runs a gauntlet of burning doormats that have been set ablaze by his reckless neighbor, Jean-Roger (François Négret). Arriving at an empty apartment with a bird in tow following the death of his guardian, Bruno's aimlessness is further compounded by his mother's frequent absences from home (communicating with him only through assorted notes that she leaves behind), a sense of isolation that further draws him to Bruno and his equally dysfunctional, yet fiercely devoted family. Another surrogate also surfaces in Bruno's life. Struggling to keep up with his grade level, Bruno's idealistic teacher (Fabienne Babe) offers to tutor him after school and becomes a neutralizing influence to Jean-Roger's increasingly destructive antics. But when Jean-Roger's household is upended by the news of his older brother's (Thierry Helene) decision to move out, Bruno once again finds himself caught up in the entropy of his friend's unraveling life, torn between a need to belong and to be loved. By relegating his now familiar (and arguably indulgent) images of ecstatic angels into the periphery, Sound and Fury is perhaps Brisseau's most accessible and honest film, retaining the intriguing, provocative nature of his body of work without the distraction of overripe sexuality that has diluted his later films (most notably Secret Things and Exterminating Angels).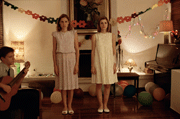 Dogtooth, 2009. In Yorgos Lanthimos's previous film, Kinetta, an amateur film crew converges at a resort hotel in the off season to reenact accident and crime scenes, blurring the bounds between reality and staging in their obsessive attention to detail and complete immersion in their inscrutable project. In a sense, Dogtooth proves to be an extension of these themes of isolation, psychological ambiguity, and constructed reality. Each day, after their father (Christos Stergioglou) drives away from the gates of their secluded house in the suburbs, the older daughter (Aggeliki Papoulia), younger daughter (Anna Kalaitzidou), and son (Hristos Passalis) follow a strict regimen of tape-recorded (creative) vocabulary lessons (one that oddly assigns new definitions to everyday words), prescribed meals, and physical activities under the watchful eye of their mother (Michelle Valley). As in Kinetta, their motives remain unclear, and only the performance of the absurd ritual betrays their anxiety and longing. During the Q&A for the film, Lanthimos indicated that his initial idea was a science fiction in which families were being outlawed, and the lengths that people would go to in order to keep their own family intact. Intriguingly, the temporally indeterminate setting – represented by rotary dial telephones, cassette recorders, and VCRs – not only alludes to the film's conceptual origin, but also reinforces the children's hermetic existence that, like the obsolete household gadgets, is equally carefully preserving and repressively stunting.
I Am Love, 2009. With its baroque interiors and saturated compositions, Luca Guadagnino's sprawling I Am Love recalls the melodramas of Luchino Visconti in its lush and operatic, if oddly clinical and overwrought treatise on passion, identity, and destiny. And like Visconti's The Leopard, a majestic dinner party also foretells the end of a way of life: the retirement of Milanese textile magnate, Edoardo Recchi (Gabriele Ferzetti) and his decision to cede the reins of the family business to his son, Tancredi (Pippo Delbono) as well as Tancredi's oldest son, Edo (Flavio Parenti). With her husband and son now immersed in the day-to-day operations of the company and her only daughter, Betta (Alba Rohrwacher) studying abroad, Tancredi's Russian-born wife, Emma (Tilda Swinton) is confronted with the isolation and boredom of her increasingly empty, well-appointed household (in one episode, Emma tries to engage her attendant, Ida [Maria Paiato] in a conversation, but is respectfully cut short, mindful of their class difference). Embarking on an extended holiday through the Italian countryside en route to Betta's photography exhibition, Emma's senses are soon re-awakened by the change of scenery, and with it, a newfound liberation and resurfaced identity away from the Recchi clan. Guadagnino deploys an arsenal of familiar, allusive, piecemeal plots in lieu of a tightly woven narrative to convey Emma's rekindled passion and reconnection to her past (including the use of an intrusive, swollen musical soundtrack): the equation of food with the senses (Alfonso Arau's Like Water for Chocolate), the coupling in the wilderness as a reflection of essential human desire (Bruno Dumont's The Life of Jesus), the tragedy of discovery and rejection (Louis Malle's Damage). Rather than a modern day take on the classical melodrama by interweaving storytelling and evocative imagery, I Am Love proves to be as fragile and diffused as the façade of its hermetic, carefully constructed beautiful world.
Last Train Home, 2009. From the seemingly mundane (if logistically nightmarish) objective of documenting the annual mass exodus of migrant workers from industrial cities as they return home to their rural villages in time for the Chinese New Year, Lixin Fan poignantly captures the dissolution of family in the face of globalism, poverty, and disenfranchisement in Last Train Home. Shot from the perspective of factory workers Changhua and Sugin Zhang over the course of three years as they travel for their only trip home to Guangzhou in the Sichuan province for the year, the film understatedly reveals the toll that their absence has taken on the children they have left behind. For their adolescent son, the separation has led to a need for affirmation, trying to win his parents' approval by repeatedly rehashing his accomplishments in school (feeding off their constant nagging on the importance of a good education). For Qin, their strong willed teenaged daughter, her grandparents – now only her grandmother – are her true parents and are entitled to her deference, rejecting their attempts at discipline and authority. With Qin eager to assert her independence and leave the village to try her hand at factory work, the Zhangs' relatively benign drama of getting home each New Year holiday becomes a potent commentary on the broader cultural significance of rapid industrialization on traditional values of family, caring for elders, and providing a better life for the next generation. Rather than auguring the promise of a new year, the holiday becomes a paradoxical signpost for what has been irreparably lost in the pursuit of progress and economic relief. As Fan poetically remarks during the Q&A on the parents' enduring sacrifices and hardship for their family, "they burn their candles out so that their children's light could shine brightly."
Acquarello, 2010 [reprinted]