The Woman Alone, 2004. During the Q&A for The Woman Alone, Brahim Fritah explained that his original shooting strategy of concealing the subject, Akosse Legba's face by filming only fragments of her body along with the empty rooms of her (former) employer/owner's luxury apartment and images from her impoverished village in Togo, was designed after Legba had requested anonymity for her (perceived) shame and humiliation from her ordeal (a strategy similarly implemented by Tsai Ming-liang in the documentary, My New Friends). The strategy turns out not only to be artful, but also a particularly inspired one, as Legba's horrific first-hand testimony of subhuman treatment is reflected in the fractured shots, disembodied voice, and impressionistic photographs that acutely – and poignantly – articulate her captivity and systematic dehumanization at the hands of seemingly well-intentioned benefactors. A victim of modern slavery in France, Legba was brought into the country on a false passport by a French Togolese couple offering a chance for a better life abroad, only to be forced into a life of unpaid servitude. Denied any kind of autonomy even within the household, Legba was repeatedly abused by the couple until a near fatal beating finally compels neighbors to summon the police for help and inevitably sets her on the path to freedom. Concluding with the close-up shot of a photographic section that gradually pulls back to reveal the entire photograph of Legba, with her integrated movement finally captured through the continuity of her image on recorded video, the sequence becomes an indelible, metaphoric reconstitution of Legba's fractured and lost identity – a restoration of wholeness – in the face of dehumanization, exploitation, and inhumanity.
My Lost House, 2001. Shot from the austere interiors of a disused housing project that has been scheduled for demolition on the outskirts of Paris, Kamal El Mahouti, returns to the "home"of his youth in My Lost House where, in 1970, at the age of six, his family had immigrated from Morocco to France and lived at the housing project for the next twenty years. Juxtaposing the cold, oppressive, graffiti-riddled hallways and crumbling, derelict walls against the filmmaker's collage of thoughtful, affectionate, and fond memories, photographs, and personal anecdotes from his childhood – his family's first celebration of Christmas (after nagging his non-Christian parents to celebrate the holiday like his European friends did), his traditional rite of passage by participating in the sacrifice of a goat (all from the confines of the tiny bathroom in their apartment), his family's unforgettable, non-stop, cross-country, "eight people crammed into a compact car" road trip for a Moroccan vacation – El Mahouti's lingering, yet clinical gaze is a complex and bittersweet human history of opportunity and disenfranchisement, social openness and exclusion, assimilation and cultural erasure.

Toi, Waguih, 2005. Composed of a series of informal conversations between screenwriter Namir Abdel Messeeh and his reticent, introspective father, Waguih, a reformed Communist and former political prisoner during the early years of the Egyptian Republic, Toi, Waguih evokes Chantal Akerman's recurring theme of parental silence – a silence of personal history borne of unarticulated trauma (in the case of Akerman's mother, the Holocaust) that has resulted in their own children's sense of disconnected culture and uprooted heritage. Unfolding in fractured conversations, extended silence, and quotidian images (most notably, Waguih's retirement party where his colleagues equally comment on his reticence and fierce intelligence), Toi, Waguih is a poignant, all-too-familiar story of diaspora: a rupture in the continuity of ancestral memory, a first-generation cultural estrangement between traditional and assimilated culture, a silence of collective history.
Amal, 2005. A frequently recurring theme in the NYAFF Shorts Program, Emerging Voices from the Maghreb – and perhaps, in the entire festival – is the history of culturally enabled marginalization of women in contemporary society, and this theme clearly resonates in Ali Benkirane's Amal, an understated portrait of a cheerful and precocious girl living in a farming village in the Moroccan countryside who, each morning, prods her drowsy, unmotivated brother out of bed so that they can walk to school together. A bright and conscientious student, she has already surpassed her parents' expectations by completing her intermediate school education and now dreams of becoming a doctor – a dream that her teacher nurtures by rewarding her with scientific books to study during summer vacation, with a promise that she return the favor by paying a surprise visit to his classroom after she has earned her diploma. However, when her parents decide that she is needed at home to help her mother manage the house and will no longer be returning to school, Amal finds a way to keep her dreams alive. Juxtaposing the idyllic pastoral images of rural Morocco with the crushing evaporation of Amal's childhood dreams, Benkirane creates a thoughtful exposition on social inequity and culturally fostered gender bias.
Noura's Summer, 2005. Continuing in the muted, expositional vein of Amal on the marginalization of women, Pascal Tessaud's Noura's Summer is an examination of the outmoded, often conflicting traditions that perpetuate a generational culture clash between old world tradition and new world modernity, an ingrained culture that continues to perceive women, not as independent people, but as properties of their families (and subsequently, their husbands), even as they lead self-sustaining lives so that they can provide financial support to the family. At the center of the story is recent high school graduate, Noura, the youngest child of a Moroccan immigrant family who leads an outwardly contemporary life of cell phones, co-ed schools, and mixed socials – her parents expressing their genuine pride in her academic accomplishment even as they clandestinely make preparations for her arranged marriage without her consent during a planned, upcoming summer vacation to their native country. Discovering his parents' ulterior motive for the homecoming trip, she attempts to contact her best friend in vain, before succumbing to profound despair. As in recent films that correlate alienation with technology through the iconic image of the cell phone (most notably, Jeong Jae-eun's Take Care of My Cat and Jia Zhangke's The World), Noura's Summer illustrates the paradox of cultural isolation in an age of progressive societies and globalization.
Delwende, 2005. S. Pierre Yameogo returns from last year's NYAFF mid-career retrospective with perhaps his most mature, immediately relevant, and socially confrontational film to date, a provocative moral tale on the barbaric (and largely misogynistic) tribal custom of scapegoating through witch denunciation and exile – often of the most weak, disempowered, and vulnerable members of the village – in times of hardship, natural disasters, death, and unexplained crisis. The film opens to a seemingly idyllic rural village in Burkina Faso where the elders' divine gratitude for the year's bountiful harvest is tempered by the somber image of freshly buried graves in the village graveyard, and a tribal elder gathering to discuss conducting a witch hunt in an attempt to find and eradicate the source of the epidemic that causes victims, mostly children, to suffer and inevitably die in contorted agony. Ostensibly motivated by his desire to save his daughter Pougbila (Claire Ilboudo) from the seeming scourge of the fatal malady (but perhaps, more likely, to conceal a grave transgression or to divest himself of all parental responsibilities to provide for her), a village elder named Diahrra (Célestin Zongo) dispatches an emissary to bring Pougbila's promised husband for a meeting in an attempt to expedite their marriage so that she may leave the village. But Diahrra's strong willed wife Napoko (Blandine Yaméogo) disagrees with such a rash and selfish decision, arguing that Pougbila's fragile emotional state after an unspoken trauma leaves her emotional unprepared for the life-altering responsibilities of an arranged marriage. In openly challenging Diahrra's patriarchal authority over Pougbila's future, Napoko leaves herself vulnerable to denunciation when a holy man is summoned to root out the evildoer from the village. In its fabular, affirming, and profoundly humanist approach towards critical self-examination, Delwende favorably evokes the films of Ousmane Sembene and Idrissa Ouedraogo in its incisive social expositions of outmoded customs that contribute to the cultural stagnation of post-colonial Africa.
Hotel of Dreams, 2005. As a poor, underprivileged Catholic boy growing up in Senegal, Jeannot fondly recalls his family's trips to the idyllic, coastal village of Popenguine where, on the day of the Pentecost, Senegalese Christians would descend en masse to the village on an annual pilgrimage to the site where the miracle of a Virgin Mary sighting had occurred – a childhood memory that would be tainted by a fateful encounter one year with a security guard who would turn him away from the grounds of a hotel as he tried to admire its luxurious splendor from afar. The episode would continue to haunt Jeannot even after leaving Senegal for a better life in Belgium at the age of eighteen, where he would, for the next 25 years, settle into a life of middle-class comfortability with his European wife and their daughter. Now recently divorced and their daughter now an independent, young woman, Jeannot has decided to leave his adoptive country and return to Popenguine to build his own hotel of dreams, an ambitious project that would not only pit him against European investors who have already carved out their own beachfront properties catering to exclusively European clientele, but also the distrustful local community who find Jeannot's introvertedness and transgressive self-reliance (particularly in his failure to consult with the village elders before starting the construction project) too alien to be immediately embraced into the community. At the heart of filmmaker Helle Toft Jensen lighthearted, yet probing, observant, and illuminating chronicle of Jeannot's professional – and personal – odyssey is the reality of an emigrant's cultural transformation, uprooting, and native estrangement that occur with his assimilation into an adopted culture (a recurring preoccupation that surfaces throughout Trinh T. Minh-ha's work). In the end, it is this erasure (and hybridity) of identity that would prove to be Jeannot's most formidable obstacle in his lifelong journey home: a personal struggle to re-assimilate into the culture of his native land.
On Line Rendez-vous, 2005. A short film on love in the age of internet, On Line Rendez-vous chronicles the everyday rituals of a middle-aged couple, Franck and Myriam who continue to perform the empty rituals of their loveless marriage in resentful silence: passively trading barbs through uncivil personal messages scrawled on their bathroom mirror, spiking drinks at dinner time, demarcating their sleeping area of the bed with a stretch of rope, and flaunting their virtual infidelities in front of each other. Convinced that he has met the woman of his dreams, Franck arranges for a rendez-vous on Valentine's Day with unexpected – and inebriating – results. Adama Roamba presents a compact, yet effective and affectionate tale of an estranged couple at the crossroads of their relationship who search through all the proverbial corners of the world in order to find true love, only to find their way back to each other.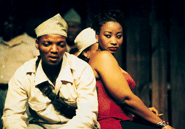 U-Carmen eKhayelitsha, 2005. The 13th New York African Film Festival's opening night selection is Mark Dornford-May and the Dimpho Di Kopane South African Film and Lyric Theatre Ensemble's gorgeous, sultry, bawdy, offbeat, and invigorating re-adaptation of Georges Bizet's iconic Sevillian gypsy opera Carmen set in a modern day cigarette factory in the South African industrial town of Khayelitsha, near Cape Town. Sung entirely in Xhosa, one of the eleven official languages of South African, the titular role of the luminous seductress Carmen (Pauline Malefane) is transformed into the beautiful, alluring, and confidently outspoken cigarette roller and member of the Gypsy cigarette company's all-ladies choir who catches the eye of a dashing, but insecure and weak-willed police sergeant named Jongi (Andile Tshoni) who abandons his socially (and morally) upstanding life in order to be with her, only to lose faith in their love and abandon her. The film remains faithful to the musical arrangement of the Bizet opera (with the exception of slightly abridged versions of the toreador's song) while infusing a unique African perspective to create a bold and infectiously bracing reinvention of Prosper Mérimée's timeless, tragic tale of seduction, jealousy, betrayal, star-crossed love, and moral ruin.
Conversations on a Sunday Afternoon, 2005. Khalo Matabane expounds on the cross-cultural interrogations of post-apartheid society in his previous film, Story of a Beautiful Country with Conversations on a Sunday Afternoon, a thoughtful, insightful, and articulate melding of fiction and documentary on the changing landscape of new South African society as a result of continental (and international) immigration, refugeeism, and exile. Told from the perspective of an eccentric, aimless man biding his time at a local park reading Somali writer Nuruddin Farah's novel, Links who becomes inspired to write a story based on his chance encounter one day with a lonely, introverted Somali refugee named Fatima, the film examines the multifaceted nature of African diaspora, the meaning of South African identity, and the looming potential for social – and humanitarian – crisis caused by the large influx of new immigrants into the country: a woman from the former Yugoslavia recounts her heartbreaking decision to leave her homeland after years of seemingly unending, devastating Balkan Wars; an Asian woman who immigrated to the country during the years of oppressive military rule of a nascent South Korea encounters bigotry from both white and black communities; young women described their flight from their native country to escape female genital mutilation; a Catholic young woman describes her family's exile from Ethiopia for religious and political reasons as a child, and now feels as though she is a stranger in her own homeland; a British intellectual who immigrated to the country for a more sympathetic quality of life; a secret service agent (or perhaps, more appropriately, a hired thug) once employed by a now-deposed dictator who sees South Africa as a tabula rasa land of opportunity; a group of detained illegal immigrants awaiting deportation back to their impoverished countries express their purely economic motivations for wanting to stay in the country. In the end, what emerges from Matabane's elegantly rendered cultural tapestry is not only an indigenous phenomenon brought about by the free society of a new South Africa, but a broader, global paradigm for inevitable social transformation in the wake of migration, displacement, and multiculturalism.
All About Darfur, 2005. Incited by increasingly prophetic remarks from the international community that the Darfur crisis is reaching the level of genocide, Sudanese native and British immigrant Taghreed Elsanhouri returns to her beloved homeland to create the provocative, insightful, and illuminating documentary, All About Darfur. Consisting of a series of interviews with ordinary citizens, government officials, displaced, often unemployed villagers from other regions who have migrated northward towards more stable communities, academians, and human rights activists as they discuss their lives, hopes, dreams, and opinions on the nature of the conflict, what emerges is an indigenous crisis borne of ingrained, centuries old tribal factionalism that continue to exist in the western and southern regions of Sudan that has been exacerbated in recent years by a large-scale nomadic migration from neighboring, drought-stricken countries such as Chad. As Elsanhouri subsequently reinforces during the Q&A, the notion of Sudan as a country is, in itself, an artificial creation – an amalgam of disparate (and often opposing) tribes artificially bounded by colonial-era territorialism. In essence, Elsanhouri refutes the international consensus that the crisis of Darfur is reducible to simplified conclusions of ethnic cleaning, racial intolerance, government impotence, and tribal anarchy, but rather, a complex dynamic of tribal hierarchy and the unforeseen consequence of government-empowered militias whose allegiance to the government is superseded by their allegiance to their tribes (most notably, in the operations of the Janjaweed militia). It is this cultural insight that also fuels the sense of reluctance by the Sudanese population towards foreign intervention as a solution to the crisis (and particularly, intervention in a post Iraq War environment), a resignation to the idea that, like the former Yugoslavia, the notion of one united country is a colonially fabricated, vestigial myth that perhaps was not meant to be.
Little Senegal, 2001. An aging museum curator named Alloune (Sotigui Kouyaté) conducts walking tours of a historical internment and transfer port in Goree Island used during the slave trade, a vocation that often makes him a first-hand witness to the tourists' emotionally wrenching experience. Haunted by recurring dreams of his ancestors, he becomes convinced that at the root of his unsettled conscience is their invocation for him to reconnect with the descendants of his tribal elders who were once taken from the village and sold into slavery in South Carolina. Embarking on a transcontinental journey that traces the route of a family sold into the slave trade from Senegal through a network of South Carolina plantations and eventually to their emancipation, Alloune's research brings him to Harlem and the shared apartment of his newly immigrated nephew, Hassan (Karim Traoré) and his roommate Karim (Roschdy Zem) in search of a tribal relative named Ida Robinson (Sharon Hope), the determined and fiercely independent owner of a newspaper and sundry store. But Alloune's idealized hopes for an ancestrally fated reunion is immediately quashed when Ida misconstrues Alloune's willingness to help her with her shop and her search for estranged, troubled granddaughter as an all-too-frequent overture by impoverished immigrants seeking to curry favor in order to get a job. Rachid Bouchareb creates a sophisticated, affectionate, and thoughtful examination of social prejudice, division, otherness, and community in Little Senegal. Anticipating the muted, offbeat slice-of-life stories of Eastern European cinema, Bouchareb elegantly interweaves incisive social commentary and compassionate human comedy to create an understated, yet indelible meditation on human interconnectedness.
The Colonial Friend, 2004. Rachid Bouchareb's indelible and haunting short film The Colonial Friend is a muted, yet thoughtful and compelling true historical account of the 1944 massacre by the French army of indigenous African soldiers who sought to collect wages for their military service. Centered on a Cameroonian farmer, Abi, who, like many able-bodied indigenous men from colonized territories, leaves his family to heed the patriotic call for conscription into the French armed forces during the early 1940s as part of the nation's war campaign against the Germans, he serves with distinction during the war, fighting – and often dying – alongside French and colonized soldiers in the battlefield until he is captured and interned when France falls into the hands of the Germans. Eventually repatriated at the end of the war, Abi briefly returns to his family before rejoining his fellow Senegalese veterans to demand their unpaid wages at Camp de Thiaroye, a peaceful protest that soon turns deadly when the French army turns its armaments towards its own soldiers to force their evacuation from the military installation. Elegantly (and incisively) rendered in two-tone (black and red), pencil sketch animation, Bouchareb understatedly, but effectively presents a pervasive image of subtle, yet omnipresent division and differentiation that continues to surface despite the perpetuated myth of colonial assimilation and enlightened occupation.
Quartier Mozart, 1992. Jean-Pierre Bekolo channels the manic freeverse, urban culture, and confrontational humor of Spike Lee's early films in Quartier Mozart, an eccentric, socially incisive fable on a schoolgirl known as Queen of the 'Hood who, with the aid of the village witch, Maman Thekla, asks to experience life as a man in Yaounde's working class district of Mozart. Metamorphosed into a handsome, young man named My Guy, the metaphoric New Man emerges from a desolate field where he immediately catches the eye of Saturday, the virginal daughter of the police chief, Mad Dog. Accompanied by Maman Thekla, now transformed into a modern day folkloric comic figure, Panka who emasculates those who unwittingly shake his hand, he becomes My Guy's guide and protector to the social and sexual politics of the quarter: a self-made man who reinforces his stature by taking on a second wife, the subtle inculcation of Christianity into daily life, even as the people continue to practice traditional – often conflicting – customs, the marginalized role and maltreatment of women that sharply contrasts with their real roles as family nurturers and community builders (and, as in the case of Mad Dog's exiled first wife, literally feeds society when she sets up a vending stand near a high traffic street). As in Lee's films, Bekolo uses archetypal characters, informal fourth wall address, jaunty camerawork, and integral incorporation of pop music to illustrate the paradox of social and gender inequity and anachronism of contemporary life in post-colonial Cameroon.
Acquarello, 2006 [reprinted]