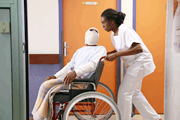 Sex, Okra and Salted Butter, 2008. Similar to Pierre Yameogo's Me and My White Pal, Mahamat-Saleh Haroun's crisp, lighthearted satire reflects on the challenges posed by dislocation, estrangement, and cultural assimilation. For old-fashioned family patriarch and Malian expatriate, Malik (Marius Yelolo), the belated culture shock of immigrating to Bordeaux comes when his attractive, much younger wife, Hortense (Mata Gabin) decides to run away with one of her patients – an oyster farmer (a not so subtle reference to her sexual awakening after a passionless marriage) named Jean-Paul (Manuel Blanc) and, in the process of enlisting his eldest son, Dani's (Dioucounda Koma) help to help find her, discovers that Dani has not been harboring his mother in his apartment, but rather, a gay lover. Meanwhile, having neglected his younger sons in pursuit of his wayward wife – in a hopeless display of romanticism that included surprising her at work and serenading her with a kora from her hospital window (followed by a swift ejection from the grounds by security) – the boys have begun to search for their own surrogate caretaker, first, in the genial, if repressed, widowed neighbor, Madame Myriam (Lorella Cravotta), and subsequently, in Dani's troubled friend, Amina (Aïssa Maïga). Resigned to a life of dodging questions from his ever-disapproving, busybody elders, and tolerable, if unconventional living arrangement with Amina, Malik finds a glimmer of hope for reconciliation with the arrival of Hortense's aunt, Tatie Afoué (Marie-Philomène Nga) from Africa, only to find that the headstrong Afoué has her own ideas about tradition. As in Yameogo's film, the comedy of errors in Sex, Gumbo and Salted Butter stems from misperceptions of identity – gender, familial, and racial roles that, rather than upholding culture, ends up distorting it in its rigidity and exclusion.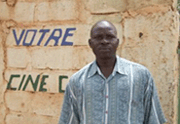 Sacred Places, 2009. During the Q&A, Jean-Marie Téno remarked that he was inspired to shoot Sacred Places as a result of seeing dramatic changes to the format of the 2009 FESPACO film festival in Burkina Faso, where the practice of holding open-air simulcasts of featured films for public viewing around the festival grounds in Ouagadougou – often, their only means of seeing these native films on their first run – had been essentially discontinued, and the proliferation of marketing agreements had resulted in the wholesale inclusion of too many officially sponsored films that diluted the overall representation of African films and, more importantly, abandoned the spirit of the festival's founding principle to host a worldwide showcase for Pan-African cinema. For Téno, the displacement of native films to accommodate the interests of multinational corporate sponsors is a reminder that, with ever-encroaching globalism, African culture itself is at stake, and its salvation lies in creating novel, sustainable paradigms that reflect the realities of a developing economy. Examining the interrelation between globalism and cultural crisis from a grassroots level, Téno visits the working class district of St. Leon, a town that had been suggested by a local audience member as proof of the changing face of cinephilia that, in their limited access to big city venues and high-profile international festivals, has been largely ignored, even by native filmmakers. The first of these enterprising cultural warriors is Bouba, a cinephile and local businessman (granted, a tenuous label given that his business barely breaks even each month) who runs the humbly named Votre Ciné Club with a DVD player, a VCR, and modest television set, screening a different feature program each evening – complete with marquis-styled, home-made movie posters – to an appreciative crowd. For Bouba, the murky business model of using pirated DVDs is a necessary evil, explaining that his customers would prefer to see more African films but, at a retail cost of $25 for each home video – coupled with the limited popularity of the films abroad that makes them less desirable for piracy (and its significantly lower street price) – he is forced to compromise by programming more affordable Bollywood and martial arts films. Another is Jules César, a musical instrument craftsman who literally drums up support for the ciné club by announcing the evening's slate of films with his djembe. Preferring to continue making handcrafted instruments even as mass production becomes an increasingly popular alternative, he sees his role as a guardian of the griot tradition – a conduit between the ancient tale-tellers and modern ones (filmmakers). Paralleling the age of African cinema to the average lifespan of an African – 50 years – Téno presents a sobering assessment of a native film industry in crisis, struggling to communicate the story of – and communicate with – its people. It is this integral connection that is insightfully reflected in the portrait of an eccentric engineer turned public writer who posts literary passages and assorted musings on an outdoor chalkboard each day, a fleeting act of cultural reinforcement and assertion of identity in the face of erasure.
The Prodigal Son, 2008. Like Katrina Browne's earnest and impassioned essay film, Traces of the Trade, South African filmmaker Kurt Orderson's The Prodigal Son is less a journey to find ancestral roots – albeit from the other side of the slave trade – than an invitation for an open dialogue on race and reconciliation. Having lived his youth in the waning days of apartheid in Cape Flats, a designated "Coloured Labour Preference Area" (a transplanted community in Cape Town that, a generation earlier, had been forcibly uprooted from a once integrated District Six that was being converted to a whites-only area during the government's implemented segregation in the late 1960s), Orderson embarks on a journey to trace the origins of his heritage beyond the adopted notions of home that the Cape Flats resettlement community represents. Researching the family lineage back to his great-grandfather, Joseph, a merchant sailor who had apparently jumped ship and decided to forge a new life in South Africa, Orderson soon discovers that his great-grandfather did not come directly from West Africa as the family commonly believed, but rather, from Barbados where, as a descendent of emancipated slaves who had been brought to the island to work in the sugar cane plantations, he had sought work in the transport ships in order to seek a better – if equally racially problematic – life away from the cycle of indentured service on the islands. But rather than finding long lost members of an extended family, Orderson's visit to the island instead leads to more ambiguity as his seemingly personal link to his ancestry – his surname – proves to have been an arbitrary identification by former slaves to convey their association with the plantations from which they were emancipated. At the core of Orderson's unresolved quest is an exploration of African diasporic identity, where national and cultural roots serve as convenient signifiers that sidestep engagement with broader issues of race and identification. This evasion is trenchantly illustrated during Orderson's conversation with a pair of older generation Barbadians – one of whom bristles at the comment that his race is African – implicitly revealing not only ingrained ideas about racial hierarchy (measured by degrees of separation from one's continental roots), but also the perception that identity is binary and exclusive, contributing to divisions that continue to undermine Africa's transcendence from a corrosive legacy of colonialism and exploitation.
The Fighting Spirit, 2007. In an episode in George Amponsah's insightful and compassionate documentary The Fighting Spirit, a boxing trainer from the Ghanian fishing village of Bukom, having arrived with his protégée to England for an international competition, marvels at the technological achievement behind the gleaming urban landscape, commenting that the problem of African stagnation does not stem from a lack of ingenuity to build such impressive structures, but rather, a collective failure to nurture a "culture of maintenance". It is a change in mindset that he also strives to instill among the young boxers in his gym who, like homegrown hero, world champion, and hall of fame inductee Azumah Nelson, see professional boxing as a means of improving the quality of their lives and giving back to the impoverished community. For 22 year old boxer George, the UK match represents the first step towards building name recognition and legitimacy as a contender in Europe with an eye towards the title fight circuit (and their high payouts) of US boxing championships, as well as his own maturity, enabling him to earn enough money to build a house so he can marry his girlfriend. Across the Atlantic, Joshua now occupies the role of unofficial ambassador and standard bearer for Ghanian boxing, having left friends and family back home for a modest life in New York City to train for a highly anticipated contender match that will pave the way for a title fight in Las Vegas. For thirty-something female boxer, Yarkor, international boxing represents her best shot at breaking free from traditional roles to forge her own identity and financial independence, but struggles to launch her career after running into red tape in obtaining a passport, where an age discrepancy could render her too old to compete. By capturing the everyday lives of the three boxers away from the ring, Amponsah frames their personal stories within the context of the community's broader struggle for dignity and survival, where losses provide opportunity for character-building and soul searching – a re-alignment of priorities that is reflected in George's reconciliation with his girlfriend after his ego-inflating trip abroad (and subsequently deflating homecoming) following his first professional fight.
Acquarello, 2009 [reprinted]