Goodbye Dragon Inn (Tsai Ming Liang). Perhaps Tsai's lightest and most thematically distilled and minimalist film to date, Goodbye Dragon Inn pares the dialogue to two brief exchanges that reflect the film's pervasive sentiment of disconnection: the first, with a displaced Japanese tourist (Kiyonobu Mitamura) cursorily on the lookout for opportunities for an anonymous sexual encounter in the dilapidated, near empty movie palace that is playing King Hu's classic martial arts film, Dragon Gate Inn, and the second, featuring the original Hu actors Tien Miao and Jun Shi, now middle-aged, as they meet by chance after the film's conclusion. Intimations of ghosts inhabiting the theater are physically reflected in the isolated souls of a beautiful ticket booth operator and bathroom attendant (Chen Shiang-chyi) – seemingly trapped in a dead-end job by her physical disability – and a projectionist (Lee Kang-sheng), who perform the empty motions of their tasks in a solemn, silent ritual of their seeming existential limbo. Elegantly filmed in rich, vibrant colors against the darkness of the desolate theater and infused with Tsai's idiosyncratically understated, deadpan humor, Goodbye Dragon Inn is a poetic and elegiac exposition on longing, synchronicity, nostalgia, and the death of cinema.
Since Otar Left (Julie Bertucelli). A refreshingly optimistic, humorous, captivating, and deeply     humanist portrait of perseverance and family, the film centers on three generations of women – the inimitable grandmother, Eka (Esther Gorintin) who wistfully reminisces over life under Stalin, her widowed daughter Marina (Nino Khomassouridze), and her multilingual, well-educated granddaughter Ada (Dinara Droukarova) – living under the economic austerity and minor inconveniences of unreliable utilities in the nascent republic of post-communist Georgia. Their seemingly only source of hope and comfort occur in the form of occasional letters and telephone calls from Marina's brother Otar, a doctor working menial, temporary jobs as an undocumented laborer in France who, nevertheless, manages to paint a rosy and idyllic picture of his life abroad. Attempting to shelter the amusingly dotty Eka from the harsh realities of her children's impoverishment, the family weaves an ever-increasingly intricate web of deception to spare the old woman from disappointment and heartbreak in this beautifully understated and affectionate film.
Free Radicals (Barbara Albert). Ostensibly titled after highly reactive (and consequently, short-lived) molecules that contain unpaired electrons in their outer shells, Free Radicals presents a series of fractured (and often sexually gratuitous) tales of coincidence and synchronicity. The film unfolds in an organic structure that reflects the conventional proverb on the consequential, unforeseen, long-reaching effects of the flapping of butterfly wings. Presented from a point-of-view that human beings are invariably creatures of habit – a theme that is reflected in Lukas's (Rupert M. Lehofer) fascination with the self-recreating patterns of fractal geometry – even after surviving a seemingly life-altering tragedy, the film is an occasionally engaging, but ultimately vacuous exposition on despair, missed encounters, and interconnectedness.
Elephant (Gus Van Sant). Structured in elegantly fluid and elliptically interconnected episodes from a roving, multiple student point-of-view, Elephant is an incisive and poetic, yet relevant and deeply disturbing portrait of the unfolding of a fictional, modern-day high school massacre in suburban America. Van Sant presents a richly textured and complexly interwoven series of mundane student interactions and astute slice-of-life observations (except for a scene of sexual experimentation between the plotters that seems improbably out of character) that are intrinsically linked together through long and sinuous tracking shots of the school's cold and impersonal labyrinthine corridors and rooms. Inevitably, what emerges is a profound sense of alienation and the oppressive, inescapable, and moribund institutionalization of its adrift and desperate characters.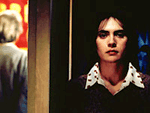 Good Morning, Night (Marco Bellocchio). Based on the real-life kidnapping of President Aldo Moro by members of a terrorist organization known as the Red Brigade in 1978, Good Morning, Night is a compelling, thoughtful, and understatedly powerful film that captures the turmoil and uncertainty caused by Moro's (Roberto Herlitzka) brazen kidnapping and the subsequent 53 days of frustratingly stalled and insincere attempts at dialogue and negotiation with Italian authorities, from government officials to the Vatican. By personalizing the inevitable tragedy from the point-of-view of Chiara (Maya Sansa), a deeply conflicted young woman whose surfacing humanity for the gentle-spoken, sensible, and conciliatory Moro – whom she sees as a father figure – and her resolute duty to the militant cause, Bellocchio creates a provocative, complex, and profoundly disturbing portrait of myopic ideology, self-righteousness, moral obligation, and the importance of communication and compromise.
The Flower of Evil (Claude Chabrol). François (Benoit Magimel) has returned to France after living in Chicago for the past three years to find that, despite his father Gérard's (Bernard Le Coq) intriguing intimations, little has changed in the petit bourgeois household of the Charpin-Vasseurs. His determined stepmother Anne (Nathalie Baye) has channeled her energy towards a mayoral candidacy, against the wishes of Gérard, whose own ambitions selfishly revolve around the growth of his small pharmaceutical business (and using the office for his constant parade of extramarital liaisons). His college-aged step-sister Michèle's (Melanie Doutey) radicalism seems to be fueled only by the promise of an excused absence from school. Even dotty Aunt Line's (Suzanne Flon) only pressing concern is to have food on the table on time. However, their complacent existence is perturbed when a scurrilous leaflet is disseminated throughout town, casting aspersions over Anne's integrity by accusing the Charpin-Vasseurs' of a buried, multi-generational legacy of incest, adultery, and Nazi cooperation. In contrast to the taut thrillers that have characterized Chabrol's cinema, The Flower of Evil forgoes much of the filmmaker's signature suspense to create a socially incisive – albeit underformed – and wicked, dark comedy on the inbredness, complicity, and perpetuation of familial sins: a theme that is visually illustrated in the repeated, bookend shots of the enigmatic Aunt Line in the living room.
Young Adam (David Mackenzie). A barge laborer named Joe (Ewan McGregor) discovers the body of a partially nude woman floating face down in the river and, together with his employer Les (Peter Mullan), retrieve her corpse from the water. Soon, traces of Joe's seeming over-curiosity with the dead body begin to surface as he gently caresses the body in the process of discreetly straightening her petticoat. In a subsequent episode, Joe spies on Les and his wife Ella (Tilda Swinton) during an (attempted) act of intimacy. Is his strange fascination with the dead woman a simple reflection of human desire or does it betray a deeper secret? Mackenzie effectively sustains a foreboding atmosphere and disturbing (and occasionally snide) mood throughout the film, although the narrative (based on an Alexander Trocchi novel) never seems to unfold beyond a superficial level. Inevitably, what results is a flawed, vacuous, but well photographed film.
Pornography (Jan Jakub Kolski). Unfolding with the deceptively lyrical and darkly comic surrealism of a diluted Emir Kusturica, Pornography, a film based on a novel by Witold Gombrowicz, is the powerful and haunting tale of an acutely sensitive and enigmatic, middle-aged artist named Frederic (Krzysztof Majchrzak) who, as the film begins, has returned to a luxury hotel in German-occupied Poland after a long absence – carrying a suitcase that he describes as paradoxically containing 'nothing' and 'everything' – idly waiting, along with the other privileged and distinguished clientele, for the end of the war. Befriending a genial writer (and the narrator of the film) named Witold (Adam Ferency), the two travel to the country to visit the rural estate of Witold's friend Hippolyte (Krzysztof Globisz), and in the process, become increasingly implicated in the dangerous – and increasingly inhumane – resistance activities of the idyllic village. Kolski photographs the film in yellow-green hues and uses recurring ground level tracking shots and isolated, behavioral observations of animals and insects (reminiscent of Shohei Imamura's The Insect Woman) that heighten the somber unnaturality of the film's tone and reinforces the instinctuality and desperation of wartime existence.
Mansion By the Lake (Lester James Peries). An aristocratic widow and her daughter living abroad in Europe for the past five years are summoned home by family in order to resolve the late husband's outstanding debt that would result in the bank's seizure of the family estate. Broaching complex and indigenous themes that invariably invite comparisons to Far East Asian realist filmmakers – in particular, the obsolescence of feudal aristocracy (and its replacement by capitalist entrepreneurship) and the entrenchment of social caste explored respectively by Satyajit Ray in Jalsaghar and Shyam Benegal in Ankur – the film unfortunately suffers from underformed, almost caricatured characters (the eternally grief-stricken widow and mother, the protest mantra-spewing, obliquely radical student, the comically senile elderly aunt, and the unsentimental, social-climbing businessman) creating a superficial, unsubstantive, and ultimately unengaging film.
Dogville (Lars von Trier). Lars von Trier's films have always had a polarizing effect, and I'll acknowledge that, after having seen several of his major works (Zentropa, Element of Crime, Kingdom, Breaking the Waves, and Dancer in the Dark), I've always been in the detractors' camp. The consummate provocateur's latest film, Dogville, is no exception: an over-the-top, emotionally manipulative tragedy (with the requisite dose of nausea-inducing, rapid camera movement) where, once again, the virtuous, idealistic, and naïve heroine, a seemingly privileged stranger named Grace (Nicole Kidman), is put through a series of ever-dehumanizing emotional wringers until the physical body – if not the soul – is broken. Stylistically presented through minimalist theatrical staging reminiscent of Thornton Wilder's Our Town, the film subverts the iconic Americana play to consequently demystify the somewhat idealized view of American culture and expose the baseness of human behavior. However, von Trier's penchant for subjecting protagonists to ridiculously excessive and impossibly compounding misfortunes has a cumulative effect of desensitizing the viewer to the film's thematic reality by smothering the underlying truth in the film's unnecessarily over-concocted situational absurdity. What results is a film that is utterly cynical, nihilistic, unredemptive, and simply unpleasant.
Acquarello, 2003 [reprinted]