Paprika, 2006. Based on the futuristic novel by seminal science fiction author Yasutaka Tsutsui, Paprika is a bold, provocative, mind-bending, and fiercely intelligent exposition into the nature of terrorism, the demystification of the subconscious, and the psychology of fetishism and objectification. A rash of thefts involving a developmental prototype dreamcatcher device, code named DC Mini, the brainchild of an affable, if overindulgent prodigy named Dr. Tokita that is currently under testing at a Tokyo psychiatric research headed by a reserved and methodical scientist named Dr. Atsuko Chiba, sets the stage for the film's delirious collision between reality and dreams, as Akiko enters the treacherous mindfield of the conjured alternate reality through her superhero, a literal "dream woman" alter ego named Paprika. Searching for the dream's architect (and therefore, the thief), only to realize that the dreams have cross-pollinated, assimilated, and transformed with the dreams of other victims and perpetrators – as well as those originating from the subconscious of other investigating psychiatric detectives, including a real-life police inspector named Konakawa who initially sought the institute's help in resolving his own anxiety over an unsolved homicide investigation – the team soon realizes that their quest is also a race against time as the rapidly fusing dreams spiral uncontrollably into a collective delusion that threatens to supplant the "real" reality with its fantastic and nightmarish incarnation. It is interesting to note that in manifesting the public's collective delusion through the phantasmagoric assembly of assorted netsuke figurines, oversized transformers, porcelain greeting cats, wind-up toys, and synchronized bobbing dolls images conjured by the victims, Satoshi Kon presents an implicit correlation between psychological terrorism and the distractive diversion of innocence. It is this ephemeral quest for a return to lost innocence through the delusive panacea of regressive insularity that ultimately reveals the film's especially incisive and relevant cautionary tale on the destructive repercussions of conformity, imposed ideals, and collective delusion.
Our Daily Bread, 2006. Evoking the aesthetics of Harun Farocki's antiseptic images of production crossed with Chantal Akerman's structuralist ruminations on organic landscape, Nikolaus Geyrhalter's Our Daily Bread is a bracing, surreal, sobering, and strangely transfixing exposition into the dehumanized technologies and industrially engendered process efficiencies intrinsic in the mass commerce of industrial-scale food production. Composed of a series of incisive and intelligently edited medium to long take shots and devoid of contextual information, illuminating interviews, or expository narration, the film crystallizes on the collective implication of the indelible – if perversely sublime – images of food production: a stream of newly hatched chicks are sifted from the eggshells and transferred onto crates through a high speed conveyer belt sorter in a process that resembles the propulsion of a tennis ball machine; the quick and "humane" slaughter of livestock is nevertheless made all the more discomforting by the precise and systematic process of exsanguination, skinning, and butchering; an idyllic image of a sunflower field is subverted by the appearance of a crop duster plane and supplanted by the subsequent image of the charred, withered plants harvested en masse by a tractor; a large and seemingly formidable tree shakes violently under the grasp of a clawed tractor designed to draw nuts from its branches for faster collection by an automated sweeper; a group of migrant workers hand pick vegetables for placement onto their manual roll carts at a collapsible greenhouse. What is particularly admirable about Geyrhalther's critical and observant exposition into the curious dystopia of agricultural production and commerce is the parity and unpolemical representation of his gaze, a matter-of-factness that is perhaps best encapsulated by the film's titular allusion to The Lord's Prayer, a reminder of the sacredness, gratitude, and quotidian grace of survival.
Climates, 2006. Nuri Bilge Ceylan elegantly channels the spirit and self-reflexivity of Atom Egoyan's Calendar and Roberto Rossellini's seminal Voyage in Italy (that in turn, paved the way for Michelangelo Antonioni's psychological landscape films) to create an equally sublime, serenely composed, and understatedly bittersweet chronicle of the dissolution of a relationship through the austerity and desolation of the landscape in his latest film. As the film begins, a middle-aged university instructor and doctoral candidate named Isa (Nuri Bilge Ceylan), en route to a summer holiday in the idyllic Aegean coast with his younger lover, a television art director named Bahar (Ebru Ceylan), deliberatively shoots a series of photographs of ancient ruins for possible use in a class lecture, oblivious to his traveling companion's noticeable discomfort and tedium over his latest distractive side trip (a figurative myopia that would subsequently be manifested in Bahar's reckless, symbolic act of blindness during a motorcycle ride), her sense of profound desolation and estrangement momentarily betrayed by the eruption of tears that also escape the self-absorbed Isa's regard. The metaphoric image of the troubled couple standing amidst architectural ruins serves as an insightful prefiguration of their seemingly inevitable separation, a distance that was made all the more insurmountable by Isa's act of infidelity with his former lover, Serap (Nazan Kesal) during one of Bahar's recent, on location shooting trips away from Istanbul. In hindsight, Isa's unfinished thesis also reveals his self-inflicted pattern of irresolution, emotional cruelty (a sadistic streak that is also revealed through his act of forced intimacy with a resistant Serap) , and inability to commit, an emotional paralysis that has perhaps even sublimated into a physical affliction (through a chronic, stiff neck running gag that recalls the pollution-induced malady of Tsai Ming-liang's The River). Charting the indefinable trajectory of Isa's restlessness, alienation, and melancholy through the climatic and geographic changes that reflect the interiority of Isa's unrequited – and indefinable – longing, Climates exquisitely (and indelibly) maps a spare, elegiac, and achingly intimate meditation on the ephemeral seasons of the human heart.
Syndromes and a Century, 2006. In Syndromes and a Century, Apichatpong Weerasethakul revisits the bifurcated structure of his earlier feature films, Blissfully Yours and Tropical Malady as well as the fragmented, dissociative visual and aural images of his experimental short, The Relentless Fury of the Pounding Waves to create a languid, lyrical, organic, and contemplative exposition on the malleability and impermanence of a person's sense of place, a reality defined by a conflation of past and present, located both in the concreteness of geography and the ephemerality of memory. A chronicle of the parallel lives and quotidian encounters of a pair of physicians (presumably based on the filmmaker's parents) as well as an enterprising dentist named Dr. Ple (Arkanae Cherkam) who moonlights as a traditional ballad singer – ambiguously unfolding in either contemporaneity or temporal ellipsis – a female country doctor named Dr. Toey (Nantarat Sawaddikul) and a male city doctor and recently discharged military veteran named Dr. Nohng (Jaruchai Iamaram), the film is also an illustration of the recursiveness and atemporality of human behavior that not only reflects the intrinsic (and intuitive) repetition in the performance of mundane rituals, but also underscores the interconnectedness of a collective consciousness enabled by the accretive cycle of spiritual reincarnation: the performance of a staff psychological evaluation and physical examination prior to assignment to a hospital ward, the interactive complications of diagnosing and treating insular (and old-fashioned) monks, the integration of traditional and modern medicine in patient treatment, the intoxication of new love, the ache of longing, the inevitability of separation. Presented through a series of allusive, often complementary images – a visual theme that is figuratively reinforced in the transfixing image of the occluding eclipse that is subsequently repeated in the industrial image of smoke suction through the flue of a hospital exhaust system undergoing renovation, as well as literally through the film's penultimate sequences shot from the basement of a hospital where prosthetic limbs are fabricated and stored (the physical complementation of a disabled patient) – the film is an evocative and impressionistic meditation on the persistence – and indefinable elusiveness – of human memory.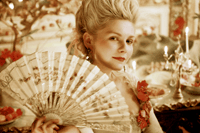 Marie Antoinette, 2006. Based on Antonia Fraser's Marie Antoinette: The Journey, Sofia Coppola's irreverent, sumptuously stylized, and audaciously freeform, if decidedly uneven adaptation of Fraser's re-evaluative biography casts the controversial monarch in a more human, accessible, and contemporary light – not as an arrogant, out of touch queen who, as proof of the height of her insensitivity over the bread shortage in Paris, was quoted (inaccurately) as saying, "let them eat cake", but as an immature, lonely, out of place, and misunderstood young woman, Marie Antoinette (Kirsten Dunst), an adolescent literally stripped of her national roots and sent away from her native land of Austria to be married off in a symbolic diplomatic merger to the dauphin, Louis Auguste (Jason Schwartzman), and who, barely past her teenage years, was prematurely thrust into the forefront of complicated (and convoluted) eighteenth century domestic and international politics (as the American colonies began their struggle for independence against the British) following the unexpected death of King Louis XV (Rip Torn) from smallpox and the subsequent succession of her shy and introverted husband, crowned Louis XVI, to the throne. Ironically, the transformation of Marie Antoinette from vulnerable Versailles outsider to insulated, (over)indulgent, privileged insider also proves to be the point of divergence for the film, from an idiosyncratically anachronistic, but insightful and thematically attuned exposition on loneliness and alienation, as well as the absurdity of the comedy of manners and soul-crushing rigidity of ceremonial protocol (as personified by the unflappable Comtesse de Noailles (Judy Davis) who ensured that the rules of court etiquette were strictly enforced) that government every aspect of social behavior, to the more conventional (and consequently, less compelling) portrait of privileged excess, aimlessness, and decadence. Consequently, what emerges from Coppola's manic direction is not only the incisively anachronistic and contemporary reflection on the insularity of privilege, but also the contravening mixed message of oblivious insensibility and fashionable ennui, where the vacuity of the iconic images subvert – and ultimately upstage – the very ideals of a transformative revolution.
Coeurs, 2006. There is an early survey of the interiors of a vacant Bercy apartment at the opening sequence of Coeurs that immediately evokes early Alain Resnais in the recurring theme of architectural memory, as the camera pans to the majestic domed ceiling of a converted building, artificially bisected by a superfluous wall constructed for the sole purpose of inflating the advertised unit as a three room apartment. However, while the introductory evocation is revealed within the seemingly mundane context of apartment hunting, the ensuing conversation between the client Nicole (Laura Morante) and her real estate agent Thierry (André Dussollier) on the impracticality of shared access to the subdivided room's lone window foreshadows the film's overarching structure as the recurring thread of shared spaces between the film's unfulfilled characters – Thierry and his hopeless romantic sister Gaëlle (Isabelle Carré), Thierry and his pious office partner Charlotte (Sabine Azéma), Nicole and her layabout fiancé Dan (Lambert Wilson), the bartender Lionel (Pierre Arditi) and his cantankerous invalid father Arthur (Claude Rich) – reveal the complexity of the interconnected relational dynamics that bind them to their loneliness, emotional stasis, and unrequited longing. Based on Private Fears in Public Places by British playwright Alan Aykbourn (whose play Intimate Exchanges also serves as the basis for Resnais' earlier film Smoking/No Smoking), Coeurs is perhaps Resnais' most satisfyingly cerebral film since Mon Oncle d'Amerique (a correlation that is further reinforced by the schematic crane shots of interior spaces that recalls the maze-like behavioral observations of Mon Oncle d'Amerique). A sublime, elegant, and reassuring convergence in the aesthetic evolution of Resnais' cinema from the experimental structures of his early films to the conscious formalism of his later work, Coeurs is a thoughtful and melancholic exposition on the interconnectedness of memory, isolation, and loneliness – the unarticulated vulnerability behind the constructed artifice – liminally revealed through the awkward formality and passing glances of near encounters and existential coincidences that map the indefinable and enigmatic trajectories of the human heart.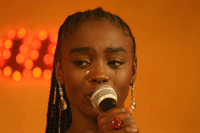 Bamako, 2006. From the opening image of the first witness called to testify in Bamako, the village griot – a tribal ancient and tale teller who passes on his culture's collective history from generation to generation through the orality of ancient chants – who, paradoxically, is unable to communicate his testimony (and, in broader implication, the testimony of his people) in his own native country of Mali because of logistical difficulties with translating his indigenous language to French, the country's official language for governmental and bureaucratic affairs, Abderrahmane Sissako unveils his critical, impassioned, caustic, and uncompromising approach to examining the repercussions of globalization and subsidized trade on the developing nations of post-colonial Africa. Framed against the backdrop of quotidian life in a Bamako village as couples marry and separate, cloth dyers attend to their business, the unemployed spend their idle time waiting for something to happen (or immersing in speculative studies in the hopes of gaining future employment opportunity), and local villagers alternately look on at the proceedings with equal bemusement, apathy, and tedium, Sissako launches an allegorical, provocative, and bracing indictment against the World Bank, the G8, and the International Monetary Fund for transgressions against the African continent that have led to systematic underdevelopment, insoluble debt, cultural marginalization, and continued reliance on international charity. Like the incongruous juxtaposition between the lives of the villagers and the intrusive tribunal, the disparity between the issues presented by the self-appointed arbiters of justice and the society that they represent is also a tenuous balance that confronts the very notion of indigenous cultural solvency at the beginning of the 21st century, as the sub-Saharan nations stagnate between economic development and exploitation, bureaucratic efficiency and corruption, modernization and cultural extinction, global interdependence and neediness. This dilemma is inferentially encapsulated in the film within a film Western sequence (with a cameo by actor Danny Glover who co-executive produced the film) that incisively channels the spirit of Nigerien film pioneer, Moustapha Alassane's Le Retour d'un Aventurier, the first native African film ever made that, ironically, depicted all the conventions of a Hollywood Western plot (albeit with African cowboys chasing zebras instead of wild horses). In evoking the specter of Alassane's seminal, but intrinsically derivative film, Sissako traces the inequitable history of western subservience and imitation to the figurative beginning, a sobering imputation that the socio-economic problems of post-colonial Africa are not only the residual legacy of economic imperialism and unfair trade, but also culturally self-inflicted in the naïve imitation of an unattainable western ideal.
Insiang, 1976. To some extent, author and national hero José Rizal's Spanish colonial-era novels Noli Me Tangere and El Filibusterismo paved the way for a certain propensity towards melodrama and tortuous, epic narratives that continue to shape and define the aesthetics of Philippine indigenous cinema. So, while there is the temptation to characterize Lino Brocka's cinema through facile comparison with the works of contemporary filmmaker Rainer Werner Fassbinder through the commonality of incorporated elements of melodrama and kitsch – as well as in the symbolic brutality of the slums that is encapsulated in the opening sequence of Insiang that prefigures a key, metaphoric slaughterhouse sequence in Fassbinder's subsequent film, In a Year of 13 Moons – there is also a stark divergence in Brocka's more classical aesthetic of gritty, social realism and subversive politicization that eschews the overt stylization and formalism intrinsic in Fassbinder's critical, yet introspective cinema. In hindsight, the character introduction establishing sequences of Insiang already articulates Brocka's overarching theme on the dehumanization of poverty: from the image of the opportunistic Dado (Ruel Vernal) at work at his part-time job eviscerating pigs as a slaughterhouse matadero, to a shot of Dado's older lover, the carping and miserly Tonya (impeccably played by legendary Filipino cinema character actress Mona Lisa) selling produce at an open market (a metaphoric image on the commodification of human interaction), to the first words spoken by Tonya to her attractive daughter Insiang (Hilda Koronel) at their overcrowded home in the slums of Tondo to run an errand and buy sugar for the household (an implicit commentary on the absence of sweetness in their everyday lives), to Tonya's scandalous eviction of her sister-in-law (Mely Mallari) who, along with her grown children and extended family, had moved from the province in search of better life and job opportunities in the city of Manila (a familiar illusion of a better life that continues to spur migration from the rural provinces to the overcrowded city of Manila, as seen recently in Ditsi Carolino's staggeringly intimate documentary, Life on the Tracks), and now find themselves homeless, unemployed, and literally cast out without even the shirts on their back (as Tonya demands that the clothes that she had given to the toddlers as gifts be returned) in order to make room for Dado. When Dado, in turn, sets his sights on the visibly indifferent Insiang, both mother and daughter become locked in a vicious, consuming, and emotional power struggle for their very survival. Inasmuch as the title implies character identification and individuality, Brocka's harrowing, indelible, and unsentimental canvas is, instead, an encompassing sociopolitical national landscape of rootlessness, suppression, and moral bankruptcy that define the nature of endemic poverty. It is this uncompromising spirit that ultimately evokes the specter of Rizal's seminal novels (and his martyrdom) in Brocka's inspired film, an impassioned call to revolution and solidarity on the collective psyche of a marginalized and dispossessed people.
Volver, 2006. Volver ingeniously opens to the title sequence illustrating a familiar All Souls Day ritual in a rural village in La Mancha, a solemn occasion when families visit the gravesites of their loved ones in a day of caretaking, remembrance, and homecoming, as sisters Sole (Lola Dueñas) and Raimunda (Penélope Cruz), along with Raimunda's adolescent daughter Paula (Yohana Cobo, who coincidentally appeared in Carlos Saura's The Seventh Day, a film that also chronicles the repercussions of unraveling buried secrets in a small town), tend to the graves of their parents before paying a visit to their dotty aunt (Chus Lampreave), an ailing elderly woman who continues to live alone in the family home (under the watchful eye of a concerned neighbor named Augustina (Blanca Portillo)), even as the trauma of her beloved sister, Irene's (Carmen Maura) death has confined her to the memories of an eternal past present. This commemorative ritual that implicitly acknowledges the coexistence of the living with the dead provides an incisive prefiguration to the unforeseen complications befall the sisters after their return from La Mancha, as Raimunda's unemployed husband (Antonio de la Torre)'s transgressive impulses threaten to wreck their already tenuous relationship, and Sole returns home to find that the ghost of their mother had stowed away in the trunk of her car. Pedro Almodóvar's incomparable eye for detail and delightfully subversive dark humor suits his recurring paean to the strength, resilience, communality, nurturing, intuitiveness, and ennobled beauty of women especially well, from the neorealist-inspired working class clothing worn by Raimunda that nevertheless, exuded irrepressible sensuality (evoking the wardrobe of iconic actress Sophia Loren), to the image of Anna Magnani made immortal by late night television rebroadcasts, and especially to the metaphoric image of the Manchegan windmills that literally harness the collective energy of the elusive, enduring – and perhaps even a bit maddening – winds that blow across the rural landscape of this enigmatic town of secretive, superstitious, surviving women that visually reinforces the film's theme of return and eternal cycles.
Belle Toujours, 2006. Ostensibly an homage to the principal creators of Belle de Jour, filmmaker Luis Buñuel and screenwriter Jean-Claude Carrière, Belle Toujours is, nevertheless, a quintessential Manoel de Oliveira film: formalist, dramaturgic, contemplative, and discursive. Continuing where Buñuel's film left off 38 years earlier, after the sadistic scoundrel Henri Husson (Michel Piccoli) would whisper an undisclosed secret to Séverine's invalid, devoted husband, Pierre (Jean Sorel) that would move him to tears, the tables seem to have turned in the opening sequence of Belle Toujours as it is now Husson who, riveted to his seat, is found openly weeping at a symphony. This evocative juxtaposition between Pierre's involuntary betrayal of erupted emotion in Belle de Jour and Husson's reflexive reaction to an artfully orchestrated performance integrally illustrates the point of departure between Buñuel and Oliveira, even as the two episodes converge on the same elusive image of Séverine Serizy: one, more in tune with the visceral representations of human behavior in all its absurdity, the other, with the intellectual characterizations behind them. Indeed, inasmuch as the idea of Séverine's elusiveness dominates both films, Oliveira's Séverine, now played by the equally iconic actress Bulle Ogier instead of Catherine Deneuve (in a transparent role switch that recalls Buñuel's That Obscure Object of Desire) is essentially an adaptation rather than a re-casting of the original – a more cerebral (re)incarnation of the bourgeois housewife turned prostitute of Belle de jour – a widow whose erotic fantasies have been diffused by age and faithful devotion to her late husband, even as her temperament remains fearless, uncompromising, and defiant. Moreover, the lonely hearts cocktail bar frequented by a pair of underworked prostitutes can also be seen as a reconfiguration of Madame Anais's clandestine brothel – a thematic association that is visually reinforced by a nude oil painting that is displayed in both establishments – transforming the theme of sexual surrogacy that pervades Buñuel's film to the figurative psychotheraphy (enabled in part by a sympathetic, probing bartender) and introspection of Oliveira's film, where the local bar has become the contemporary venue for unburdening the problems of failed intimacy and connection in the modern world (most notably, in Husson's recurring trips to the bar after a series of missed – or more appropriately, thwarted – encounters with Séverine). It is within this framework of passage and transformation that the climactic confrontation between Husson and Séverine can be seen, not as a nostalgic elegy, but as an affirmation of a life-long passion, curiosity, iconoclasm, and irreverence, where the insightful, tongue-in-cheek mind games of Buñuel have been transformed into an altogether different kind of psychological deconstruction, one that faithfully – and exquisitely – resonates within Oliveira's own recurring expositions on aging, vitality, self-reflexivity, and memory.
Gardens in Autumn, 2006. Otar Iosseliani's understated and reassuringly familiar abstract comedies are incisive, universal expositions on human absurdity, the complications of modern life, and the seasonality of fortune, so it is particularly satisfying to see the unremarkable (anti)hero of his latest film, Gardens of Autumn break through this corruptive and dysfunctional cycle of power, materialism, and social mobility to find some measure of happiness. The film's opening sequence provides a wry and irreverent glimpse into Iosseliani's acerbic satire on social behavior, as a handful of customers browse through a limited product selection at a coffin maker workshop, staking their claim on their preferred unfinished caskets in relative civility until several potential buyers begin competing for custody over a particular, one-size-fits-all "custom" model. The absurd juxtaposition of insatiable consumerism even in the face of mortality provides an insightful preface to the film's subverted expectation, as possession and privilege become intertwined with the mundane reality of inevitable death. In Gardens in Autumn, the unlikely hero is Vincent (Séverin Blanchet), a sad-eyed, rumpled, middle-aged cabinet minister with an attractive, shopaholic mistress, a distracted, coddling mother (in the hilarious casting of Michel Piccoli in drag), a string of jilted lovers (and almost as many adopted, commemorative exotic animals), and a meaningless, time-wasting bureaucratic job. Once an influential political appointee with seemingly important ceremonial (albeit nebulous) responsibilities (an early episode of a goodwill diplomatic visit with an African dignitary over the hunting of wild game, and a subsequent ribbon-cutting duty on a farm inauguration suggest an agriculture and wildlife post), Vincent's comfortable life is upended (even literally, as he resorts to standing on his head to in an attempt to regain his composure after the traumatic ordeal) when a widespread scandal and public protest leads to a change in the political winds, and with it, his forced resignation from office and ouster from the well-appointed, government furnished estate that he has called home for years. Returning to the shuttered family apartment in the working class neighborhood of his youth only to find his home overrun by squatters, Vincent soon finds refuge in the company of old friends (including a street artist played by Ioselliani) and former lovers as he settles into a carefree, bohemian life, drifting through a series of makeshift shelters alongside his eccentric – and often inebriated – companions and strange bedfellows. Iosseliani's familiar aesthetic of medium shots, muted humor, near wordless scenarios, and endearing, representational characterizations proves especially suited to the film's timeless, modern fable of a person's fall from grace, transforming the humiliation of the vanquished into the humble victory of the everyday hero, reinvigorated and impassioned by the quotidian pleasures found in the often overlooked minutiae of quiet self-liberation.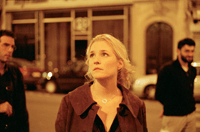 Poison Friends, 2006. Capturing the point of intersection between the conformity of adolescence and the independence that comes with maturity, Emmanuel Bourdieu's Poison Friends is an intelligent and insightful, if oddly sterile and empirically rendered chronicle of academic life as seen through the perspective of a loose knit group of university-aged students at the transformative stage when they begin to break free from their mutualist – and inherent dysfunctional – alliances and the comfort zone of social circles and strike out on their own, metamorphosing from group identification to individual identity. The chaotic and seemingly dislocated opening sequence incisively sets the tone for the film as new student, a budding thespian named Alexandre (Alexandre Steiger), unintentionally draws unwanted attention to himself when he arrives late to class with his luggage in tow, creating such a distraction as he struggles to make his way up the stairs towards the back of the lecture hall that the professor singles him out for public castigation. It is an embarrassing episode that is soon mitigated by the sympathetic attention of a charismatic student named André Morney (Thibault Vinçon), the kind of rabid intellectual and perennial student with grandiose ideas on the sanctity and incorruptibility of art (even as he expresses open contempt for those who seek an outlet for creative expression) who has created his own insular dominion within the hallowed walls of the university (a sense of entitled territoriality that is also reinforced by his encroachment into Alexandre's room to store his books). Soon, André becomes a figurative puppeteer of his own Grand Guignol, lording over the movements and decisions of his personally assembled cast of characters – Alexandre, Eloi Duhaut (Malik Zidi), the son of a famous (and recently scandal-plagued) novelist (Dominique Blanc), an aspiring writer named Thomas Blanchard, André's lover Marguerite (Natacha Régnier), and even his faculty advisor and mentor Mortier (Jacques Bonnaffé) – seduced by his bravado, fierce intelligence, and uncompromising ideology on artistic creation, until his academic complacency, coupled with Eloi's increasing attraction to Marguerite and Alexandre's cultivated passion for the dramatic arts, threatens to wrest control over his elaborate, hermetic construction. Ironically, Bourdieu's clinical and rigidly cerebral approach to the tale of the young friends' intellectual coming of age itself serves as an appropriate reflection for André's nebulous psychology and unresolved fate, illustrating not only the traumatic collision between the uncompromising, black and white world of youth and the realization of grey area, real-world compromises of adulthood, but also the inevitable estrangement that comes with the outgrowing of one's hero or mentor, when the illusion of Pygmalion is broken and the venerated idol becomes all too human.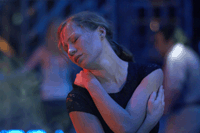 Falling, 2006. Something of a muted hybrid between a thirty-something version of the existential crossroads between the freedom of academic emancipation and the responsibilities of adulthood captured by Jae-eun Jeong in Take Care of My Cat crossed with Alain Tanner's perceptive portrait of the May 68 generation in the aftermath of the failed cultural revolution in Jonah Who Will Be 25 in the Year 2000, Falling is an admirable, understated, and introspective (and, perhaps, even redemptive in light of Barbara Albert's insubstantive and maddeningly divergent preceding film Free Radicals) self-reflexive exposition on the inevitable temperance of idealism, relevance, and integrity that comes with maturity, disappointment, and the realization of real world compromises. Chronicling the journey and solemn reunion of a group of former schoolmates and best friends, now independent women in their mid thirties who have returned to their hometown in rural Austria to mourn the death of a favorite, idealistic teacher and lifelong, uncompromising May 68 radical who instilled in the once impressionable young women a sense of activism, critical thinking, and social responsibility (and who, for some of the women, also signified an erstwhile lover): a modestly successful voice dubbing actress who lives in Germany, a pregnant bohemian resigned to the reality of bringing up her child as a single parent after her lover is deported, a career office worker who after years of struggle has finally established herself as a serious businesswoman in the corporate world, an ex-convict on continued monitored supervision who has minimal contact with her adolescent daughter, and a reticent, enigmatic woman who has remained in the small town long after the others set out to find their fortunes in the big cities. Confronted with the sobering realization of their own mortality, disappointment, and unrealized dreams as they leave the carefree days of youth behind and begin to approach the critical, life altering choices and peremptory responsibilities of marriage, career, children, and even moral direction that come with being of age, the film is a thoughtful, elegiac, and sensitively rendered zeitgeist portrait of passage, regret, community, friendship, and survival.
The Go Master, 2006. In distilling the life of one of the greatest (if not the greatest) Go players in history, Wu Qingyuan (Chen Chan) – an ethnic Chinese who immigrated to Japan (where he is referred to by the Japanese reading of his name, Go Seigen) in order to continue his pursuit of the game through officially sponsored tournaments into a few essential moments in the now nonagenarian's lifelong search for enlightenment – it is interesting to see Tian Zhuangzhuang's cinema converge towards the aesthetics of Hou Hsiao-hsien. Presenting a series of essential, elliptical, and seemingly alienated, self-encapsulated episodes that characterize, not only the shape of history (and in particular, the protracted conflict between China and Japan as a result of the conflict for sovereignty over Taiwan, the occupation of Manchuria, the Pacific War, and the rise of Communism), but also the psychological isolation imposed by the uncertainty of world events and further complicated by the problems of assimilation into a monoethnic adopted culture, The Go Master is more impressionistic than biographical, allusive than anecdotal (although certain particularly illuminating episodes that reveal Wu's phenomenal concentration and character are recreated, such as an infamous match for the title of Go Master in which Wu was so engrossed in the game the he was completely oblivious of his opponent, Kitani Minoru's infirmity from a nosebleed and subsequent collapse; his marriage to a Japanese woman, Nakahara Kazuko; his brief association with the controversial Buddhist sect, Jiu Kyou; and the symptomatic after-effects of nerve damage sustained from a pedestrian accident that cut short Wu's dominance over the game). By framing Wu's own words excerpted from his autobiography as written quotation chapter markers – a visual aesthetic reminiscent of the interstitial pillow word structures of Hou's A City of Sadness – Tian elegantly and understatedly illustrates the thematic context of humanity as impotent witnesses to forces beyond their control, a humble, yet remarkable life lived in the periphery of turbulent human history, ennobled, not by victories, but by the everyday struggle and integrity of the perpetual quest.
Inland Empire, 2006. One of the recurring ideas that resurfaces from the Q&A with David Lynch after the screening of Inland Empire was the sense of liberation that high definition digital video afforded him, and this democratization of the medium can certainly be seen in the film's mind-bending, sprawling, opaque, hallucinatory, sinuous, and harrowing exploration of identity, performance, déjà vu, reality, intertextuality, surveillance, jealousy, betrayal, and fatedness. Indeed, inasmuch as the film can be accurately classified as indecipherable twaddle, it is also a description that defies reductive dismissal. Ever teetering between uncompromising inspiration and overindulgent madness, Inland Empire, as the title suggests, is a journey of interiority – not only of the way sectors of the cognitive brain can be arbitrary probed to recall seemingly random temporal and psychological regions of dreams and memories, but also in the way that the mind then subsequently maps the terrain of these disparate logic puzzle pieces in an attempt to reintegrate the information into some semblance of resolution, to make sense of our own indecipherable subconscious: a hysterical woman fixated on the static pixellations of her television; an eccentric sitcom featuring a rabbit-headed family; a privileged actress named Nikki (in a bold and uncompromising performance by Laura Dern), who is married to a powerful man has learned that she has just been cast in the role of a lifetime; the resurrection of a cursed screenplay that once led to the death of the two lead actors (and whose fate may be again be tempted when a well-known lothario named Devon (Justin Theroux) is cast as the male lead); a woman named Sue (also played by Dern, perhaps in the role of the film character) attempting to outrun her demons. But because of its entrenched irresolvability, Inland Empire, like Claire Denis' L'Intrus (albeit not as thematically distilled and compact), is the kind of film that becomes more intimate and intuitively – albeit abstractly – coherent with (temporal) distance and osmotic assimilation – when the arbitrariness of the seeming non-sequiturs, tangential encounters, oneiric repetitions, parallel images, conflated (and interpenetrating) realms of reality, and self-reflexive humor dissolve into the less concrete, impressionistic contours within the permeable fabric of human memory.
The Host, 2006. creened at slightly more than the halfway mark of the festival, Bong Joon-ho's The Host offers a particularly refreshing pause in the mind bending aftermath of Inland Empire, a smart, offbeat, and competent horror film that effortlessly weaves the ingredients of a well-crafted monster thriller with an incisive, cautionary tale on environmental responsibility and cultural arrogance. At the core of the film's untenable nightmare is a lone grieving family's defiance to seek and exact revenge on the monster, a seemingly indestructible, made-made mollusk-like giant creature borne of genetic (and perhaps viral) mutations that begins to terrorize revelers at a park on the steps of the ubiquitous Han River. But beyond the film's less than subtle jab at the (pointedly American) arrogance and abuse of authority that lead to the environmental disaster, the film is also a wry commentary on the culture of conformity and unquestioning deference to authority, as the survivors and first-hand witnesses to the monster's rampage are relegated to the role of quarantined victims, forcibly isolated from the general population for decontamination, subjected to inhuman diagnostic experimental procedures in the name of exploratory science, and systematically deprived of civil liberties and basic human rights under the amorphous rubric of national security. Deploying convenient, unsubstantiated (and insubstantiable) quack theories and misinformation through the media in order to exploit the victims' disorientation and cultural submissiveness to obfuscate the true nature of the threat, and in the process, transforming the monster's already real menace into an almost mythical bogeyman responsible for all of the indefinable plagues that afflict contemporary society, The Host serves as a trenchant and provocative satire on the dysfunctional geopolitics of anti-terrorism.
Woman on the Beach, 2006. After observing Hong Sang-soo's previous three films bucolically retreating within a predictable safety zone of recurring preoccupations and reflexive encounters illustrated through linear narratives in somewhat uncharacteristic fashion following what had been his most structurally experimental film to date, Virgin Stripped Bare by Her Bachelors, it is refreshing to see Hong crystallize his now familiar flat structured, mirroring triangulations on the ephemeral nature of human desire with Woman on the Beach. Opening to the seemingly innocuous, but incisive image of film director, Kim Joong-rae (Kim Seung-woo) unrelentingly goading his reluctant friend (and more importantly, car owner), Won Chang-wook (Kim Tae-woo) into taking a road trip to a quiet, off-season seaside resort in Shinduri Beach (and who, in turn, agrees to accompany him under the provision that his girlfriend, an international traveler and composer named Kim Moon-sook (Ko Hyeon-geong) also come along for the impromptu getaway), in order to stimulate his creativity after struggling with writer's block on a long overdue script, Hong implicitly reveals not only the selfishness and insecurity, but also the resigned acquiescence that shape and define Joong-rae and Chang-wook's character. Alternately distracted from his work by sheer procrastination and indiscipline, as well as squandering his time by vying for the affections of the seemingly receptive Moon-sook, Joong-rae is an inscrutable paradox: seemingly thriving in his self-inflicted distraction by perversely deriving inspiration from the intoxicating chaos of romantic pursuit, yet already mourning the inevitable disappointment of the conquest, when the bliss of anonymous encounter and transitory connection with a new lover soon give way to the insecurity, paralysis, and mundane reality of emotionally investing in a fledgling, potential relationship. Chronicling Joong-rae's dysfunctional creative process through the unresolved wreckage of his messy, unraveling, and patternistically recurring romantic entanglements – a theme that coalesces in Joong-rae's diagrammatic explication of his theory on the interpenetration between memory and dimensional knowledge – Hong transcends his now familiar portraitures of flawed, self-indulgent men, obliging, but elusive women, and failed intimacy by endowing his characters with the possibility of self-revelation even in the midst of human frailty, allowing them to find their way to break free from their self-inflicted, ensnaring sand dunes towards the liberating landscape of personal closure.
Offside, 2006. In March, 2006, after the Iranian team's victory in a World Cup qualifier match over Japan, seven people were trampled to death and dozens of others injured after soldiers forcibly attempted to divert the large exiting crowd from a military helicopter that had landed near the main gate and blocked it. Only six of the victims would be publicly identified in the local papers, leading to popular speculation that the seventh victim may have been a girl dressed up as a boy in order to sneak into the game, where women are traditionally banned from entering sports stadiums. This tragic incident, along with Jafar Panahi's own personal experience with attempting to bring his own daughter to a sports stadium for a soccer match during a previous World Cup competition, provides the thoughtful, incisive, and provocative subtext to Offside, Panahi's most lighthearted, humorous, and accessible, yet still perceptive and relevant social inquiry into the arbitrary interpretation of laws and (often outmoded) traditional customs that define the paradox of modern day Iranian culture. The introductory juxtaposition of the elderly man searching in vain for his errant granddaughter in an attempt to thwart her plans of sneaking into the stadium and averting a (perceived) communal scandal, and a group of boys on a bus offering assistance on how to escape detection to an anxious girl transparently disguised as boy in an oversized shirt, hat with overhanging ear flaps, and face painted with the national colors, illustrates the spectrum of public attitude towards the seemingly innocuous inclusion of women in such public events, and more implicitly, sheds an uncomfortable spotlight into the pricklier context of cultural re-evaluation towards broader social equality. With the less successful (or just plain unlucky) impersonators unceremoniously rounded "offside" into a makeshift holding pen that has been set up on the elevated, outside perimeter of the stadium – and conveniently, next to a window opening so that the soldiers can continue to watch the game uninterrupted from the sidelines – where the girls will be segregated from the crowd until the arrival of a van for an escorted trip to the police station to be booked on vice charges, the ideological (if not symbolic) battle towards equal rights is brought to the figurative front lines, as the girls argue with the often accommodating, but equally bemused soldiers who are torn between sympathy and reluctant duty in an attempt to persuade their captors into setting them free from their unjust detention. Structured in the framework of a situational comedy, the film's deceptive facileness proves to be its most irresistibly potent weapon in a brewing (and perhaps, inevitable) ideological revolution, upending the laws of inequitable social convention into a rote reflection of its own incomprehensible – and untenable – contemporary absurdity.
The Queen, 2006. The Queen transforms the morbid spectacle surrounding Diana's tragic death in the summer of 1997 into a trenchant, elegant, and compelling exposition into the nefarious role of the media as both creator (and self-generator) of news and manipulator of public sentiment. By juxtaposing Diana's death within the framework of Tony Blair's recent election to the office of prime minister under the Labor Party platform of initiating a wide-range of sweeping reform ever to be instituted in the country after decades of Tory government (with visibly lackluster results), filmmaker Stephen Frears and screenwriter Peter Morgan contextualize the atmosphere as a symptom of a broader social angst – a synchronicity that intrinsically transformed a family's private grief into a disoriented public's search for leadership and direction in a time of crisis. It is within this context of media complicity that Frear's strategy to incorporate substantial scenes of archival footage, coupled with a distanced, almost anecdotal reenactment of the infamous paparazzi chase on the streets of Paris that led to the tragic accident, proves especially incisive in illustrating the media's ensuing, self-perpetuated escalation of the episode into a blunt, sensationalistic, and incendiary public referendum to re-evaluate the relevance of the monarchy towards the end of the twentieth century. What is perhaps most commendable about the film is the remarkable integrity intrinsic in the cast and crew's complex and dimensional portrayal of the royal family – and in particular, Queen Elizabeth II (in a pitch-perfect performance by Helen Mirren) – as well intentioned, sensitive, but humanly flawed and woefully paralyzed by the rigid insularity and protocols of its venerated institution: caught in the tide of a self-fueled media circus, baffled by the public idealization of "the people's princess" who had privately challenged the very institution that she implicitly agreed to serve, and driven into a stoic silence in keeping with the dignity of the crown, but at odds with the increasing (and perhaps unjustifiable) public sentiment to lionize her. It is interesting to note that in serving as the unofficial mediator between the queen and the grieving public, Frears illustrates the conservatization of Tony Blair, a nascent glimpse of his increasing departure from the ideals of radical reform and towards the inertia and morass of politics as usual (an ideological realignment that seems particularly stark within the context of post 9/11 global politics).
Mafioso, 1962. Alberto Lattuada irreverently – and uproariously – explores the nurtured regionalisms, preconceptions, and ethnic stereotypes between the more progressive, industrialized north and more conservative, old world traditions of southern Italy – and in particular, Sicily – that continue to pervade and shape the social attitudes between the two divergent cultures of contemporary Italian society in his underseen comic masterpiece, Mafioso. Told from the perspective of a well-intentioned, if perhaps too obliging and gullible Antonio Badalamenti (played impeccably by the great comic actor Alberto Sordi), an automobile assembly factory foreman and efficiency expert who moved from his beloved village in rural Sicily to seek his fortune in the north, the film throws caution to the wind with its delirious fusion of pitch black satire, gangster film parody, and comedy of manners, as the proud native son decides to bring his young, fair haired (and inescapably northern), visibly bemused family to his beloved ancestral home and into the crosshairs of an equally bemused and unsuspecting rustic town still lorded over in hushed tones by a reclusive godfather and town benefactor named Don Vincenzo (Ugo Attanasio) whose vast influence seems to ripple even to the distant shores of Trenton, New Jersey. Arriving giddily at the town square and into the surreal view of a funeral service from the window of a taxicab – an apparent gunshot victim for defying the will of (and consequently falling out favor with) Don Vincenzo – Antonio's homecoming soon becomes as riddled with as many complications as the pock-marked, tell-tale bullet holed walls that line the town when his wife's modern manners and unfamiliarity with local customs reduce the normally animated household into retreated silence and polite evasion, and Don Vincenzo decides to call in a personal favor in return for enabling Antonio's success on the mainland. Still as incisive and relevant forty years since its initial release, Mafioso continues to provoke and entertain in equal measures by casting its critical eye into the Sicilian code of honor to create an audacious, sharp-witted, and perversely funny satire on honor-bound duty and hypocritical tradition.
Days of August, 2006. Marc Recha channels the spirit of Lisandro Alonso's primitivistic, metaphoric journey of interiority in Los Muertos (a derivation made all the more transparent by an extended river exploration sequence) to a visually sublime, but soporific and tediously unoriginal effect in Days of August. Ostensibly a personal chronicle of a writer, Marc (Marc Recha) who embarks on a road trip with his fraternal twin David (David Recha) in order to reinvigorate his creative energy for an unfinished project and retrace the journey of an influential, but inscrutable and almost mythical journalist and acquaintance named Ramon Barnils who spent the final years of his life wandering the desolate, largely untouched Spanish countryside where traces of the long won – and eventually lost – Revolution can still be seen in the scarred walls and abandoned ruins, the brothers' unstructured and aimless road trip also becomes an examination of how a person can lose his identity by walking in someone else's shoes in the vastness of an impersonal, eternal landscape (an existential theme that also evokes a pastoral rendition of Hiroshi Teshigahara's Man Without a Map), dissolving into the atmosphere of disconnected atemporality. Chronicling the brothers' encounters with a series of equally unengaging drifters along the way, similarly played in a blurred truth and fiction manner by real-life characters who recount their own personal stories (recalling the interpenetration between documentary and fiction of Apichatpong Weerasethakul's Mysterious Objects at Noon) – a hitchhiker who once lived in New York as a flamenco dancer, a forest ranger who lives from abandoned house to abandoned house playing his trumpet, a waitress who once left an over-possessive lover – Days of August ultimately collapses from the elliptical vacuity and insubstantialness of its glossy, self-important travelogue images.
Pan's Labyrinth, 2006. During the Q&A for Pan's Labyrinth, Guillermo del Toro commented that he conceived the image of Pale Man, a child-eating creature who could only see by raising his hands up to his face (as if paradoxically covering his eyes), as an allusion to the perverted image of stigmata – an affliction often associated with enlightened grace and saint-like piety – an acerbic, tongue-in-cheek commentary on the destructiveness, corruption, and myopia of institutional authority that the Church (and Fascism) represents. The evocation proves particularly relevant within the context of the incestuous alliance between the Nationalists and the Catholic Church during the Spanish Civil War that installed, and subsequently enabled, the repressive regime of General Franco. Set in 1944, the year that the annals of history have officially annotated as the year that the Republicans were defeated, thus marking the end of the civil war, reality proves less than neatly conclusive as the insurgency rages on (and would continue for nearly two decades), the resistance fighters fortifying their strongholds in the mountains with the covert aid of sympathetic villagers. It is against this turbulent, isolated environment of unresolved battles and nebulous allegiances that a ruthless officer named Captain Vidal (Sergi López) has been sent to establish an outpost and stamp out the mountain insurgency campaign – a strange, remote, and verdant rural region that a young girl named Ofelia (Ivana Baquero) also reluctantly enters when Vidal sends for his new wife, Ofelia's mother Carmen (Ariadna Gil) from the city so that his anticipated son and heir may be born in the house of his father. From the introductory images of Ofelia preciously holding her fairytale books and her curious sighting of a wasp-like insect that she believes is an actual fairy, Ofelia's inevitable confrontation between the harsh reality of adolescence and the escapist fantasy of childhood seems inextricably connected. Shuttered in an old, gloomy, and mysteriously creaking house with an adjoining derelict garden labyrinth, and left to her own devices after her mother becomes bedridden with complications from the baby's imminent birth (except for the attention given by the housekeeper, Mercedes (Maribel Verdú)), the neglected Ofelia embarks on a heroic quest at the behest of the inscrutable, mythical fawn, Pan (Doug Jones) in order to prove herself as the reincarnated princess of the labyrinth, and consequently, fulfill her destiny of immortality. Evoking the early, metaphor-laden cinema of Victor Erice in manifesting a child's fear and uncertainty through the gothic figurations of the imagination – not only in the overt parallel of the metamorphosed, humanized monster of Spirit of the Beehive, but also in the mythification of an absent father in El Sur (note the fetishized pocket watch that Valdez retains as a souvenir of the moment of his father's death) – Pan's Labyrinth is an intelligently rendered, provocative, and incisive cautionary tale on barbarism, repression, narcissism, rigid ideology, blind obedience, and inhumanity.
Acquarello, 2006 [reprinted]