Poetry, 2010. While Lee Chang-dong's Poetry has invited comparison to Bong Joon-ho's Mother in its tale of morality, filial devotion, and culpability in the absence of memory, its theme of capturing the ephemeral beauty in the quotidian and transforming it into something eternal suggests a closer association with Hirokazu Kore-eda's After Life. And like After Life, the film is stitched together by mundane interactions and memories both real and constructed (in this case, as told by students in Mija's (Yun Janghee) class struggling to find a source of inspiration for their poetry writing assignment). By interweaving fractured moments of grace and (implied) brutality, youth and old age, innocence and death (the opening image is of children playing in the river who subsequently discover a body floating in the river), Lee creates an understated metaphor, not only for the idea of preserving the poetry in everyday life, but also for the indomitable heroine's struggle to find beauty – and legacy – in the face of brutal reality.
Uncle Boonmee Who Can Recall His Past Lives, 2010. Like Mija in Lee Chang-dong's Poetry, the eponymous, ailing protagonist of Apichatpong Weerasethakul's Uncle Boonmee Who Can Recall His Past Lives is similarly haunted by memory and mortality. Retiring to a secluded country estate to live out his final days in the company of concerned family and friends (as well as a devoted Laotian illegal immigrant [Sakda Kaewbuadee] who administers his dialysis), Boonmee (Thanapat Saisaymar) is soon visited by ghosts from his past – his late wife, Huay (Natthakarn Aphaiwonk) who had died decades earlier, and son, Boonsong (Geerasak Kulhong) who had disappeared as a university student (alluding to the communist movement of the 1970s), and has now emerged from the jungle as a transmogrified monkey-man. Expounding on the themes of reincarnation, parallel lives, and eternal recursion explored in Syndromes and a Century, Apichatpong gorgeously conflates past and present, history, and subconscious into an indelible stream of consciousness, where the troublesome geopolitics of porous national borders serve as a mundane, yet poetic metaphor for the interpenetrating modes of reality that haunt our human struggle for legacy and meaning.
Le Quattro volte, 2010. The idea of permeable boundaries between life and death, reality and fiction also captures the spirit of Michelangelo Frammartino's distilled, yet richly textured fresco, Le Quattro Volte. Composed of four seasonal portraits that collectively present the cycle of life in the ancient village of Calabria, the film is something of a hybrid between Raymond Depardon's Profils paysans documentaries on the dying culture of rural farmers and Otar Iosseliani's pastoral comedies. By shifting narrative focus in each episode – an aging shepherd who cures his ailments with a nightly dose of holy dust obtained from the charwoman of the village church, a kid who sets out on his first graze and is separated from the herd, a tree that is cut down to be used as a maypole for the town festival, the construction of a coal-fired kiln to produce charcoal – Frammartino gives equal weight between the organic and inorganic to convey a sense of cosmic, eternal interconnectedness.
Acto da Primavera, 1963. In Le Quattro volte, Michelangelo Frammartino uses the staging of the Passion Play by the local villagers to bridge the ancient and the modern. This dialectic also provides the connective tissue in the Views from the Avant-Garde program, Station to Station, capturing the ancient tale as it unfolds in the streets of New York City (Jeanne Liotta's Crosswalk) and the Portuguese countryside (Fern Silva's Servants of Mercy), and culminating in the restored print screening of Manoel de Oliveira's sublime early work, Acto da Primavera. Filmed in the ancient village of Curalha in Northern Portugal (the film was released a year before Pier Paolo Pasolini's The Gospel According to St. Matthew) where the local residents have been staging this rite of spring since the 16th century, Acto da Primavera straddles the bounds between documentary and fiction, action and performance. Bookending the film with episodes that reinforce the contemporaneity of events against which the play is staged (a reading of a newspaper early in the film that comes full circle with the concluding images of modern warfare), de Oliveira explores the notion of "in between-ness" – from the quaint village that seems anachronistic in its competing landscape of medieval architecture and electrical power lines, to the idea of film as a literal and figurative medium and conjurer of images, to the hybridization of reality when it consciously plays out before a camera.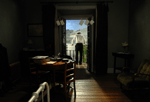 The Strange Case of Angelica, 2010. The retrospective screening of Manoel de Oliveira's Acto da Primavera alongside his latest film, The Strange Case of Angelica provided a great opportunity to see the evolution – or rather, reconstitution – of his cinema from documentary to narrative fiction. Indeed, by evoking images from his first film, Douro, Faina Fluvial in Isaac's (Ricardo Trepa) desire to photograph the workers who still manually farm the valley, de Oliveira validates his continued preoccupation with film as a tensile medium for documentation, translation, and creation (the "in between-ness" described in the notes on Acto da Primavera). In hindsight, Isaac's fascination with their dying way of life proves to be an underlying symptom for his own dislocation and estrangement. Hired by a prominent family to take photographs of their daughter Angelica on the eve of her death, Isaac soon becomes haunted by her, leading him further into a state of suspension between reality and image, the physical and spiritual, life and death. Framed within this seemingly banal tale of obsession and longing, the film, nevertheless, provides de Oliveira with a broad canvas to explore his recurring themes of doomed love, the relationship between image and reproduction, and cultural extinction.
Acquarello, 2010 [reprinted]