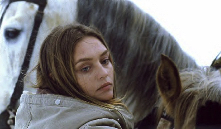 L'Intrus, 2004. L'Intrus opens to a shot of the Franco-Swiss border as a border guard performs a customs check and inspection of a random vehicle with the aid of a contraband-sniffing dog. The seemingly mundane image of frontier, wilderness, and deception provides a curiously appropriate introduction into the Claire Denis' impenetrably fractured, enigmatically allusive, otherworldy, and indelible metaphysical exposition into the mind of an emotionally severe, morally bankrupt, and profoundly isolated heart transplant patient named Louis (Michel Subor). Idiosyncratically unfolding in elliptical, often reverse chronology (with respect to the heart surgery) through the lugubriously fluid intertwining of Louis' alienated existence and deeply tormented subconscious, the film is a fragmented and maddeningly opaque daydream (or perhaps more appropriately, a haunted nightmare) of the price exacted by his disreputable past, estranged relationships, hedonism, and instinctual quest for survival: his inability to reconcile with his only son and his family; his sexually motivated, yet emotionally distant relationship with a materialistic pharmacist; his dubious, transcontinental past (a suppressed history that may have included murder). Perpetually followed by a beautiful, enigmatic sentinel (Katia Golubeva) – or conscience – who seems to have been instrumental in obtaining his new heart, what emerges is an indelible, elegiac, and poetically abstract dreamscape through the wondrous, alien terrain of unreconciled (and irreconcilable) personal history, unrequited longing, and haunted memory.
Transcribed notes from the Q&A with Claire Denis:
Denis initially envisioned L'Intrus to be three distinct parts: northern hemisphere, limbo, and southern hemisphere. She then found out that Jean-Luc Godard had conceived of a three part structure to Notre Musique (Hell, Purgatory, and Paradise) at Cannes and consequently, collapsed the three parts into one fluid, hyperextended dream sequence to avoid incidental comparison (or implications of creative appropriation). She envisioned the southern hemisphere to be a kind of parallel (or existential) universe of the northern hemisphere, and therefore, images in the two hemispheres become mirrored converses of each other and together create a closed cyclicality to the film.
Denis proposes that the only two instances of "real" people in the film are Louis and his estranged son (Grégoire Colin) (and by extension, his son's family). The other characters are manifestations of Louis' imagination, but like all mental constructions, are not purely fictional but rather, based on varying levels of an underlying reality: a "real" person whom Louis has encountered or interacted with sometime during his life.
Denis describes the film as an adoption rather than an adaptation of Jean-Luc Nancy's novel L'Intrus which, in turn, was inspired by Nancy's own experience after undergoing a heart transplant operation. Denis was equally haunted and fascinated by the idea of a foreign body's "intrusion" into another body, and how that organ(ism) is rejected by its "new" body even as it needs it for survival and viability (Note: This metaphor can also be applied to the image of illegal immigrants crossing the border: a broader social commentary on the pervasive mistreatment (and marginalization) of migrant workers and immigrants in "civilized" countries). Also, intrinsic in this idea of transplantation and rejection is the paradoxical coexistence of life and death that a heart transplant patient's post-surgery life represents (Note: I had also thought that perhaps this coexistence extended to the merging and coalescing of life experiences as well within Louis' subconscious, who begins to daydream seemingly abstract, fragments of personal histories that are not always his own. This may also be an extension of the earlier note on the "variable" degrees of reality, although Denis doesn't mention this idea of "collective" memory/dream).
The Bridesmaid, 2004. When the attractive widow Christine (Aurore Clément) asks her children for permission to offer a statue in their garden – a gift from their late father – as a housewarming present to her new beau Gérard Courtois (Bernard Le Coq), the eldest child, Philippe (Benoît Magimel) appears visibly disconcerted by the proposal, but nevertheless acquiesces for the sake of unanimity and subsequently insists on personally hand carrying the object to Gérard's home. However, it seems that the nature of his apprehension does not stem from a suppressed Oedipal rage or the traumatic idea of Gérard taking the place of his late father, but rather, from a curious attachment to the statue itself: an idealized image of classical beauty that would seem to have come to life in the soulful and enigmatic gaze of his sister's beautiful and alluring bridesmaid, Senta (Laura Smet). Living alone in the basement of a large, dilapidated country estate (and apart from her estranged stepmother and her lover who live two floors above) that she had inherited from her father, Senta's obscure personal history would seem to be as near-mythic as the Hellenic statue that she resembles: an Icelandic mother who died in childbirth, a reckless, disreputable past as an exotic dancer in New York City, an evil stepmother who has emotionally abandoned her to pursue a career as a tango dancer. Aroused by Senta's uninhibited desire and touched by her fragile vulnerability, Philippe is all too willing to embark on Senta's seemingly operatic (and fated) course of romantic destiny, and in the process, becomes increasingly entangled in her myopic – and delusive – quest for love and loyalty. Adapted from the novel by Ruth Rendell (whose novel La Ceremonie also provided the basis for the earlier Claude Chabrol film), The Bridesmaid exhibits a similarly deceptive and slow-building narrative crescendo as La Ceremonie and is bolstered by the fine performances of Benoît Magimel as the bumbling, eager to please lover and in particular, Laura Smet as the emotionally needy seductress. However, the film ultimately suffers from an almost caricatured – and incongruent – lighthearted direction which creates tonal inconsistency from the film's gradually unravelling mystery. Recalling the oppressively hermetic bohemianism of his earlier film Les Biches, the film serves as a competent, though superficial psychological examination of obsession, rootlessness, and co-dependency.
Me and My Sister, 2004. In an early episode of Me and My Sister, the younger sister Louise (Catherine Frot), having been picked up from the train station and driven home by her older sister, Martine (Isabelle Huppert), discovers her manuscript haphazardly tossed in the trunk of her sister's car as she retrieves her luggage, yet says nothing about the apparent slight to the culmination of her dedicated hard work. It is an episode that speaks volumes on the nature of the relationship of the siblings. Rejected by their alcoholic mother and forced to lead independent lives at an early age, the pragmatic and sensible Martine has consciously worked to shed her provinciality and cultivate an air of sophistication and bourgeois respectability in Paris while the fanciful and quirky Louise remained in Le Mans to lead a humble life as a beautician and aspiring writer. However, Martine's seemingly comfortable, lush life is also far from ideal. Trapped in a passionless marriage yet bound to the social comfortability afforded by her husband's success, Martine has become increasingly exacting and hardened to the people around her, and invariably, Louise's unpolished manners, idiosyncrasies, and interminably bubbly personality quickly begin to fray her carefully cultivated social decorum. Alexandra Leclère's film is a slight, yet charming, admirable, and effervescent comedy on manners, sibling rivalry, and the unbreakable bonds of family. By examining Louise and Martine's lives through the reflective prism of their interactions with each other, Leclère also creates an insightful social allegory for elitism, classism, denial of roots, and cosmopolitan arrogance.
Clean, 2004. Olivier Assayas' latest film, Clean, is a sincere, well-intentioned, and technically proficient, but uncharacteristically trite and formulaic portrait of a drug-addicted, washed up celebrity and recent widow named Emily Wang (Maggie Cheung) who, having lost custody of her son Jay (James Dennis) to her Canadian in-laws, Albrecht (Nick Nolte) and Rosemary Hauser (Martha Henry) while serving a prison term in North America for drug possession, decides to return to France in order to forget her personal tragedy, embarking on a long, emotionally draining, uncertain, and lonely journey to rebuild her life in an attempt to earn the Hausers' respect and repair her estranged relationship with her abandoned son. It should be noted, however, that as in his earlier demonlover, Assayas displays an uncanny insight and well-researched, indigenous authenticity into, not only the creation of the subject art and its corresponding medium (in this case, music), but also the formative pulse of its supporting industry. During the Q&A, Assayas remarked that he had envisioned Cheung's character as a kind of updated insight into the true nature of the actress that, unlike her character in Irma Vep (which the filmmaker admittedly describes as a superficial characterization of an "outsider" Hong Kong actress in France), incorporates more of her intrinsic Western characteristics, having lived in England in her youth and attained a level of fluency in both English and French. The thoughtfulness of this vision is clearly evident in Cheung's complex, sensitively realized, and indelible portrait of fragility and resilience, vulnerability and determination, and uncertainty and sincerity.
When the Sea Rises…, 2004. Each day, a struggling touring comic named Irène (Yolande Moreau) checks out of a modest hotel, packs a large, aluminum gear case and a wooden chair into the trunk of her Peugeot, drives through long stretches of empty, rural roads along the northern towns straddling the Franco-Belgian border, sets up her minimal equipment on the stage of a small theatrical venue (often, local clubs, town auditoriums, nursing homes, and converted classrooms), selects a volunteer "chicken" from the audience who will act as her partner in crime for the comedy skit, performs her comedy routine before an animated crowd, checks into a convenient hotel in town, and calls her supportive husband and daughter to dispense and receive equal measures of advice, encouragement, and affection before turning in for the evening. It is a lonely and uneventful, but personally fulfilling routine that Irène knows all too well, buoyed by her brief, yet affectionate connection with her appreciative audience, the adrenaline rush of the performance, and the warmth and generosity of the townspeople she meets along the way, until one fateful day when Irène becomes stranded on a empty stretch of road and is assisted by a flighty, but genial parade float conductor named Dries (Wim Willaert). Marking the debut feature film of actress turned filmmaker Yolande Moreau, When the Sea Rises… is an irrepressibly eccentric, thoughtful, and infectiously whimsical comedy on loneliness and emotional synchronicity. Inspired by Moreau's own experiences as a traveling comic during the 1980s, the film affectionately captures the laid back, free-spirited, and interpersonal indigenous character of the northern border towns that, as the filmmaker comments, "do not take themselves too seriously". Following in the similar vein of idiosyncratic, bittersweet, muted kitsch comedies often associated with Swiss and Belgian cinema, and infused with the intimate insight of Moreau's first-hand experience and clear passion for the region and her craft, the film is a quietly observed portrait of the disconnected lives of traveling performers, and a humble and tender love letter to a surrogate community that had nurtured and supported her career before achieving fame and success.
Last Call, 2004. During the Q&A for Local Call, filmmaker Arthur Joffé expressed his great fondness and respect for the works of Nobel laureate author and playwright, Isaac Bashevis Singer, whom he credits as his primary screenwriting influence, and from the complex tragicomic, impassioned, affecting, and deeply humanist tone of the film, the affinity is easy to see. As the film begins, the neurotic, well-to-do, and (perhaps all-too) comfortably settled astrophysicist Félix Mandel (Sergio Castellitto), arranges to meet with his first love Wendy (Emily Morgan) during a working trip to London and returns home with her gift for his son, an overfamiliar gesture for which his wife Lucie (Isabelle Gélinas) responds with an order to clean out his wretchedly overfilled, disorganized home office. Leaving only a box filled with his late father's belongings for storage, including a cashmere overcoat that Félix had retrieved unaltered from the tailor for him on the day of his death, Félix decides to offer the overcoat to a homeless man who then promptly sells the article to a near-mythical, joy-riding, motorcycle daredevil known in the streets as Le Prince Noir for spare change. However, Félix soon discovers that dispossessing himself of his father's effects will not allow his father, Lucien (Michel Serrault) to rest in peace, as he begins to receive mysterious – and exorbitantly expensive – collect calls from Heaven reproaching him for dispensing of his overcoat so readily. Driven into near bankruptcy (and brink of insanity) by his father's rationally unsettling, yet intrinsically emotionally reassuring conversations, Félix resolves to recover his father's overcoat and complete the alteration that the tailor (László Szabó) had earlier refused to perform. It is important to note that the French title, Ne quittez pas! ("Don't hang up") is more thematically in keeping with spirit of the film. During the Q&A, Joffé also offers two additional anecdotes that greatly contribute to the appreciation of the film: the first is that the alteration that was asked to be performed – and adamantly rejected – by his personal tailor is based on a true incident in Joffé's father's life (both his father and the tailor were children of the Holocaust); the second is that Joffé had intended for a French actor to play the part of Félix, but soon found that cultural and spiritual issues – and social implications in French society – that underpin the story made the role uncomfortable, and none of the French actors whom Joffé had approached with the script accepted the part. Unable to cast locally, Joffé then turned to Sergio Castellitto, with whom he had previously collaborated on Alberto Express, in what turned out to be a stroke of pitch-perfect casting that delicately balances fragility, affection, humor, charm, sophistication, intelligence, turmoil, and spirituality into an intelligent and affirming, yet whimsical examination of cultural rootlessness, despiritualization, filial devotion, and the legacy of the diasporic experience.
36 Quai des Orfèvres, 2004. From the opening sequence of 36 Quai des Orfèvres that shows intercutting parallel sequences between a band of thugs who break into a bar and physically abuse the proprietress and a pair of vandals who pry off a street placard and subsequently emerge in the private room of a bar with other drunken, trigger-happy carousers, Olivier Marchal establishes the film's overarching moral ambiguity and blurred delineation between criminals and undercover police. Ostensibly a professional (and inferentially personal) competition between two seasoned law enforcement agency lead investigators Denis Klein (Gérard Depardieu) and Léo Vrinks (Daniel Auteuil) as they try to apprehend the perpetrators responsible for a string of boldly executed, daytime armored car robberies by any means possible in order to secure a promotion to commissioner, the rivalry soon escalates into a protracted, acrimonious, and increasingly reckless and unethical power struggle for professional validation, glory, and revenge. Drawing inspiration from the filmmaker's former career in law enforcement as well as a beloved national cinema legacy of atmospheric and highly stylized crime thrillers (that include such eminent filmmakers such as Louis Feuillade, Jean-Pierre Melville, and Henri-Georges Clouzot), 36 Quai des Orfèvres is an accomplished and entertaining film that is bolstered by the impeccable performances of a strong lead and supporting cast that, nevertheless, ultimately suffers from an overly contrived, conveniently structured, and tidy resolution (in particular, an extraneous, tangential subplot that could only have served to set up a set of conditions in place for the inevitable outcome).
Le Silence, 2004. An apprehensive Olivier (Mathieu Demy) inscrutably stands watch       at an outpost on the side of a mountain, cursorily surveying the desolate topography with a pair of binoculars, waving to armed comrades situated on an adjacent clearing, checking the sight on his rifle…waiting for something to happen. The seemingly idyllic opening sequence of natural communion provides an insightful glimpse into the heart of the conflict as the chaos of shots fired and a faint rustling in the brush momentarily betrays his insecurity and allows a wild boar to escape into the wilderness. On holiday in his native village in Corsica, Olivier has returned with his fiancée (Natacha Régnier) to reconnect with his ancestral identity (perhaps resulting from an existential crisis brought on by his impending fatherhood), returning to the simpler life and camaraderie of the hunters who have continued to carry on the centuries-old tradition of his cultural heritage against the tide of inevitable depopulation (and vanishing way of life) in the dying village. Bound by the cultural code of self-reliance, rugged individualism, and independence, Olivier's moral allegiance is tested when he becomes an inadvertent witness to an act of cold-blooded murder. Orso Miret's sophomore feature is an elegantly shot and sincere, but thematically slight and ultimately superficial psychological portrait of guilt, conformity, and personal responsibility. Juxtaposing stylized, oneiric images that reveal Olivier's crisis of conscience against the naturalism of the region's harsh and unforgiving terrain (and further correlating the boar hunt as a social metaphor for natural law), Le Silence serves as a thoughtful exposition on instinctuality, character, and human resolve.
Acquarello, 2005 [reprinted]