L'Enfer, 2005. During an oral dissertation that occurs near the denouement of L'Enfer, the youngest sister Anne (Marie Gillain) is randomly assigned the topic of Euripedes' Greek tragedy Medea, a mythological character who, betrayed by her husband Jason, exacted revenge by killing their children. The allegory of Medea would prove to be an insightful framework into the fractured, disparate lives of Anne's estranged family as well. Her volatile, married sister Sophie (Emmanuelle Béart) has become increasingly consumed with a crippling obsession over her husband's infidelity. Her introverted sister Céline (Karin Viard) continues to lead an emotionally closed life of self-devotion and predictable ritual by dutifully attending to their invalid, embittered mother (Carole Bouquet) in a secluded nursing home, even as she wrestles with her surfacing feelings for an enigmatic, handsome stranger named Sébastien (Guillaume Canet) who begins to court her undivided attention. Even Anne's seeming youthful idealism cannot mask a life-altering personal crisis as she struggles to make sense of her married lover (and professor) Frédéric's (Jacques Perrin) unexpected rejection after informing him of her pregnancy. Segueing into her literary exposition with the remark, "Today, tragedy is no longer possible," Anne's evocation of modern-day tragedy as the walking wounded tersely encapsulates the invisible, yet immediately palpable repercussions of the sisters' own deep rooted childhood trauma surrounding their father's (Miki Manojlovic) imprisonment (and subsequent death) and their mother's cold, retreated silence, as the siblings embody a figurative, sacrificial death at the hands of parents' tumultuous marriage, yet survive to bear the collective scars of their broken childhood into their unreconciled, adult lives. Invoking the spirit of Krzysztof Kieslowski through similar aesthetics of thematic color palettes (in the compositional representation of the sisters) and imagery (most notably, a drowning insect struggling to make its way out of a glass from Decalogue, and a shot of an elderly lady recycling bottles that recurs through all the films of the Three Colors trilogy) and realizing a scenario by Kieslowski and long-time collaborator Krzysztof Piesiewicz, Danis Tanovic further creates a Bergmanesque atmosphere of claustrophobia and Antonioni-inspired interior landscapes of profound desolation. Unfolding as fragments of an elliptical puzzle that, when reconstructed, precisely interconnect to reveal a portrait of revenge, self-absorption, and despair, L'Enfer is a thoughtful and articulate examination of the myopia and untold legacy of human cruelty and emotional warfare: a metaphoric representation of hell as a godless – and graceless – existential plane of inured suffering, silence, longing, and disconnection.
I Saw Ben Barka Get Killed, 2005. Crafted as a cine-reportage restaging of the circumstances surrounding the 1965 abduction – and presumed assassination – of mathematics professor and exiled Moroccan opposition leader Mehdi Ben Barka (Simon Abkarian) on a Paris street, I Saw Ben Barka Get Killed is told from the point-of-view of petty criminal turned informant Georges Figon (Charles Berling) who, as the film begins, lies dead on the floor of a hotel room with a gun shot wound in the back in what the investigator would expediently classify as a suicide. But the reality of Figon's involvement with the still-unsolved disappearance would undoubtedly prove to be more complicated. Recruited by a nebulous band of politically connected thugs, Figon poses as an intermediary and aspiring producer bearing guaranteed financial backers for a proposed film on decolonization, a project that attracts the attention of the usually-cautious Barka who views renowned filmmaker Georges Franju's (Jean-Pierre Léaud) involvement in the project as a sign of its legitimacy, and envisions his own participation as an opportunity to rally the Third World movement during his planned appearance for the upcoming Tricontinental Conference in Cuba. Meanwhile, Figon has been burning both sides of the candle as the charismatic con-artist insinuates himself into the company of author and scenarist Marguerite Duras (Josiane Balasko) by appealing to her first-hand childhood experiences with the inequity of colonialism in French Indochina (as well as touting Barka's participation), and who, in turn, has expressed interest in bringing her good friend Franju into the project in an attempt to reinvigorate his career (and psyche) after suffering a nervous breakdown following the financial failure of his latest film. Filmmaker Serge Le Péron employs a clinical and objective tripartite structure of the film that, like the real-life incident, reflects the messy and tangled web of crossed alliances, double-dealing, deception, and betrayal that interweaves the scandal – a journalistic approach that ultimately suffers in its broadstroke rendering of underlying human stories (Franju's breakdown, Duras' anticolonial activism, or even Figon's chameleon-like social networking) in favor of a more comprehensive, if less insightful cultural snapshot of the volatile zeitgeist that ignited the political powder keg of the Ben Barka affair.
Housewarming, 2005. Divorced single parent, successful attorney, sans-papiers advocate, and not-so-obscure object of desire Chantal Letellier (Carole Bouquet) has led a fairly manageable life of controlled chaos in her comfortable, if occasionally unhinged flat until one day when she seizes the opportunity of a vacated sublet upstairs maid's room to open up their living space and convert the second floor into an office area. Hiring the services of a Colombian architect (Marcial Di Fonzo Bo) brimming with lofty design ideas and ambitious concepts but with little preoccupation towards more pragmatic issues of logistics and schedule, Chantal's life is soon turned into upheaval when her apartment is thrown into a state of perpetual construction, demolition, and rework, and the apartment becomes a haven for a stream of immigrant workers with varying degrees of questionable job skills and even more dubious immigration work permits. Recalling the idiosyncratic humor of recent "fish out of water" comedies such as Les Petites Couleurs and Chouchou, the whimsical, pell-mell structure of Brigitte Roüan's Housewarming appropriately mirrors the film's motley cast of characters and infectious, freeverse narrative, melding together such oddball ingredients as courtroom dance sequences, social activism, hapless romantic comedy, and even Santería occultism to create an effervescent, good natured, refined, and patently goofy confection.
Grey Souls, 2005. During the introductory remarks for Grey Souls, Yves Angelo commented that perhaps the most enduring lesson that had remained with author Philippe Claudel during his years spent working as a prison guard while writing his acclaimed novel was the idea that in such an environment, no one can be completely trusted. This sense of pervasive uncertainty also infuses the atmosphere in the filmmaker's realization of the dour, haunting and interminably bleak tale, as villagers struggle to carry on some semblance of a normal life in the austere winter of 1917 at a provincial border town, even as the Great War tragically unfolds within earshot of the town and all enlistment-aged men – except for factory workers and local authorities deemed essential services to the civilian population – are being sent off to the battlefield to reinforce the protracted war campaign: an idealistic schoolteacher, Lysia (Marina Hands) who has been recruited by the elementary school to replace a teacher who suffers a nervous breakdown during gas attack drills; a widower prosecutor, Destinat (Jean-Pierre Marielle) who finds a semblance of his late wife in Lysia and begins to pry into her affairs in an attempt to draw himself closer to her; a bombastic mayor (Michel Vuillermoz) who seems more eager in maintaining class order than social order; a frazzled police inspector Mierck (Denis Podalydès) trying to juggle the responsibilities of law enforcement and impending fatherhood. Structured through a series of elliptical flashbacks that obliquely trace the progress of an overarching murder investigation of the innkeeper's lovely young daughter, Belle (Joséphine Japy) found strangled near the riverbank that overlooks the reclusive prosecutor's estate, the film is also an acutely grim and unflinching view on the baseness of human behavior that is nurtured by the folly and madness of war. Shooting in somber hues that mirror the interiority of the characters, Angelo indelibly captures the ambiguity and desolation that inevitably surface within the periphery of the dispirited rituals and moral vacuum of human crisis.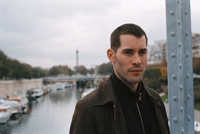 Le Petit Lieutenant, 2005. Part police procedural and part character study of the camaraderie of detective work, Xavier Beauvois evokes the unsentimentality and objective, cinéma vérité-styled painstaking observation of Maurice Pialat – with similar conflicted results – in his latest film Le Petit Lieutenant. The titular rookie investigator is Antoine (Jalil Lespert), a prototypical provincial cop from Normandy eager to experience the adrenaline rush of metropolitan crime busting. Assigned under the tutelage of the well-respected, second-generation "supercop" Caroline Vaudieu (Nathalie Baye), Antoine becomes closely involved with the seemingly routine investigation into the death of a vagrant – later identified as a Polish migrant worker – found floating in the river after he recognizes the victim from an earlier encounter at the police station for public intoxication. As in Pialat's oeuvre, the success of the film ultimately resides in the strength of the performance of the actors, and Baye's role as Vaudieu is complexly rendered (she received Best Actress at the 2006 Césars) as a recovering alcoholic who has declined promotion into the higher ranks of law enforcement to instead return to the "real world" of field work after two years of sobriety – a nuanced performance that seems particularly in sharp contrast to the almost superficial characterization of Antoine as an immature, impetuous thrill seeker. Perhaps driven to drink by the unexpected death of her only child – who would have been Antoine's age had he survived – Vaudieu's relationship with the idealistic young detective is protective and intimate, yet necessarily distanced (a subtly evident demarcation between personal and professional life that is illustrated in her physical separation from her colleagues' after hour drinking parties, invariably leaving early after finishing a glass of soda water). Beauvois' approach is systematic, organic, episodic, and precise in execution, which lends itself to a certain degree of aesthetic clinicality and emotional disconnection, to create a competent, if coolly detached policier.
Vers le sud, 2005. Set in 1970s Haiti under the post-colonial repressive regimes of François and Jean-Claude Duvalier, Vers le sud provides an incisive and provocative recontextualization of cultural imperialism as neocolonialism – specifically, in its economic manifestation – as Westerners, particularly middle-aged women, converge in an idyllic seaside resort where handsome, native young men from the slums of nearby Port-au-Prince vie for the favored company of the women in exchange for money and access to social privilege. From the opening sequence of a curious encounter between a polite and mannered man, Albert (Lys Ambroise) and an imploring, desperate woman, Laurent Cantet reflects the contextual ambiguity (and complexity) of social interrelationships within this seemingly hermetic paradise, as he awaits the arrival of the latest hotel guest, an attractive American divorcée named Brenda (Karen Young), and the native woman attempts to give Albert her attractive, young daughter to him to serve in some nebulous, unspecified capacity in an attempt to save her from the fate of many impoverished, pretty girls within the fear-riddled social climate of government-sanctioned, tonton macoutes thugs who operate with impunity throughout the city. This prefiguring dynamic of servility, myopic self-interest, ignorance, entitlement, and rejection provides the framework to the unraveling of Brenda's long-awaited idealized fantasy of returning to the resort as she attempts to recapture the euphoria of her sexual awakening with an undernourished and obliging then-15 year-old boy named Legba (Ménothy Cesar) who had once insinuated himself into her company for meals, and who she would, in turn, violate under the romantic delusion of reciprocated attraction. Now the constant companion of a handsome and imposing, if aloof and forbidding Ellen (Charlotte Rampling), the headmistress of an all-girl boarding school who spends her vacation trying to slough off the discontentment of her repressed and unfulfilling life, Legba soon becomes the unwitting pawn in a desperate, calculated tug-of-war between the two equally possessive, determined, and vulnerable women. Continuing in the sociological vein of his recent film Time Out, Vers le sud expounds on Cantet's recurring expositions on the masked – and masqueraded – unarticulated psychology of quotidian and social ritual. During the Q&A for the film, Cantet recounted his inability to shoot most of the scenes on location in Port-au-Prince due to the rampant lawlessness and random violence pervasive in the area (the resort sequences were filmed in the Dominican Republic). In a way, this pervasive anarchy can be seen as an evolution of the dysfunctional relationship between post-colonial African nations and western society, as commodification, territoriality, and favorable compensation reflect the everyday social dynamics of an implicit cultural and economic imperialism, where humanity and sense of community have been replaced by instinctual self-preservation and the volatile cocktail of impoverishment, privilege, and desire.
La Moustache, 2005. Popular novelist and first-time filmmaker Emmanuel Carrère takes a decidedly more affirming and compassionate adaptation of his twenty-year old dark, psychological novel on obsession, identity, and alienation for his debut feature, La Moustache. While getting ready for a dinner party with mutual friends, a comfortably settled, middle-aged married man and successful architect named Marc (Vincent Lindon) impulsively decides to surprise his wife Agnès (Emmanuelle Devos) by shaving off his well-worn moustache – a facial feature that he has sported through much of his adult life – for the occasion. However, when Marc subsequently realizes that neither Agnès nor their dinner hosts Serge (Mathieu Amalric) and Nadia (Macha Polikarpova) seem to notice the change in appearance, he begins to suspect that his wife has somehow involved his friends in the ruse, a wounded perception that Agnès tries to quell by insisting that he had never had a moustache. Frustrated by her intransigence to admit an apparent conspiracy in their seeming oblivion over such an obvious physical transformation, Marc attempts to catch Agnès in a lie by finding some trace of proof of his moustache's former existence – a family photograph, a double take reaction from his colleagues, or even the retrieval of errant hair trimmings from garbage cans set out on the curbside for pickup – to no avail. Soon, Marc's obsession to prove elaborate deception begins to place a strain on their relationship, as he begins to question the continuation of their life together after such a casual betrayal, even as he harbors increasing doubts over his own sanity and sense of identity. At the core of Carrère's surreal and nightmarish descent into madness, disconnection, and fugue is a thoughtful, lucid, and penetrating exposition into the inevitable transformation of all human relationships from visceral passion to emotional partnerships, when a relationship inevitably begins to evolve – and sometimes, drift apart – through the passage of time (and comfortable familiarity), and lovers no longer see things through the same blissful prism of lovestruck intoxication. It is this inevitable transformation that is metaphorically represented by Marc's existential crisis over his unnoticed, missing moustache – an illuminating personal and mutual journey beyond the superficial novelty of romantic love towards a deeper realization of true, shared intimacy.
Gentille, 2005. The whimsical and offbeat opening sequence of subverted expectation and role reversal provides a tongue-in-cheek glimpse into the eccentric humor and understatedly irony of screenwriter turned filmmaker Sophie Fillières latest film, Gentille, as an anxious Fontaine Leglou (Emmanuelle Devos), an anesthesiologist working the evening shift at a private psychiatric hospital, accosts an unwitting man on the street with a vehement rejection of any potential attempt at romantic pursuit in the mistaken belief that he had deliberately followed her from the train in order to chat her up. Chagrined by her impulsive act of presumptive aggression, Fontaine then invites the stranger for a drink to atone for her unprovoked brusqueness. Fontaine's reaction to the awkward, if amusingly disarming, encounter provides an insightful glimpse into her character that will inevitably set the tone for a delightful comedy of manners when her behavioral pattern of exceeding politeness, discretion, and opacity collides with her emotional ambivalence over a patient and fellow colleague, Philippe's (Lambert Wilson) not-too-subtle romantic overtures and a marriage proposal from her long-time, live-in lover Michel (Bruno Todeschini) towards an attenuated (and occasionally surreal) self-induced crisis of evasive indecision. Inviting favorable comparison to Noémie Lvovsky's deceptively lyrical, breezy, and idiosyncratic, yet sophisticated, incisive, and poignant comedies on the travails of romantic relationships (in films such as Les Sentiments), Gentille similarly captures the eccentricities of human behavior and the imaginative humor and sensual mystery that can be found in the quotidian. Chronicling Fontaine's humorous attempts at maintaining a semblance of normalcy despite surfacing – and increasingly distracting – romantic entanglements, Fillières insightfully navigates through the ever-complicated terrain of evolving relationships and the enigma of the human heart.
Acquarello, 2006 [reprinted]