Villa Amalia, 2009. As in his previous film The Untouchable, Benoît Jacquot's sublime and brooding film Villa Amalia, an adaptation of Pascal Quignard's novel, also explores themes of identity and fugue. This ambiguity is suggested in the film's opening sequence, as a distracted Ann (Isabelle Huppert) – having just witnessed her long-time partner, Thomas (Xavier Beauvois) near the doorway of another woman's home one evening – fails to recognize her childhood friend, Georges (Jean-Hugues Anglade) in the street. In a sense, the juxtaposition of their shared childhood in Brittany (which, in turn, evokes the region's Celtic and French biculturality), and her delayed response to the calling of her birth name (having adopted the surname, Hidden – an Anglicization of Hidewitz – for her professional career as a concert pianist and composer that alludes to her estrangement from her Romanian Jewish father and his ethic roots) is also a reflection of Ann's ambiguity and figurative rejection of her identity. Withdrawing from colleagues, refusing to take on commissioned work, and deciding to sell her shared apartment and all of its contents – including her collection of pianos – Ann gradually begins to divest herself from the life she has known, paying a final visit to her estranged mother, saying goodbye to friends, and asking Georges to keep a remote house that he once inherited for her, before setting off on her own journey to the volcanic island of Ischia on the Italian coast. But the island also proves to have its own entanglements: an Italian woman (Maya Sansa), on the verge of a breakup with her boyfriend, finds kinship with Ann despite the language barrier, a divorced lover's adolescent daughter begins to spend more time with her than with her workaholic father, and a fragile, emotionally abandoned Georges who is facing his own mortality. Jacquot creates a sense of fracture through narrative ellipses, dislocation, truncated conversations, and extended silences (most notably, in Ann's visit to her mother who may be suffering from a degenerative memory disorder) that reinforce her increasing isolation. Set against the idyllic, but weatherworn abandoned hilltop cottage, Villa Amalia becomes an embodiment of Ann's self-imposed exile as well in its haunted history of love and loss, beauty and austerity, celebration and mourning.
Bellamy, 2009. In hindsight, the establishing shot of Claude Chabrol's Bellamy showing a relaxed Paul Bellamy (Gérard Depardieu) trying to solve a crossword puzzle while on vacation at a well appointed country estate in Nîmes – an apparent compromise in destination from his wife, Françoise's (Marie Bunel) suggestions to take a more exotic trip – serves as both hint and a ruse to the renowned police inspector's ever-analytical personality. Struggling to cope with the unexpected arrival of his troublesome, ne'er-do-well, younger brother Jacques (Clovis Cornillac) and visited by a stranger, Noël Gentil (Jacques Gamblin) who may have been involved in the unsolved disappearance of an industrialist named Emile Leullet, Bellamy is gradually pulled away from his seeming hibernation, seduced by the stranger's tale of double lives, insurance fraud, a beautiful, young mistress (Vahina Giocante), a grieving, persecuted wife (Marie Matheron), and face-altering cosmetic surgery that seem worlds apart from his comfortable, settled life. Similar to Chabrol's previous film, A Girl Cut in Two, the psychology of the pursuer not only shapes the narrative trajectory of the film, but also continually redefines his ambiguous motivation: an unmade bed opens up the possibility of an affair, a missing gun corroborates a theoretical pattern of self-destruction, an all-too-forthcoming suspect that suggests hidden, ulterior motives. Bookending with a shot of a motorist's violent death on a desolate beach, the image suggests both a tragic conclusion and the ingredients of a new mystery – a paradoxical reflection of Bellamy's own self-perpetuating puzzle quest.
Eden Is West, 2009. The quixotic search for a better life in the West collides with the reality of immigration raids, exploitation, and poverty in Costa-Gavras's picaresque, if insubstantial and ultimately unremarkable film, Eden Is West. Embodying the prototypical image of the naïve, wide-eyed immigrant is Elias (Riccardo Scamarcio) who, as the film begins, has paid smugglers a substantial fee for the privilege of staking a spot in the overcrowded hull of a ship bound for the French coast. Fearing immediate deportation after a coast guard vessel announces its intention to board the ship for inspection, Elias and his friend (Odysseas Papaspiliopoulos) – alomg with a handful of other desperate voyagers – jump overboard and head toward the lights of a nearby shore, landing on the clothes-optional beach on the foothills of a luxury resort appropriately called Eden. However, even the seeming paradise of all-you-can-eat buffets and wealthy, attractive patrons (in particular, a German woman named Christina [Juliane Köhler] who embarks on an affair with the handsome Elias) still has its drawbacks – a clogged toilet that needs immediate clearing, the continued presence of police searching for illegal immigrants who may have reached the shore, a resort manager (Eric Caravaca) who uses his position of authority to proposition a subordinate – that would invariably send Elias away in search of greener pastures, spurred in part by the invitation of a traveling magician, Nick Nickelby (Ulrich Tukur) to visit him in his hometown of Paris. Part whimsical comedy that conveys an immigrant's sense of wonder and part social realism that illustrates the plight of undocumented workers, the idiosyncratic fusion results in a film that is neither satirical enough to expose underlying social absurdities nor illuminating in its cursory and generalized observations of complex issues.
The Beaches of Agnès, 2008. A clear highlight in an already strong French cinema program this year is Agnès Varda's playful and understated, yet endlessly inventive The Beaches of Agnès. Part autobiographical survey from her childhood in wartime Europe to her lifelong activism (she self-effacingly admits that she missed the events of May 68 because she was living in California at the time, and instead got caught up in the Black Panther and anti-war movements), and part career retrospective of her body of work as photographer, New Wave filmmaker, documentarian, and artist, the film is also an incisive essay on the amorphous nature of memory and representation. This ambiguity is perhaps best illustrated in long-time friend and colleague, Chris Marker's tongue in cheek, pre-scripted Q&A session with Varda on her life and work, using a mediated appearance through his iconic cartoon avatar, Guillaume-en-Egypte – complete with a disembodied MacinTalk™ synthesized voice – to conduct an ironically "personal" interview with the filmmaker. For Varda, reflections on her debut film La Pointe-courte not only revisit historical intersections between real life (her teen-age years spent in the fishing village during the war) and fiction (alternating segments between the lovers and village life), but also reveal the fissures between past and present, as many of the villagers appearing in the film have since died (including a poignant episode involving a stand-in actor whose son, born after his death, would commemorate his legacy by accompanying a projection cart that is screening the film through town), their children now elderly, and the lead actor, Philippe Noiret, appearing in his first film, would succumb to cancer in 2006. Inasmuch as Varda remarks that the trajectory of her life may be traced through the physical and metaphoric geography of beaches – from family summer vacations in Calais on the coast of her native Belgium, to a life of exile in La Pointe Courte in Languedoc-Roussillon on the southeast coast of France, to Venice Beach in California where the family had settled after her husband, filmmaker Jacques Demy was invited to work in Hollywood – her legacy is also appropriately found in the transformation of the ephemeral to the physical: a convergence that is prefigured in the opening sequence of Varda experimenting with mirror angles that alternately recasts the film crew as both documenters and subjects in the film, and culminates with the ingenious shot of a prismatic tent composed of unspooled reels from Varda's commercially unsuccessful film The Creatures. The image – and implicitly, the past – once again becomes tangible and relevant, re-animated by the curious and impassioned eye of an ageless spirit.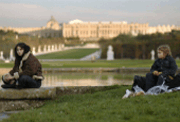 Versailles, 2008. The woods surrounding the Palace of Versailles serves as a real-life metaphor for the stark disparity between wealth and poverty, privilege and exclusion in Pierre Schöller's sobering and unsentimental tale of two cities, Versailles. At the heart of Schöller's social interrogation is the plight of a young homeless boy, Enzo (Max Baissette de Malglaive) who, as the film begins, is wandering through back streets and dark alleys with his mother Nina (Judith Chemla) in a seemingly familiar routine of searching for suitable places to pass the night. Approached one evening by patrolling social workers with an offer of a warm place to sleep, Nina and Enzo are soon scuttled to Versailles under the pretext of filling out requisite forms to help them obtain public assistance: a process that will invariably send the mother away for vocational training as part of the prescribed workforce re-introduction program, while the child is processed into the foster care system. Refusing to provide their real names for fear of being separated by the state, the two instead cross into the woods in an attempt to reach the train station, and stumbles into the makeshift home of Damien (Guillaume Depardieu). Finding a kindred spirit and unlikely protector for her son in the brooding recovering addict and ex-convict, Nina, leaves Enzo in Damien's care and, armed with a newspaper article on unemployment featuring business woman and social activist, Mme. Herchel (Brigitte Sy), forges to find her way back into "productive society". Schöller incisively illustrates the parallel, surrogate relationships formed among the marginalized – the poor, homeless, and elderly – that redefine the notion of family and community. By chronicling elliptical, transitory moments in the lives of people living under the shadows of a gleaming Versailles, Schöller not only reflects the transient nature of their threadbare existence, but also confronts the eroded revolutionary ideals of an inclusive, egalitarian society that these unregistered, shadow communities represent.
With a Little Help from Myself, 2008. Like Pierre Schöller's Versailles, François Dupeyron's With a Little Help from Myself similarly presents a portrait of the marginalized in contemporary France, in this case, the plight of immigrants and the elderly. Shot in yellow hues characteristic of African cinema, as well as vibrant, chaotic milieus and canted angles that invite comparison – albeit to the film's detriment – to Spike Lee's seminal film Do the Right Thing (complete with an aggressive, urban soundtrack and repeated shots of people trying to find relief from the blistering summer heat), the film's silver lining is found in actress Félicité Wouassi's charming performance as the indomitable Sonia, a role that runs the gamut from aggrieved wife to self-sacrificing mother to sympathetic companion to seductive enchantress (during the Q&A, Wouassi had commented that her acting experience before the film had been primarily theatrical, and was cast by Dupeyron after appearing as Mrs. Miller in Roman Polanski's stage production of John Patrick Shanley's play, Doubt in Paris). Ironically, in attempting to create a simple tale of working class life, Dupeyron resorts to familiar stereotypes, resulting in an unwieldy, over-contrived structure that paradoxically converges more towards fable than social realism: a sex-crazed best friend, an abusive, gambling husband (Mamadou Dioumé) who suffers a fatal heart attack only a few hours before their daughter's wedding, crotchety employers (with an added dose of racism for good measure), a lonely elderly neighbor (Claude Rich) eager for some excitement in his life, a drug-dealing son (Ralph Amoussou) who is arrested on the day of the wedding, a pregnant teen-aged daughter (Elisabeth Oppong), a self-destructive younger son (Charles-Etienne N'Diaye), a handsome suitor (Jean-Jacques Ido).
Change of Plans, 2009. From the opening images of Change of Plans, Danièle Thompson illustrates the intersection between personal and public spaces, initially, in the title sequence shot of a flamenco class in which a distracted, rhythm-challenged attorney, Marie-Laurence (Karin Viard) tries to keep up with – and out of the way of – other people, and subsequently, a gynecologist, Mélanie (Marina Foïs) examining a patient before being interrupted by a phone call from her lover. Having learned from her stay-at-home husband, Piotr (Dany Boon) of an added guest – her recently jilted lover, Jean-Louis (Laurent Stocker) – Marie-Laurence impulsively decides to invite her dance instructor Manuela (Blanca Li) in order to maintain the balance of men and women at the table, despite not having prepared enough food for the added guests. With the building access code having been changed earlier in the day, Marie-Laurence's estranged father, Henri (Pierre Arditi) unexpectedly coming for a visit, traffic coming to a virtual standstill with the advent of a music festival street fair, and friends Mélanie and her oncologist husband Alain (Patrick Bruel) uncommitted about coming to the dinner party (Mélanie having decided to reveal her affair with a jockey and ask for a divorce that evening), the occasion invariably turns from carefully planned event to barely controlled chaos, with Marie-Laurence's younger sister, Juliette (Marina Hands) deciding to drop in for a visit with fellow actor, Erwann (Patrick Chesnais) in tow, and divorce attorney, Lucas (Christopher Thompson) dragging along his neurotic wife Sarah (Emmanuelle Seigner) on the pretext of the dinner in an attempt to woo Marie-Laurence into his practice with the tantalizing offer of assigned parking space. As in her earlier films, Thompson returns to her recurring theme of shared spaces as intersectional précis for the banalities and transformative junctures of everyday life. Less cohesive than Orchestra Seats, the organic, decentralized framework of Change of Plans becomes an implicit inversion on the myth of bourgeois complacency, where the notion of settled lives at forty-something collides with the reality of life-altering changes, mortality, new love, and self-discovery.
The Girl from Monaco, 2008. The prevailing stereotype of Monaco as exotic, laid back resort destination and land of fairytale – perpetuated in part by the public's enduring affection for the principality's most famous transplant, Grace Kelly – provides the surreal atmosphere for conscientious, Parisian attorney and self-styled ladies man, Bertrand's (Fabrice Luchini) inopportune case of tropical fever in Anne Fontaine's wry and breezy, The Girl from Monaco. Hired to defend a local socialite, Édith Lassalle (Stephane Audran) who is accused of killing a known gigolo with reputed ties to the Russian mafia, Bertrand's attempt to embrace the town's more unstructured lifestyle is soon quashed by the appearance of personal bodyguard, Christophe (Roschdy Zem) who has been hired by Lassalle's son (Gilles Cohen) as a precaution against possible retaliation by the mob. But Christophe's intractable sense of duty to constantly secure his client's "perimeter" also proves to have its advantages, managing to send away the inconvenient Hélène (Jeanne Balibar) who has decided to leave her husband (and life) in Paris and impulsively follow Bertrand to Monaco in order to pursue a relationship, and introducing him to a former lover, sexy, singing weather girl and aspiring starlet, Audrey (Louise Bourgoin). But as Bertrand's continues to fall under the spell of the interminably perky siren (a swooning that crystallizes in his truncated attempt to follow Audrey into the sea for a swim that is visually connected to a subsequent shot of him falling into a swimming pool before Audrey's camera), he becomes increasingly conscious of his own faltering objectivity and enlists the task-oriented Christophe with helping him maintain focus on the high profile trial. Returning to the moral ambiguity and sexual politics of her earlier films – in particular, Dry Cleaning in its themes of dangerous attraction and latent sexual awakening – Fontaine's seemingly idiosyncratic juxtaposition of idyllic setting and psychological portrait astutely reflects Bertrand's increasingly out-of-control obsession that, framed within the context of Audrey's fascination with iconic princesses Grace and Diana, reinforces the dark side of the fairytale.
Acquarello, 2009 [reprinted]