Pather Panchali, 1955. A young girl named Durga (Runki Banerjee) ventures into the neighbor's orchard that was once owned by her family, and picks some guavas for her great aunt, Indir (Chunibala Devi). The neighbors detect the incident, and complain loudly of Durga's undisciplined behavior for her mother, Sarbajaya (Karuna Banerjee) to overhear. Sarbajaya, in turn, scolds Indir for encouraging Durga's behavior, and the infuriatingly stubborn old woman packs her belongings and moves into the house of a nearby relative. But all is quickly forgiven when Sarbajaya gives birth to a son, Apu, and Indir returns home. The well-intentioned father, Hari Ray (Kanu Banerjee), has uprooted his family from the city of Banaras in order to follow in the footsteps of his ancestors – a long and well respected lineage of scholars and spiritual leaders – and he is determined to provide a good life for his family in his place of birth. But the road proves to be a difficult one. The ancestral home is in a state of disrepair. The family orchard has been relinquished in order to settle his brother's debts. Hari's employment opportunities are few and far between, and often involve spending long periods of time away from his family. It is a hard existence for the Rays, but one that is filled with love and a deep sense of loyalty to tradition and family. Hari reassures Sarbajaya that his new job and his original compositions will bring his family prosperity. However, years later, little has changed. A young Apu (Subir Bannerjee) is sent to a village school in order to learn the religious rites of his father's profession, and Durga (Uma Das Gupta), approaching the age of marriage, continues to smuggle fruit to her great aunt Indir. Sarbajaya believes that the family should return to Banaras in order to have better opportunities, and when tragedy strikes, the family makes the agonizing choice to leave the beloved village.
From the opening scene of Pather Panchali, the first film of the Apu Trilogy, Satyajit Ray strikes a graceful balance between nostalgic idealism and poignant realism. The lyrical soundtrack sets the vitality and visual poetry of the film, and echo the long, lingering shots of the small village road. In essence, the road is the metaphor for life: from Hari's travels in search of employment, to the children's adventures following the candy vendor and searching for a train, to the family's bittersweet departure from the village. Pather Panchali is literally translated as the "Song of the Little Road". Another translation defines it as an elegy. It is neither. Pather Panchali is a serene, graceful, and haunting universal symphony – a beautiful, understated celebration of the wonder of life and the interminable courage of the human soul.
Aparajito, 1956. The people make their daily pilgrimage to the Ganges River: bathing in its holy waters, filling their ceremonial vessels, attending a reading of the scriptures by the entrance steps. The Ray family has left their ancestral home (in Pather Panchali) and has settled into a ground floor apartment in the city of Banaras. Hari (Kanu Banerjee) is one of many priests performing the daily ceremonies at the Holy Ganges, and times have proven to be equally difficult away from home. There are no schools in the area, and Apu (Pinaki Sen Gupta) spends his days roaming the streets, watching his father perform religious services, observing a weight lifter perform his exercises. During the evening of the town festival, Hari falls ill, perhaps from contact with a feverish guest from the previous evening. Trusting his healing powers over modern medicine, he self-prescribes medicinal herbs. When he awakens in better health on the following day, he immediately returns to the Ganges against the advice of Sarbajaya (Karuna Bannerjee), and suffers a relapse. Weakened by illness and physical exhaustion, Hari passes away. Left alone in Banaras, Sarbajaya takes a job as a cook for a wealthy family, but decides to move to a great-uncle's house in the country in order for Apu to continue his religious training. But soon, Apu is drawn to a local "western" school, and pleads with his mother to enroll him. Exposed to a brave new world of western literature and science, Apu excels in his studies and is offered a scholarship. But in order to accept the award, he must make an agonizing decision to leave home and move to Calcutta.
Satyajit Ray creates a sublime and deeply affecting portrait of the struggle between tradition and progress in Aparajito, the second film of the monumental Apu Trilogy. Embodied through the maturation of Apu at the turn of the century, Ray creates an insightful social commentary on a profoundly changing culture, reflected through Apu's dilemma between traditional and modern education; his decision to leave home in order to further his studies; his part-time job at a printing press. In abandoning his ancestral path, Apu must carve out his own uncertain destiny in Calcutta. In the end, we see Apu walking away from his great-uncle's house, down a small road, alone. Apu has embarked on another journey.
Jalsaghar, 1958. The film opens to the shot of a large, ornate, candlelit chandelier, precariously swaying from the momentum of its cumbersome weight. It is a vestige of the fading grandeur of Huzur Biswambhar Roy's (Chhabi Biswas) cherished jalsaghar – the elegant entertainment room where guests listen to the performance of traditional musicians amid eroded columns and peeling plaster. In early twentieth century India, it is also a symptom of Roy's aristocratic obsolescence. Roy lounges on his empty rooftop terrace, overlooking his inherited property, now worthlessly reduced to marshland, staring idly into space, smoking his hookah pipe. His wealthy, but uncultured neighbor, Mahim Ganguly (Gangapada Basu), has hired traveling players for his son's Sacred Thread Ceremony, and Roy is angered by Ganguly's ostentatious display of extravagance. After being informed that Ganguly had invited him to the ceremony, Roy refuses to attend, citing Ganguly's negligence in failing to personally extend an invitation to the revered mazumdar (feudal lord). Recalling his own son Khoka's (Pinaki Sen Gupta) Sacred Thread Ceremony, Roy retreats into a world of lost memories, and reveals the sad and tragic portrait of obstinacy and hubris that led to his idle complacency, personal tragedy, and self-imposed isolation.
Satyajit Ray creates a dispassionate and objective, yet profound and engaging examination of decadence and obsolescence in Jalsaghar. By embodying subtle themes during the performance of the private concerts, Ray depicts an increasingly self-destructive pattern of excess and desperation. The first performance, in commemoration of Khoka's Sacred Thread Ceremony, is a traditional concert, and serves as a narcissistic reassurance of Roy's prominence and social stature, despite his disappearing wealth. The second performance, impetuously arranged in order to thwart Ganguly's own housewarming plans, features an enigmatic, non-native old man. Occurring amid signs of an impending, catastrophic storm, the concert serves as an ominous harbinger to an unknown, looming tragedy. The final performance, a "new" repertoire combining song and dance, is frenetic and mesmerizing, and sharply contrasts with Roy's self-indulgent lethargy. Figuratively, like the consuming rivalry between Roy and Ganguly, the familiarity of tradition has been displaced by the vitality of the modern. Inevitably, Roy is left alone to savor the intoxicating oblivion of his Phyrric victory, only to be sobered by the emergence of a spider from his portrait. Like the noble ancestors adorning the great walls of the jalsaghar, he too, is a languishing, superfluous relic.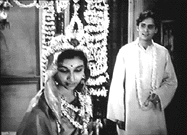 Apu Sansar, 1959. Times are hard in the city of Calcutta. Apu's (Soumitra Chatterjee) college funds have run dry, and he is forced to suspend his university education. After receiving a letter of introduction from a supportive professor, Apu exits the faculty office only to walk into the chaos of a student protest. It is a harbinger of his professional uncertainty. With an intermediate college education and possessing few manual skills, he is either overqualified (to paste labels on medicine bottles), or underqualified (to teach grade school children) . But there is hope. One of his stories has been accepted for publication, and a career as a writer seems to have potential. One day, he is visited by a college friend, Pulu (Swapan Mukherjee), who has been searching for him around town in order to invite him to his cousin Aparna's (Sharmila Tagore) wedding. Pulu has a job in mind for Apu, one that uses his typing skills, but Apu is reluctant to settle into a life of complacency with a "desk job". Apu reveals to Pulu that he has been working on a novel about the saga of a poor village boy. Pulu immediately recognizes the factual similarity to the author, but teases Apu on his romantic qualifications for introducing a fictitious "love interest" into the novel. Arriving to Khulna for the wedding, the bride's mother (Sefalika Devi) is charmed by the handsome, mild-mannered Apu, and flatters him with comparisons to the deity, Krishna. Secretly, one can sense that she wishes that Aparna would marry Apu instead. When the bridegroom unexpectedly arrives to the wedding in a state of mental distress, the opportunity presents itself. The family believes that Aparna will be cursed if she does not marry as planned, and Apu is asked to act as a substitute bridegroom. Apu's marriage to Aparna proves to be well suited, as the young couple settle into a blissful domestic life. However, their happiness is truncated when Aparna develops complications during childbirth. Unable to reconcile with his profound grief, Apu abandons all responsibility to wander the land in search of inner peace.
Apur Sansar is a poignant, triumphant final chapter to Satyajit Ray's epic masterpiece, the Apu Trilogy. As in Pather Panchali and Aparajito, Apu Sansar concludes with an image of Apu traveling away from the the safe and familiar surroundings of the past, facing an uncertain path to the future. It is a symbolic road that he has taken throughout his life: through economic necessity, academic pursuit, and personal tragedy. The serene, final shot shows Apu once again on the familiar journey. But this time proves to be different. He is no longer leaving – he is going home.
Satyajit Ray's ability to move the audience without melodrama or emotional manipulation is a precise art. In depicting the life of a simple village boy in the early 1900's, Ray presents: the emotional struggle between cultural tradition and modernization, the vestigial effects of imperialism, the inescapability of social class. There are not enough words to describe the natural beauty and seamless cinematography of the Apu Trilogy. The films, like life itself, need to be experienced through all their joy and pain.
Devi, 1960. Devi opens with a static shot of an undecorated alabaster statue in the image of Kali, the goddess of creation and destruction, as the Hindu deity is excessively ornamented for a religious festival. On the eve of the festival, Umaprasad ("Uma") (Soumitra Chatterjee) brings his shy and beautiful wife, Doyamoyee ("Doya") (Sharmila Tagore) and nephew, Khoka (Arpan Chowdhury) to watch the fireworks display, and at dawn, follow the conclusion of the ceremonial procession to the river bank as the statue is cast into the waters. Uma will soon be leaving home to resume his university studies in Calcutta, and Doya is apprehensive about the prolonged separation. He reassures her that his pursuit of knowledge is a noble endeavor and convinces her to communicate her innate thoughts through daily letters. In Uma's absence, Doya passes the time by doting on young Khoka and attending to her pampered father-in-law, Kalikinkar Roy (Chhabi Biswas), who often calls her "mother" as a term of endearment. One evening, Roy receives a vision during a fevered dream that Doya is the reincarnation of the mother goddess Kali. Roy instructs his older son, Taraprasad (Purnendu Mukherjee) to bow at her feet, much to the shock and disbelief of Taraprasad's wife Harasundari (Karuna Bannerjee), and moves her sleeping quarters to the ground floor in order to be near his shrine to Kali. Soon, the news of Roy's revelation is disseminated throughout the village, and the crowds begin to gather at the family estate to pay homage or seek assistance from the goddess. A reluctant and weakened Doya sits immobile for hours receiving prayers from tribal priests and supplicants, compelled to obey Roy's divine vision out of reverence and duty. But when a young boy is seemingly healed by Doya's intervention, devotion turns to fanaticism, and Doya becomes a reluctant captive in the chaotic spectacle of Roy's delusion.
Satyajit Ray creates a harrowing and compelling portrait of idolatry, obsession, and fanaticism in Devi. From the opening sequence illustrating the adornment of the Kali statue, Ray presents a figurative analogy for the inevitable fate of the naive and trusting Doya as she, too, is manipulated and transformed into the image of the reincarnated goddess. Note that a similar phenomenon of religious sighting is depicted in Federico Fellini's Nights of Cabiria and also in La Dolce Vita, illustrating the universality of religious superstition. The repeated imagery of window bars, darkness and shadows, and veils and curtains reflect the pervasive sense of confinement, oppression, and unenlightenment within the household. By juxtaposing mysticism and religion, faith and hysteria, logic and superstition, Ray exposes the destructive power of ignorance in the absence of rational thought, and the fragility of spirituality in a decadent, selfish, and indulgent society.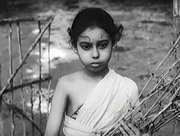 Teen Kanya, 1961. Composed of three stories based on Rabindranath Tagore's short fiction that span a range of ages, each shot in a different narrative genre – a social realist drama, a ghost story, and a romantic comedy – Satyajit Ray's Teen Kanya (Three Daughters) is a lucid panorama on the lives of society's referential daughters and their relegated place in a deeply class-conscious and patriarchal culture. The first story, Postmaster, is equally a commentary on the cycle of poverty and social invisibility that relegate girls to subservient roles, and an indictment of the armchair liberalism that helps perpetuate these inequitable and disenfranchising institutions. Set in a rural outpost that is still plagued by malaria, the segment chronicles newly hired postmaster and urban transplant, Nandal's (Anil Chatterjee) struggle to adjust to provincial life, endeavoring to cultivate a sense of culture in the remote village by continuing his poetry studies and teaching an orphaned servant girl, Ratan (Chandana Banerjee) to read and write, until a crisis causes him to re-evaluate his circumstances. In capturing Nandal's superficial attempts at assimilation (in one scene, he humors a group of local musicians by finally attending a performance after sidestepping an earlier invitation) and charity towards the villagers, Ray explores the notion of enlightened goodwill as an assertion of superiority that reinforces social division.
Similar to Postmaster, the social imprinting of economics also provides the framework for the second story, Monihara, a gothic tale within a tale told by a village schoolmaster (Govinda Chakravarti) on the events that led to the haunting of a seemingly idyllic mansion across the river. Having inherited a country estate, successful businessman Phanibhushan (Kali Bannerjee) returns to his ancestral village with his attractive, commoner wife, Manimalika (Kanika Majumdar), where she is invariably visited by a desperate relative eager to exploit marginal family ties to curry favor from her husband. Manimalika's reluctant encounter with her long abandoned past provides a glimpse into her relationship with her husband as well. Childless and insecure over his wife's affection, Phanibhusan is quick to indulge her whims, lavishing her with jewelry from his many business trips over the years. It is a token affirmation that soon consumes Manimalika, a dislocated sense of adoration and loyalty that is strained when her husband is compelled to take an extended trip to stave off financial ruin, and she is faced with the possibility of losing her newfound privilege. In its critical examination of transaction as a surrogate for human connection, Monihara represents an intriguing corollary to the status of women in Postmaster. By presenting a paradigm in which social mobility is more fluid (albeit through marriage) and the balance of power is shifted, Ray illustrates the insidious – and intrinsically artificial – nature of class stratification, where the fear of erasure itself becomes a crippling, self-fulfilling prophesy.
As in Postmaster and Monihara, the final installment of Teen Kanya, entitled Samapti, also begins with a journey from the city to the province as a metaphor for reframing cultural norms from an outsider's perspective – and specifically, a modern point of view observing outmoded traditions – in this case, a recent university graduate, Amulya (Soumitra Chatterjee) who has returned home to visit his widowed mother, Jogmaya (Sita Mukherjee). From the comical opening image of Amulya falling into the mud while disembarking from a boat (after stubbornly refusing assistance from the locals) as a spirited Mrinmoyee (Aparna Sen) amusedly looks on, Ray implicitly links the two characters in their strangerness – one, a transplanted native who is no longer accustomed to the village's quaint ways; the other, a poor, displaced young woman who is too old to lead the life of a carefree child, but has also cultivated few skills to cope in a world of adults. Rejecting his mother's notions of a suitable wife – one who invariably comes from an upstanding, middle class family and is equally adept around the kitchen as she is with embroidery hoops – Amulya instead has set his sights on the wild and unpredictable Mrinmoyee, a decision that brings the family much consternation when she decides to climb out of the window on their wedding night. In contrast to the dysfunctional relationships inherent in the previous stories, Samapti confronts the social paradigms that contribute to the inequality and polarization. Juxtaposed against a young couple's search for love and validation, the friction represents the difficult, but necessary process of cultural revolution in its painstaking negotiation of accepted roles and asserted individuality.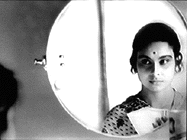 Mahanagar, 1963. A young girl named Bani (Jaya Bhaduri) diligently studies for her exams. Her father, Subrata (Anil Chatterjee) asks, "Is it worth it? You'll end up in the kitchen, like your mother." The words are intended to be a playful tease, but they speak volumes about the role of women in society. It is the early 1960s, and the concept of dual-income families is still alien to most households, even in the big city of Calcutta. But Subrata's income as a bank accountant is not enough to support his extended family. His father (Haren Chatterjee), no longer able to earn a living as a teacher, spends his days working on crossword puzzles, hoping to win the prize money awarded for its successful completion. He needs a new pair of eyeglasses, and keeps reminding Subrata to call on an old pupil who is now a successful optometrist in the hopes of obtaining his services for free.
Upon hearing that a friend's wife is working as a teacher, Arati (Madhabi Mukherjee) becomes convinced that she, too, should get a job, and secretly interviews with an affable, but savvy businessman, Mr. Mukherjee (Haradhan Banerjee) to sell knitting machines door-to-door. The idea of Arati going to work is met with disapproval and silent opposition by Subrata's parents, but the couple believe that buying a new pair of eyeglasses will help thaw his stubborn father's imposed 'cold war'. Arati proves to be a conscientious, hard working employee, and Mr. Mukherjee finds great potential in her, believing that she is destined for management. Meanwhile, Subrati's hypocritical father pays a visit to his former pupil, denigrating his son's financial situation, and is offered a new pair of eyeglasses as a token of his gratitude. When Arati receives her first salary, Subrati's father refuses her present, preferring to beg favors from former pupils rather than accept his daughter-in-law's financial assistance. As Arati begins to succeed in her profession, Subrata becomes increasingly threatened by his wife's financial independence, and asks her to leave her promising career.
Mahanagar is a deceptively lyrical, yet profoundly insightful examination of modern society: the obsolescence of cultural tradition, the financial instability of an emerging economy, the changing role of women. Using narrative perspective and graceful close-ups, Satyajit Ray portrays the gradual, often turbulent path taken by women on the road to independence and personal identity. Note the scene where Arati's physical posture shifts as she sees her salary reflected in the mirror, in essence, an external reflection of her increasing self-confidence. In the beginning of their employment, the assertive Anglo-Indian, Edith (Vicky Redwood) is elected to speak for the meeker sales staff composed of Indian women. In the end, it is Arati who becomes Edith's headstrong advocate. An early episode, showing Subrata and Arati having breakfast together, best captures the essence of social liberation in Mahanagar. Both parents eat their meals hurriedly before leaving for work. Neither one serves the other. They are seen as equals. It is a universal portrait of a contemporary family.
Charulata, 1964. Charulata (Madhabi Mukherjee), or "Charu" as she is affectionately called, lives the privileged life of the Bengali upper class in the late nineteenth century. She is highly intelligent and creative, but her social status limits her opportunities for personal growth, and she is left with empty diversions that provide little challenge: embroidering handkerchiefs, managing the servants, observing people in the street through a pair of opera glasses. Her husband, Bhupati (Shailen Mukherjee), an idealistic intellectual, is adoring and supportive, but is consumed by the publication of his new political newspaper – his "second wife" – and is unable to spend more time at home to be with her. In a deceptively innocuous scene, Satyajit Ray subtly exposes Bhupati's marital complacency when he literally passes by Charulata twice without noticing her. Charulata, disappointed by his unintentional snub, watches him walk down the hallway through the opera glasses. The camera zooms out, as if to reflect the growing distance between them. In an attempt to keep Charulata occupied, Bhupati sends his sister-in-law, Manda (Gitali Roy), who is content with passing the time by playing card games and engaging in idle chatter. When Bhupati's younger cousin, Amal (Soumitra Chatterjee), a recent college graduate and aspiring writer, comes to visit, Bhupati enlists him to help cultivate Charulata's interest in literature. Charulata has an immediate connection with Amal, seeing him as an intellectual peer who shares a common love for the arts, and encourages Amal to pursue his writing. The two become inseparable, spending their afternoons in the garden – Amal writing in his journal, and Charulata playing on the swing. In an understated, yet emotionally revealing scene, Charulata teasingly spots a spelling error on Amal's writing with her opera glasses, turns away to see a mother and child at a window, then solemnly looks back to observe Amal's profile. Figuratively, she sees Amal from a different perspective, and realizes the impossibility of the situation.
Charulata is an exquisitely shot, sublimely haunting, and emotionally complex film on the nature of human relationships. At the heart of the conflict are three well-intentioned, sympathetic protagonists – Bhupati, Charulata, and Amal – who clearly love and respect each other, but realize that their individual actions have led to an unforeseeable, yet inevitable emotional betrayal. Satyajit Ray does not dilute the gravity of the situation with an act of adultery or violence, but with the subtle gaze of crushing realization and the heartbreaking weight of consequence: Charulata's concealed apprehension at Amal's arranged marriage proposal; Amal's guilt-ridden, sideways glance to Charulata as Bhupati reveals his business problems involving a relative; Bhupati's lone carriage ride. In the remarkable final shot (inspired by Francois Truffaut's The 400 Blows) of Bhupati and Charulata's hands frozen in mid grasp, the words "The Ruined Nest" appear: the title of Rabindranath Tagore's short novel on which the film was based. It is a poignant reminder that life cannot continue as before – that something has been irretrievably lost from the relationship – and all that can be salvaged are the fragments of human decency that remain… the polite gesture.
Kapurush-o-Mahapurush, 1965. On the surface, Satyajit Ray's diptych, Kapurush-o-Mahapurush (The Coward and The Holy Man) seems an unlikely pairing: one, a stranded screenwriter's encounter with a lost love amidst the remote plantations of Darjeeling; the other, a hapless suitor's attempts to wrest his beloved from the influence of a silver-tongued charlatan. But beyond the presence of a pining lover in Kapurush and Mahapurush, the films are also connected by a sense of cultural paradox, whether between class stratification and democratization, or traditional beliefs and academic knowledge. In Kapurush, Ray explores the crippling nature of classism through a colonial subtext, where the British helped to reinforce archaic notions of privilege by identifying with an entrenched caste system to perpetuate equally rigid models of social hierarchy – even in conducting business – that continue to exist long after the country's independence. Western-educated tea executive, Bimal (Haradhan Bannerjee) is acutely aware of this dichotomy, leading a self-imposed isolated life with his wife, Karuna (Madhabi Mukherjee) in an already isolated community, reluctant to break ingrained mores by socializing with his subordinates and instead, assuages his conscience by drinking heavily. Similarly, the mask behind Karuna's aloofness towards her former lover betrays its fragility when she offers Amitabha (Soumitra Chatterjee) her sleeping pills to help his anxious sleep.
In Mahapurush, the panacea comes in the guise of an intriguing holy man, Birinchi Baba (Charuprakash Ghosh) and his animated assistant (Robi Ghosh) who, through a combination of parlor tricks, reconstituted, common sense parables, and outrageous claims (that include commanding the sun to rise and set, and witnessing Gautama Buddha's birth and Jesus Christ's crucifixion), have insinuated themselves into the home of lonely widower, Gurupada Mitter (Prasad Mukherjee), his daughter Buchki (Gitali Roy), and in time, the company of his wealthy friends. As in Kapurush, the reclaiming of a lost love is tied to the dismantling of outmoded values and a willingness to forge one's own destiny. In this sense, both Kapurush and Mahapurush illustrate the problem of perpetuating a culture of dependency (and in particular, a sense of rationalized inaction), even as society moves towards development and modernization (an embrace of scientific progress that is implied in Birinchi's self-serving references to Plato and Albert Einstein). It is this dichotomy that also binds the closing images of Kapurush and Mahapurush into a collective mosaic of Indian society at a cultural crossroads – the light of an approaching night train, the resetting of a fuse box after an induced power outage – both illuminated by a preceding spark: one, returning to the darkness; the other, emerging into the light.
Seemabaddha, 1971. While the other two films in Satyajit Ray's Calcutta trilogy – Pratidwandi (The Adversary) and Jana Aranya (The Middleman) – show the bleak prospects of college-educated young men struggling to carve out their own futures in the charged, sociopolitical climate of early 1970s Calcutta, the middle film in the trilogy, Seemabaddha (Company Limited) poses a corollary problem: a gainfully employed professional trying to hold on to a position of privilege in the face of uncertainty. For sales manager, Shyamalendu Chatterjee (Barun Chanda), a promotion to company director in the Hindustan-Peters multinational corporation seems within grasp when a founding executive returned to England on an indeterminate leave to deal with a personal illness. Settling into a quiet, comfortable life with his beautiful, stay-at-home wife, Dolan (Parumita Chowdhury) in a company-furnished high rise apartment, Shyamalendu is eager to impress his visiting sister-in-law, Tutul (Sharmila Tagore) with the trappings of his success, introducing her to a rarefied world of country clubs (which, only ten years earlier, catered exclusively to foreigners), horse racing, and cocktail parties. Having already distanced himself from his old-fashioned parents by arranging separate accommodations for them in another part of Calcutta (presumably, to comply with company regulations against housing non-immediate family), Shyamalendu has already shown his willingness to put the interests of the company before his own – a willingness that is tested when an international contract that he had negotiated is jeopardized by the late discovery of a factory defect on products that that had been set for immediate shipment.
As in Kapurush, Ray examines the nature of privilege through the prism of colonial legacy, where social mobility is tied to an ingrained pursuit of imperialist ideals and rejection of cultural identity (in an early encounter, a factory foreman comments on Shyamalendu's towering stature over him in an office elevator, implicitly equating western physical attributes with his potential for success in the company). Ray also reflects this systematic erasure in the dissolution traditional family (a theme that also runs through Pather Panchali, albeit from the other side of the economic ladder), symbolized by the Chatterjees' separation from their only child, Raja, who was sent away to a Darjeeling boarding school, as well as their parents – and by extension, their ancestral roots in Patna – the elder Chatterjees having been uprooted from their home only to be kept at a distance by the status-conscious Chatterjees. Framed against the shot of Shyamalendu arduously climbing several flights of stairs to his apartment after the elevator is shut down for repair, Ray creates a pungent metaphor for the false equation of advancement and social progress, cultural assimilation and amnesia.
The Adversary, 1972. While not as overtly political as contemporary filmmaker Mrinal Sen, Satyajit Ray's early 1970s films similarly capture the volatile climate of geopolitical unrest, profound social transformation, and domestic crisis stemming from the introduction of Naxalism into an increasingly radicalized Calcutta student movement. In a way, The Adversary represents this fomenting cultural revolution in its bracing idealism and cruel desperation. The film prefigures this atmosphere of destabilization and turbulence in its disorienting opening sequence: a high contrast, monochromatic negative image that follows a group of pall bearers making their way through the hallway and down the stairs of an apartment building, as a newly widowed woman, her face made unrecognizable by the transposition of black and white, laments her uncertain fate in the aftermath of her husband's death. Rapidly tracking towards a lone, seemingly luminescent figure made even more ethereal by the wafting of smoke, the image then reverses to reveal a somber Siddhartha (Dhritiman Chatterjee), the widow's son, standing near the edge of a smoldering funeral pyre. Siddartha's figurative embodiment of the commutation between darkness and light, life and death, individual and doppelgänger becomes a reflection of Calcutta's – and more broadly, the country's – bifurcated, postcolonial society as well.
This intersecting crisis of personal and national identity is initially suggested in Siddartha's encounter with an apprehensive job applicant at a crowded botanical survey recruiting office who frets over the likelihood of the interview being conducted entirely in English. Not surprisingly, the surreal opening sequence would prove to be a harbinger for Siddartha's unusual interview as well – a disjointed, three panel inquisition that would run the gamut from knowledge of civic history (in a question that exposes the country's at times reactionary sentiment towards British rule), to curricular proficiency, to existential purpose. But despite having answered their questions handily, Siddartha finds his hopes for a position within the company extinguished by the panel's reaction to his response over his expressed opinion on the most significant world event within the decade. Responding with the Vietnam War over the far less controversial advent of the moon landing, Siddartha proposes that the continued resistance of everyday Vietnamese people intrinsically reveals humanity's ennobled resilience and capacity for great struggle against insurmountable odds. However, rather than a comment celebrating the indomitability of the human spirit, the panel interprets his response as an indication of Marxist tendencies and a sympathetic approbation of the left movement, and curtly dismisses him from the interview. Spending his days in fruitless pursuit of dwindling job prospects, Siddartha witnesses first-hand the toll of poverty, radicalism, and cultural imperialism on a city in a state of perpetual flux: a matinee newsreel hailing the country's seemingly unreaching economic development under Indira Gandhi as the theater is thrown into chaos by the sound of a detonated terrorist bomb; his unemployed university friends' unapologetic theft of a charity collection can; the rampancy of Western tourism that reveals the country's ingrained, subordinate international status as a result of its colonized history; his sister's increasingly liberated (and consequently, publicly scandalous) behavior since becoming the family's sole breadwinner.
Based on the novel by Bengali author Sunil Gangopadhyay (who also wrote Days and Nights in the Forest), The Adversary is the second film in Ray's loosely defined Calcutta trilogy that portrayed the experiences of university-educated young men as they seek to establish their professional lives in the midst of social upheaval. From the introductory, dual image of Siddartha, Ray illustrates an upended society that has lost its identity and soul in the face of extremism and economic polarization. Visually, this dehumanization is revealed in the film's opening sequence, where the stark and otherworldly images reflect the often grotesque nature of the country's postcolonial transformation, as the country's emulation of Western paradigms as a means towards modernization and progress has led to an alienating and deeply divided culture of outmoded traditions and exploitive enterprise. Moreover, this image of a rended society is also reflected in the recurrence of fractured families throughout the film, from the death of Siddartha's father, to the rumored affair between Siddartha's sister and her married employer, to his friend's disclosed relationship with a common law wife, and finally, to his former classmate, Keya's (Jayshree Roy) strained relationship with her father following his decision to remarry his mistress after her mother's death. Concluding with a freeze frame of Siddartha on the balcony of a rural hotel in Balurghat, his journey from his beloved city is also a sentimental estrangement, a self-imposed exile from the entropy and dissonance of the city towards the reassuring, familiar cadence of a patient, eternal land.
Distant Thunder, 1973. In 1942, at the height of the Second World War, Japan, having successfully secured and occupied Singapore, advanced the emperor's ambitious military operation to India's neighboring country of Burma. In response to the nation's aggressive Asian campaign, the British sought to regain and reinforce strategic Allied positions in the Pacific by stemming the tide of Japanese militarism, deploying troops to the region and, with them, diverting resources from the populous imperial colony. It is within the global uncertainty of this turbulent human history that a well-respected, educated man, Gangacharan Chakravarti (Soumitra Chatterjee) has decided to settle in a small, remote village of Natungaon in Bengal with his attractive young wife Ananga (Babita). As the only Brahmin residents in the entire rural village, Gangacharan and his wife are in an opportune position to exploit the immeasurable privileges afforded their socially prominent caste. To this end, Gangacharan has decided to open the first elementary school in the village in order to supplement his comfortable income as the only doctor in the area, and to further take advantage of his fluency in Sanskrit to serve as the town's ceremonial priest. His knowledge of modern science and traditional ritual soon proves auspicious when he is summoned to perform a sacred ceremony for a remote village in the naive hope that his prayers would spare the townspeople from a rampant outbreak of cholera that has already reached epidemic proportions in a neighboring village. Dispensing practical advice on disinfection and hygiene in an indigenously more palatable form of a mystical protection ritual, the humble villagers spare no expense in expressing their gratitude to the priest by showering him with a wagonload of food and assorted presents for his trip home. However, traces of the war's far-reaching effects into the lives of the unsuspecting villagers begin to surface when Ananga is stopped on the roadside by an indigent, elderly brahmin who begins to insinuate himself into the deferential, younger brahmin's graces by soliciting handouts and free meals on the pretense of visiting him to seek advice. As the rice shortage leads to soaring inflation and widespread rationing, the villagers soon resort to acts of self-denial, theft, banditry, and even violence as austerity, want, and despair become inextricably symptomatic of their increasingly subhuman daily existence.
Adapted from the novel by Bibhutibhushan Banerjee, Distant Thunder is a provocative and compelling examination of the devastating humanitarian crisis that resulted from the British government's deliberate re-appropriation of food and critical supplies to support the Pacific War campaign that lead to the man-made famine of Bengal in 1943 and ultimately resulted in the death of over two million people. From the opening image of a series of fighter planes flying in formation as they cast a shadow on the river while Ananga bathes (a curious sight that the heroine likens to a flock of cranes in flight), Satyajit Ray presents an implicit (and figuratively obtrusive) correlation, not only between a distant, foreign war and a politically isolated (if not disenfranchised) domestic population, but more importantly, the violation of nature through conceptually abstract, but integrally man-made devices. Ray further illustrates the violation of nature, not only through the repeated imagery of warplanes flying overhead (a seeming metaphor for imperial sovereignty over their native land), but also through anecdotal references to the skyrocketing price of rice, the appearance of an inscrutable disfigured man near a pottery kiln (whose scars were unintentionally self-induced – and therefore, essentially man-made – resulting from accidentally exploded fireworks), and escalating incidents of base human behavior. However, by focusing on Gangacharan and Ananga's humbling plight and continued perseverance, Ray transcends a purely social critique of the man-made famine in favor of presenting the resulting social egalitarianism that eschews class segregation in times of mutual hardship and common injustice. In the end, it is overwhelming sense of human interconnectedness that renews hope for the young, struggling couple: an enlightened awareness and true sense of place borne of compassion, altruism, sacrifice, and engaged social responsibility.
The Middleman, 1976. The Middleman opens with a shot of a disinterested proctor monitoring the History final examination at Calcutta University. A student hides a note inside a cigarette box and passes it to Somnath (Pradip Mekherjee), who chooses not to participate in the rampant cheating, and passes on the note to his childhood friend, Sukumar (Gautam Chakravarti). It is a foreshadowing of a career that Somnath will eventually undertake, but never seemed destined for. After receiving a mediocre grade on the history test (primarily because the professor could not read his small handwriting), Somnath's future is uncertain. He applies for every advertised job, only to be discouraged with the prospect of competing with 100,000 other applicants, or perplexed by absurd, unrelated interview questions. One day, he meets an old acquaintance named Bishu (Utpal Dutta), who encourages him to go into business for himself. Somnath wishes to discuss the prospect with his father (Satya Bandyopadhyay), but is greeted home instead with an arranged marriage proposal to the youngest daughter of a cement factory owner. Left with few alternatives, he calls on Bishu the following day to learn about the business of "order supplies", acting as an independent agent between the buyers and suppliers to sell any commodity from "pins to elephants". The Bengali word for the enterprise is "dalaal", and Somnath is apprehensive about its disreputable connotation of "pimp". Bishu reassures him by using the more palatable euphemism, "middleman". Soon, he begins to furnish businesses with office stationary and table lamps, and finds an opportunity to sell optical whiteners for a sizable commission. He calls on Mr. Goenka (Soven Lahiri), the chief officer of Kejriwal textile mills, who refuses to make a commitment on the sale. Desperate, Somnath calls on Mr. Mitter (Robi Ghosh), a "public relations specialist" who shadows prospective clients in order to determine their weaknesses. He reports to Somnath that Mr. Goenka is willing to offer him a contract in exchange for the services of a call girl. Somnath is unsettled by the proposition, and defers a decision until the appointed confirmation call from Mr. Goenka on the following afternoon. Returning home, he is greeted by his sweet, understanding sister-in-law, Kamala (Lily Chakravarty), who reassures him of her support, and is left alone to choose between financial gain and moral consequence.
Satyajit Ray creates a clever, highly engaging satire on capitalism and moral integrity in The Middleman. Using incongruous imagery and lyrical narrative, Ray depicts the hypocrisy of economic prosperity and professional success. Somnath's daily trips to the employment offices invariably take him through city streets riddled with homeless people and beggars, under a graffiti sign that reads: "1971 is the year of victory". Mr. Shaha's (Santosh Dutta) description of a luxurious British colonial mansion is juxtaposed against a hypnotic, frenetic tour of a dilapidated building. Ironically, the potential sale of optical whiteners proves to be Somnath's darkest hour. Note the minimal, candle lit scene where a disillusioned Somnath alludes to his unpalatable task. The Middleman is a fascinating, contemporary parable on the corruption of the human soul, a poignant tale of an idealistic young man who stumbles into a corrupt world outside of his creation, and is swallowed into the chaos.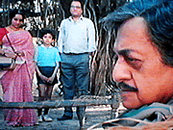 The Stranger, 1991. Anila Bose (Mamata Shankar) receives a curious letter sent from New Delhi, affectionately referring to her as "baby", presumably from her uncle, Manmohan Mitra (Utpal Dutt). Having left Calcutta immediately after his graduation when Anila was only two years old, Manmohan is eager to reunite with his sole surviving relative, imploring on her sense of traditional Indian hospitality to receive him into their household. Anila's husband Sudhindra (Depankar De) is skeptical of the upcoming visit, convinced that the author's impeccable Bengali could not possibly have been written by anyone who has spent the last 35 years traveling through Western countries as her uncle has reputed to have done, and urges her to send a telegram immediately in order to avert his intended visit under the pretense of leaving for a family vacation. Yet despite Sudhindra's reservations, Anila is intrigued by the possibility of meeting her long lost uncle, and strikes a compromise with her husband to accept the stranger's visit, and agrees to make an expedient assessment of his identity and ulterior motive. However, Manmohan's charm proves to be infectious, as Anila and her son Satyaki (Bikram Bhattacharya) soon find themselves captivated by his cultural sophistication and congeniality. Sudhindra returns home to find that Anila and Satyaki have already lost their objectivity towards the charismatic stranger, but reserves judgment on Manmohan's true identity until friends can surreptitiously question him. However, when a pragmatic and discourteous associate named Pritish (Dhritiman Chatterjee) seizes the opportunity to condemn Manmohan's personal beliefs and nomadic way of life, the family inadvertently alienate their captivating and enlightening guest.
The final film by Satyajit Ray, and one of only a few color films throughout his career, The Stranger is a compelling, provocative, and insightful film on the nature of humanity and social interaction. Visually, Ray captures Anila and Sudhindra using predominantly static, interior shots and graceful, slow pans to subtly reflect their self-imposed entrapment as a result of conforming to civilized behavior and societal norms, often at the expense of their ancestral heritage: the long shot of the living room as Anila reads Manmohan's letter to her family; Sudhindra's inability to leave the office to lend support for Manmohan's arrival; Pritish's caustic inquisition. In contrast, Manmohan's wanderlust is reflected through exterior shots of his train trip to Calcutta, taxicab ride to Anila and Sudhindra's home, and a park visit with Satyaki and his friends, punctuated by a glider plane in the background. As Manmohan amusingly assesses the contribution of civilization through the creation of the longest word in the first edition of the Oxford English Dictionary, floccinaucinihilipilification – a jest word meaning to render something of little of no value – it is a reflection of his own life coming to full circle. Manmohan sought to refine his art studies, only to realize innate beauty in primitive cave paintings. He traveled to the West in order to advance his knowledge of civilization, and discovered that the essence of humanity resided in the customs of ancient tribes. Through the iconoclastic and erudite Manmohan, Ray encapsulates his profound concern for the preservation of humanity and cultural legacy in an increasingly modern and impersonal world: the union of savagery and civilization, tradition and westernization, obligation and compassion. It is a compelling final statement from a thoughtful artist and an enlightened human being.
Acquarello 2000-2009 [reprinted]